Another $1 billion in small business credit vanishes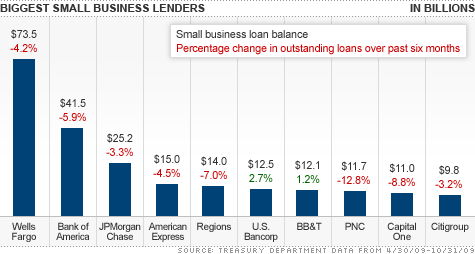 NEW YORK (CNNMoney.com) -- The small business credit crunch is still deepening: Major banks cut their small business loan balances by another $1 billion in October, according to a Treasury report released late Tuesday.
The 22 banks that got the most help from the Treasury's bailout programs have decreased their small business lending by a collective $11.6 billion since April, when the Treasury began requiring them to file monthly reports. The banks' total lending has fallen 4.3% in that six-month period, to $257.7 billion.
When loan and credit lines dry up, small businesses have trouble launching, expanding, and funding their daily operations. President Obama met Monday with CEOs from a dozen of the nation's biggest banks to pressure them to do more to rebuild the economy they helped blast apart.
"We expect some results," Obama told the bankers. "I'm getting too many letters from small businesses who explain that they are credit worthy, and banks that they've had a long-term relationship with are still having problems giving them loans."
President Obama is planning another banker gathering next week. On Tuesday, he'll host a discussion with representatives of several community banks, according to a White House spokeswoman. The White House has not yet made any additional details available about the meeting and its agenda.
'Wait till next year': Banks are beginning to respond to the heat they're getting from administration officials. Bank of America (BAC, Fortune 500), which whittled its small business loan balance down further every month since April, said Monday that it will loan $5 billion more in 2010 than it did this year.
In the past six months, the bank has reduced its outstanding small business credit balances by $2.6 billion, a 6% decline.
Wells Fargo (WFC, Fortune 500) also pledged to be more active next year.
The bank has clipped a bit more than $3 billion off its loan portfolio since April, a 4% drop. But at $73.5 billion, its small business loan balance dwarfs that of any other bank, and Wells Fargo was the top lender this year through the Small Business Administration's primary loan program.
Next year, the bank will increase its new loan originations by 25% over 2009 levels, to $16 billion, according to Marc Bernstein, a Wells Fargo executive vice president and the head of its small business unit. Wells Fargo is on track to make about $13 billion in new loan originations in 2009, he said.
Like many banks, Wells Fargo says it's had a tough time lately finding creditworthy borrowers. Sales are down for most businesses, and depressed property values means business owners have less equity to borrow against in their homes and other assets.
"It just wouldn't be responsible to lend more money to those people as they are struggling to make their existing payments," Bernstein said of his bank's shrinking loan portfolio. "We want to make as many loans as we possibly can, but we require a reasonable likelihood that it is going to be repaid."
The bank is forecasting a lending pickup next year because it's optimistic about economic recovery. "There have been very clear improvements over the last six months," Bernstein said.
JPMorgan Chase (JPM, Fortune 500) is also hopping on the bandwagon. The bank said last month that it will increase its small business lending by up to $4 billion in 2010 -- though much of that may come through its new Ink line of small business credit cards. The bank said it will hire 325 additional small business specialists to work with customers and source new business.
Other efforts in limbo: President Obama's administration has been trying all year to revive the small business credit market. Most of the initiatives are currently either stalled or out of gas.
In October, Obama unveiled a collaborative effort between the Treasury Department and the Small Business Administration to make capital cheaper for community banks. The administration wants to use the Treasury's Trouble Asset Relief Program (TARP) funds to make ultra-low-interest loans to banks that will use the money to expand their small business lending.
But nearly two months after Obama's announcement, the Treasury is still hashing out the details. "We expect the program to kick off very soon," Treasury spokeswoman Meg Reilly said.
Meanwhile, a popular Recovery Act measure to boost the Small Business Administration's loan programs has run out of money and awaits Congressional action to replenish its funding pool. More than 700 SBA loan applications, totaling $390 million, are in the queue and on hold.
Washington's policymakers are attacking the lending problem from multiple directions, but haven't yet gained traction.
"This is a very hard problem to solve," Treasury Secretary Timothy Geithner said at a small business lending forum in Washington last month. Speaking to a room filled with small business owners and lenders, Geithner was candid about the struggle.
"It's not something we can easily fix," he said. "It takes a coordinated mix of different strategies and policies."