Suddenly, safe haven Treasurys get tricky
NEW YORK (Fortune) -- The flight-to-safety crowd could be in for a bumpy landing.
Long-term Treasury bonds are on track for their worst year in at least three decades. The Barclays 20-plus-year Treasury index has posted a total return of -20% in 2009.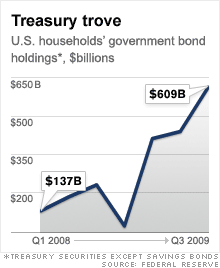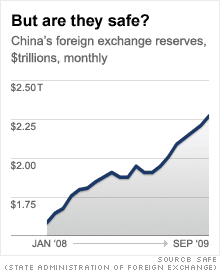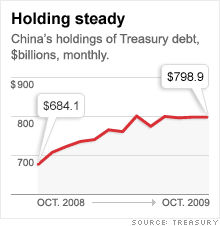 If you aren't trying to sell some Treasurys of your own, the price drop actually points to some good news. The fear of economic collapse has eased, reversing the so-called risk-aversion trade that briefly sent government bond prices through the roof last fall. Some once-petrified markets have reopened, freeing sellers to reinvest elsewhere.
And with trillion-dollar deficits looming, the economy mushy and the government eager to trim aid that is propping up many markets, further declines in Treasury prices almost certainly lie ahead.
That means many recent buyers of U.S. government debt -- a group that includes individual investors as well as overseas creditors like China -- could find last year's panic purchases taking on more water.
"The fiscal outlook is horrendous, so we're going to see yields rising," said Dan Seiver, a finance professor at San Diego State. "I can't see any other scenario making sense."
Who's holding the bag
Individuals are among the biggest recent buyers of Treasurys, alongside the usual suspects such as foreign investors and money market funds.
The U.S. household sector bought a net $178 billion of Treasury securities other than savings bonds during the acute phase of the crisis, between last October and this past March, according to Federal Reserve data.
Households and nonprofit organizations were actually net sellers during the fourth quarter of 2008, when Treasury prices were soaring as financial institutions around the globe scooped up safe U.S. government obligations.
The household sector then bought $324 billion worth of Treasurys in the first quarter, as prices at the long end of the yield curve started into a yearlong slide.
Since then, individuals have continued buying Treasurys as prices have slipped. All told, U.S. households held $609 billion of Treasurys at the end of September -- the highest level since 1999. The vast majority were purchased this year.
While only a fraction of those bonds are long-dated ones that have posted the steepest price declines, U.S. households' paper losses on Treasury purchases easily could run into the billions of dollars.
The Treasury splurge comes at a time when the government is issuing record amounts of debt to fund large budget deficits and the outlook for an economic recovery remains muddled.
Though long-term rates have risen this year, as investors have stopped worrying about the threat of a spiral of falling wages and prices, short-term Treasury yields remain remarkably low. Strong demand has allowed the government to sell one-month bills at prices that mean buyers will get no income.
"There is a lot of uncertainty out there," said Guy Lebas, chief fixed income strategist at Janney Montgomery Scott in Philadelphia. "We have gone from fear-based trading back to expectation-based trading, but the expectations for the economy are very soft."
At the same time, individuals are saving more after years of taking on more leverage to buy houses and cars. If savings rates keep rising and interest rates on bank accounts stay near zero, some of the money savers sock away will inevitably find its way into Treasurys.
What keeps China up at night
American savers aren't the only ones who could get singed by declining Treasury prices, obviously. But domestic financial institutions have added only modestly to their Treasury holdings during the past year.
Overseas buyers have been more aggressive. China passed Japan last year at the top of the list of foreign holders of Treasury securities, and its official holdings of Treasurys have soared more than 60% since the start of 2008, according to Treasury data.
There has been much discussion of whether the falling exchange value of the dollar might prompt China to pull back on Treasury purchases, reducing demand for the dollar and accelerating the expected increase in long-term interest rates.
But with at least $800 billion in Treasurys on its books, China is in no rush to take actions that stand to cut the value of its foreign portfolio holdings.
"This kind of thing keeps the Chinese up at night, but the U.S. and China are in a dance neither partner can stop," said Seiver.
Accordingly, Lebas said he expects to see government bond yields doing only a "slow creep" higher in 2010. That would leave the 10-year Treasury yield below 4% -- in line with its level at the end of 2007 and well below its average over the past half-century.
Seiver said he doesn't expect a rate spike either. But given the low historical level of rates and the fiscal challenges looming as baby boomers retire, investors who buy long bonds at a recent 4.5% may not be getting compensated for all the risks they face.
"Bond traders never think about having to hold onto a 30-year Treasury for 30 years," Seiver said. "But an awful lot is going to happen between now and then."