Luxury prices: To cut or not to cut?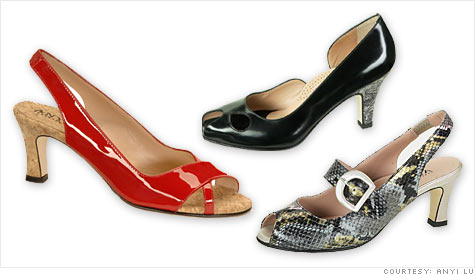 (CNNMoney.com) -- Step into Nordstrom a year ago for handmade Italian pumps and flats from designer Anyi Lu and you'd be shelling out as much as $595 a pair. This season, everything in the spring collection that hits stores next month goes for under $400. For CEO David Spatz, adjusting prices downward simply made sense: "The days of conspicuous consumption are over," he says.
The decision to chop price tags has resulted in a 69% percent increase for Anyi Lu in wholesale orders from Spring 2009 to the Spring 2010 collection. But it presents Spatz and his fellow luxury marketers with a new challenge: Once you cut prices, can you ever go back?
Serial entrepreneur Gary Shansby, CEO of San Francisco-based Partida Tequila, argues that for premium companies, discounting is a form of brand suicide. "Once you start discounting, or accepting deals, there's no way of getting back up," he says. "In down times, there's the impression that the simplest thing to do is discount. But when confidence returns, the consumer's going to wonder why you want to charge $48 when just a few years back you'd sell for $30. You're effectively telling people that your product was too expensive to begin with."
With 50 years of experience turning brands like Famous Amos and Terra Chips from startups into major companies, Shansby calls on firsthand knowledge gained through four lesser recessions to support his stance. "Control your costs in other areas, like advertising or promotion, but hold onto your people and your positioning," he advises.
Instead of lowering prices or distributing to discount stores like Costco (COST, Fortune 500) and Sam's Club, as some of his competitors have, Shansby's five-year-old Partida -- which starts at $45 for a 750ml bottle -- has collaborated with top bartenders to create and market specialty drinks. This, says Shansby, has resulted in greater sales for the participating bars and restaurants and, by extension, Partida. Revenues are up from last year by a double-digit percentage, he says.
Of course, Shansby's previous entrepreneurial success has afforded him a certain amount of financial security. What about newer entrepreneurs who have less funding?
Milton Pedraza, CEO of the Luxury Institute, a market research firm in New York City, also thinks discounting should be a last-ditch effort. His research suggests that small brands fare better by producing less, and investing instead in product development and the customer experience. He advises entrepreneurs to get creative.
This year, Danbury, Conn., bath fixture company Waterworks -- under new ownership since filing for Chapter 11 in May -- is striking licensing deals to bring its rarified brand to a mass audience. Waterworks is partnering with retail megastores to set up Waterworks-branded "shop with in a shop" outposts, and launching a new line of textiles and bath accessories. The first wave will roll out in mid-tier stores such as Bloomingdales, and later move to more mass-market retailers like Bed, Bath & Beyond (BBBY, Fortune 500) and Kohl's (KSS, Fortune 500).
"We've always wanted to increase our offering of simpler products, so we're taking advantage of changes in the market and in our strategy to develop this new area of our business," says CEO Peter Sallick. To fund the expansion, Waterworks closed more than 20 stores.
New York-based upscale clothing line White + Warren has gotten similarly creative. The 12-year-old line, sold in more than 500 specialty stores across the country, has long been known as a maker of luxe cashmere. For Holiday 2010, its winter collection, the label introduced lower-priced pieces in new fabrications, like under-$100 rayon tops and dresses, while holding its cashmere prices fast.
"Five years ago, our customer would come in and buy the same sweater in 10 different colors," says co-founder and president Susan White. "People don't dress that way anymore, so our challenge was to get her to buy two or three by creating a whole look: tops, dresses, scarves, that could pair with the pricier sweaters." The first shipments to stores sold out within days.
"We changed our perception and we absolutely changed the actual product, but we didn't walk away from our core business, which is the right cashmere item," White says.
Even Pedraza is resigned to seeing more markdowns: "Turning inventory into cash is critical right now, and for the foreseeable future, discounting is the new normal," he says. "But for longevity, a luxury brand needs to retain its credentials. It'll be more resilient when the economy rebounds."