Computer power yields radical ideas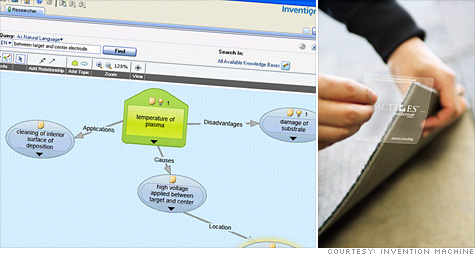 NEW YORK (Fortune) -- It's a familiar scene: A conference room, a white board, and a dozen faces crumpled in concentration as they "brainstorm" about some seemingly insurmountable technical challenge or another. Maybe it's a stubborn special coating that could triple the life of a product -- if only it would adhere.
Or perhaps it's a question of meeting an existing need: Consumers would probably love a dustless way to clean up fallen leaves, for instance, but someone would have to invent it first.
Welcome to the world of head-scratching that engineers, scientists, and program managers occupy every day as they try to invent something new and valuable, to fix a product that isn't living up to expectations, or to find a way to do things better than their competitors -- or anyone else, for that matter -- previously imagined possible.
Faced with such a technological roadblock, what have the product-development wizards in your organization done? Have they run a semantic search? Are they prowling the Deep Web for answers they might not have imagined? Have they plumbed the depths of their own well of patents, ongoing projects, and institutional memory? Would they even know how?
Perhaps not. But sustainable innovation tools for launching these powerful inquiries, and more, do exist, and the Boston firm Invention Machine has sold them to more than 500 manufacturing companies around the world in the form of a software bundle called Goldfire Innovator.
From the broadly theoretical to the minutely practical, Goldfire not only delivers and catalogs information but makes connections between experts and content from different industries, often using assets you didn't even know you had.
More importantly, Goldfire makes innovation a repeatable and predictable process. It also indexes what the user already knows and owns, helping envision new applications for those assets; it offers access to a collection of basic scientific principles and phenomena, along with 3,300 technical websites residing on the Deep Web -- meaning you won't find them on Google or Yahoo; and it can even consult its own database of 20 million existing patents to see how successful inventions have evolved.
For the price of a software license, Goldfire makes it possible to innovate continuously with results that show: Invention Machine helped one manufacturer figure out how to build a more affordable rocket engine by reminding engineers of an idea gathering dust in the company's own archives, while another user was able to envision a complex biofuels process well before designing it.
The story behind Invention Machine goes back to the late 1980s, when a flock of impressive technologies made their way out of the dissolving Soviet Union into the rest of the world.
There were huge sea-skimming airplanes and insights into working with ultra-tough and ornery titanium. But one of the less noticed items to emerge was the product of decades of research conducted in Russia since the late 1940s by an inventor named Genrich Altshuller.
He sifted through reams of patents covering successful inventions, organizing them according to the physical principles and basic mechanisms they contained. Using this analysis, he developed a set of what he called Inventive Principles that could be taught to engineers, scientists, and inventors who wanted to be more productive. Altshuller's method became known by the acronym TRIZ, meaning "the theory of solving inventor's problems."
That early Russian work lives on in a much expanded form in Goldfire Innovator.
CEO Mark Atkins, who took over seven years ago, has overseen a steady broadening of the features of the software, which is used by customers in 25 countries. While other companies offer software for patent-searching and related uses, Invention Machine's collection of functions -- several of them unique -- are exceptional in their scope and utility.
"Goldfire Innovator is a cluster of innovation knowledge that actually gets down to the core science," says Jim Brown, president of Pennsylvania-based Tech-Clarity, an analytical firm that tracks software used in industry for product development and engineering. "When used together, the whole can be better than the sum of the parts. They have automated functions that nobody else has, and the elements fit together into a cohesive tool kit for sustainable innovation."
And for some companies, that tool kit has turned out to be just the solution all those brainstorming sessions could never quite produce.
It's not rocket science
Companies that build complex, technologically audacious products need to keep a handle on the knowledge they've accumulated. Some research projects lie buried deep in company records, and many may never have yielded a marketed product.
But for contemporary engineers, a long-finished project may contain just the wisdom they need, if only they knew of its existence and could find it.
Such was the case at Pratt & Whitney Rocketdyne in Southern California. It has been building rocket engines for decades and supplies the main engines for the NASA Space Shuttle, which are the highest-performance engines ever built. Like a growing number of companies, Rocketdyne maintains a knowledge-management system containing intellectual property such as patents, as well as engineering data from past research and manufacturing programs.
But it is one thing to store a lot of information in a computer and quite another to know what to search for when tackling an engineering problem.
When Rocketdyne began designing the RS-68 engine that powers Delta IV rockets used for launching satellites, the cost and performance goals for the engine were daunting.
As the engineers struggled to slash away at the high costs inherent in the existing space-shuttle main-engine design, one of the components they focused on was the bell-shaped nozzle that guides the fiery inferno of exhaust on its way out of the engine. It's an insanely hot environment, and while the nozzle must somehow be cooled to survive it, manufacturing the necessary apparatus costs a bundle.
"Cooling is a big issue for us," says Kiho Sohn, Rocketdyne's chief knowledge officer. "So we posed a question to the Invention Machine software: 'how to cool the nozzle?'"
Just being able to frame the inquiry as a question -- using what's known as a semantic search, rather than the usual keywords -- is a revelation. And it produces better answers, too.
Goldfire went through the company's entire trove of internal documents, reading every sentence. Then it created an index according to subject, verb, and object. The results included recommendations such as "fuel keeps the nozzle cool" -- a method Rocketdyne had already tried -- and "ablation cools nozzle." Early manned space capsules relied on sacrificial ablative coatings, which slowly burn away, to survive the heat of reentry into Earth's atmosphere.
But Rocketdyne engineers hadn't gotten good results in their past experiments with ablative coatings, so they weren't thinking about it. And because the Space Shuttle main engines are an earlier design that's meant to be reusable, ablation wasn't an applicable solution for them.
Yet the RS-68 is a one-flight engine intended to boost a big payload into orbit, and that's all. The Rocketdyne engineers began experimenting and found that they could indeed come up with a coating that would hold up to the thermal stresses of a single launch. And the RS-68 stayed on budget, no mean feat in the aerospace industry.
Inking a new industry
When rapid technological change erodes the demand for existing products, companies can panic about where to find new customers. That's why the rise of the Internet was initially greeted with fear at Sun Chemical Co. in Parsippany, N.J., a major maker of ink and coatings for the graphic arts industry.
As the World Wide Web reduced the need to print at all, Sun Chemical realized it didn't know how to pursue opportunities outside the graphic arts industry. So in 2007, Sun began working with Invention Machine.
"We face an awful lot of pressure because of electronic media delivery, raw material prices, and competition from low-cost printing companies in Eastern Europe and the Far East," says Cynthia Arnold, Sun's chief technical officer. "We knew that to sustain our profitability we had to figure out some new ways to use our expertise."
Using the Goldfire software, Sun researchers took a long look at what they were really good at. Viewed in the light of basic chemistry and mechanics, the scientists began to think of manufacturing and applying inks and coatings as generic processes, rather than ones linked solely to graphic arts.
That intellectual shift allowed them to ask: Where are coatings used outside of printing? Where else could our expertise be valuable?
Examining things this way inspired Sun's scientists to focus on the packaging industry, which makes broad use of so-called barrier coatings to preserve the freshness of food, resist moisture, and eliminate the need for metal-foil layers in packaging. Here was a new place Sun's technology could thrive.
Sun also began printing radio-frequency identification (RFID) circuits used for inventory control. RFID circuits were traditionally made by acid-etching a circuit pattern on a thin sheet of metal foil to make the adhesive-backed tracking tags you're used to seeing on retail items, but Arnold's group began to see RFID as yet another opportunity for printing technology.
Now the company sells a line of electrically conductive inks and offers technical advice to customers who want to print tags directly onto product packaging.
Sometimes the advantage of Goldfire isn't just being able to ask a question, but knowing that even if you ask the wrong one, it may still come up with a fabulous suggestion.
Executives at Cellana, a joint venture between Royal Dutch Shell (RDS.A) and HR Biopetroleum, set out to find a native oil-bearing plant that would deliver hydrocarbon fuels at less than the cost of those made from crude oil.
"We built a conceptual model of what an ideal system would look like," says Shell physicist Ian Archibold, manager of algae fuel development. "We used the Invention Machine software to explore all the constraints, the sticking points. One of them was the shortage of arable land in the world. The software said, 'Don't use land.' How can you do that? 'Use the sea.' So we started looking at marine biomass."
But the seaweeds they began with had harvesting issues, so they turned to Goldfire again, which features a segmentation principle that advises splitting a puzzle into its independent parts. "What did this mean -- to chop up the seaweed?" he says with a chuckle. "Eventually it led us to the idea of using microalgae instead of macroalgae."
Now Cellana is using Goldfire software to help it plan and evolve a pilot-scale operation in Kona, Hawaii, for producing biodiesel fuel using the microalgae. And these tiny plant organisms are heroically productive, cranking out at least 15 times more energy daily per square meter of growing space than any of the other oil-producing plants Shell has studied.
Smart hospital...flooring?
As a company's ribbon of innovation unreels, drawing in users and their ideas more and more, the potential for Invention Machine to revolutionize their experience evolves, too.
At Interface, a maker of carpet squares used in commercial buildings and user of Invention Machine software, the innovation in question came from speaking with hospital administrators and medical staffers. Hospitals, which are a major consumer of carpet squares, struggle to keep track of key pieces of equipment, such as cardiac-resuscitation machines, in buildings that often have multiple stories.
The Interface team wondered if its products could play a role. "What does the floor know?" asks John Bradford, vice president of research and development at Interface. "Well, there are things about security and inventory management that a floor can know."
To find out just what the floor knows, Interface is using RFID tags and radio transmitters to turn a hospital's floor into an indoor GPS system that can track equipment as it's rolled from room to room -- or square to square. The system maps all the joints where four carpet squares join, in effect turning the hospital building's corridors into a giant Cartesian coordinate grid.
But Interface engineers hardly started out with that in mind: "Invention Machine allows us to ask questions in context and not be filtered by our own preconceptions about how things work," says Bradford. "Instead of picking up the phone and trying to figure out who the smart RFID people are, we were able to quickly educate ourselves about the technology, and imagine how a system could work."
The possibilities -- for discovery, growth, and collaboration -- seem endless. Just as Google made the Internet manageable for users, innovation technology like Invention Machine's gives companies control of a vast universe of information they often couldn't even access before. It's easy to see how that could change the way they do business, but what about everything it can do that hasn't yet been imagined?
Start pondering it, and brainstorming will never look the same again.