Wall Street bracing for a volatile week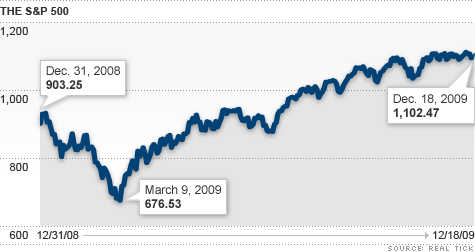 NEW YORK (CNNMoney.com) -- Wall Street is in for a quiet three and a half days of trading this week with many market participants on vacation and traders mostly focused on defending this year's gains.
"There are a lot of lights out in investment management offices," said Lawrence Creatura, a portfolio manager with Federated Clover Investment Advisors. "It's likely to be a quiet week."
The stock exchange will close early Thursday and will remain dark Friday for the Christmas Holiday. Many traders will take the entire week off.
And with the major indexes on track to post double-digit percentage gains for the year, those money managers who are on the clock next week will probably not be making any aggressive plays.
"Investors will have a very limited focus," said Doug Roberts, chief investment strategist for Channel Capital Research. "For the most part, people are trying to protect gains."
Still, traders will have to contend with a number of economic reports this week, including the final revision to third-quarter gross domestic product, data on personal income and spending, as well as weekly jobless claims numbers.
What's more, the lack of participation means trading volumes could be low, which tends to amplify small moves and cause market volatility.
Meanwhile, investors continue to focus on the economic outlook for next year.
The Federal Reserve said last week that economic conditions continue to pick up, even as the central bank held interest rates at historic lows. It also noted that conditions in the financial markets have improved, and that it will allow most of its asset purchase programs, launched during the height of the financial crisis, to wind down on schedule.
"The consensus is for stepwise improvement in the economy in 2010," Creatura said. "Any deviation from that script will have pronounced effect on the market."
The market may also look to the dollar for direction. The greenback regained ground against the euro last week as concerns about the economic health of some major European economies weighed on the shared currency.
Greece's credit rating was downgraded by Standard & Poors last week, and investors will be on the lookout for red flags from other euro zone economies.
"If we see further talk that S&P and Moody's are going to look closer at Spain, another major economy, stocks here could take a hit," said Charlie Smith, an analyst at Fort Pitt Capital Group.
On the docket
Monday: Nothing scheduled
Tuesday: The Commerce Department will release its final revision of third-quarter Gross Domestic Product before the opening bell.
Economists surveyed by Briefing.com expect GDP, the broadest measure of economic activity, to have risen at an annual rate of 2.7% in the three months ending in September.
While that would be below the 3.5% growth rate the government projected in October, it still marks a substantial improvement over the previous four quarters, in which economic activity shrank.
Shortly after the market opens, the National Association of Realtors will release a report on existing home sales in November.
Wednesday: Government figures on personal income and spending in November come out in the morning.
Economists forecast a 0.5% increase in personal incomes, while spending is expected to be unchanged from the month before.
Reports on consumer confidence and new home sales are due out shortly after the opening bell.
The weekly crude oil inventories report is also due in the morning.
Thursday: A report on durable goods orders comes out before the start of trading.
Economists believe new orders for long-lasting manufactured goods rose 0.4% in November after a decline of 0.6% the month before. Excluding transportation, durable goods orders are expected to rise 1.0%.
The government's weekly jobless claims report is also due in the morning, but no estimates were available yet.
The stock exchange will close at 1 p.m. ET and will remain dark Friday.