Economic rebound weaker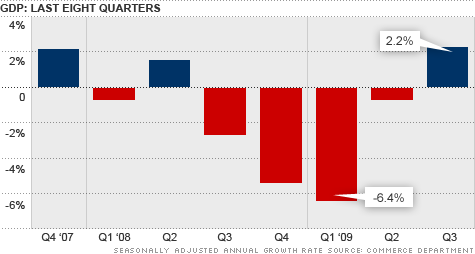 NEW YORK (CNNMoney.com) -- U.S. economic growth in the third quarter was much weaker than previously estimated, according to the government's final reading released Tuesday.
Gross domestic product, the broadest measure of the nation's economic activity, grew at an annual rate of only 2.2% in the three months ending in September. A month ago the estimate was growth of 2.8%, and the initial reading in October was more robust growth of 3.5%.
The latest report showed that consumer spending, which accounts for more than two-thirds of the nation's economic activity, was much weaker than previously thought.
But much of the change was due to a lower estimate for spending on services, primarily health care. Spending on both durable goods, such as cars and other big-ticket items, as well as nondurable goods such as food, gasoline and clothing, were little changed from previous estimates.
Businesses also cut inventories more than earlier estimates anticipated, although they still cut inventories less than they had in the second quarter. Some economists see the lower inventory number as a good sign for future economic growth. The expectation is that business will have to ramp up production to replenish those inventories.
Business spending on nonresidential structures also fell more than previously estimated.
"Commercial real estate is much weaker than people were expecting, and that's obviously going to be a bigger drag than we thought," said John Silvia, chief economist for Wells Fargo Securities. "But inventories should be able to kick off fourth quarter growth, and when you take away commercial real estate, investment spending looks pretty good."
Even with slower growth, the latest GDP figure was the best reading in two years. And the report appears to confirms the view of economists who believe that the recession that started in December 2007 likely ended at some point this summer.
Most economists believe that growth continued in the last three months of the year. The consensus of 48 top economists surveyed by the National Association of Business Economics in November was that fourth-quarter GDP will come in with a 3% growth rate.
"This sets us up pretty well for the next couple of quarters," said Bob Brusca of FAO Economics. "I don't think anything here damages the trend of an improving economy, even if there was slowed-down growth in most categories."
Silvia said it's clear that consumers are still being cautious, despite the signs of improvement in the economy. He attributes that to continued weakness in the jobs market.
"The strength of the recovery in consumer spending is clearly less than people expected," said Silvia. "But once they sense the job market is turning positive, probably by spring of next year, I think all of sudden I think you'll get much better spending and growth."