More registers ringing this holiday season
NEW YORK (CNNMoney.com) -- Shoppers may have boosted retailers with slightly better sales this year. But only when compared to a disastrous 2008. And that's no guarantee that consumers' shop 'til you drop mentality is back.
Most retailers won't report their December sales results until next month, but early forecasts indicate things could be less awful than last year.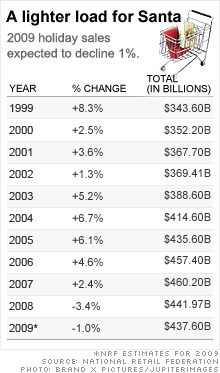 The National Retail Federation (NRF) expects 2009 holiday sales in those two months to decline 1%. That would still be an improvement from a 3.4% drop for the same period a year ago.
Scott Hoyt, senior director of consumer economics for Moody's Economy.com, is forecasting that stores had "slightly better" holiday sales this year versus last year.
"Fundamentally, things were a lot better for consumers," he said. "Last year everyone panicked after the financial crisis. No one was sure how bad things would get."
"Although weakness still persists, such as 10% unemployment, the state of panic is gone," he added.
One sign of that improvement was stronger sales in the second-half of the year, which is typically the most critical selling period. The November-December months can account for half or more of stores' profits for the year.
Plus, sellers didn't resort to desperate holiday discounting like they did last year. So when the final sales tally is rung up, it could reveal a more profitable period for retailers.
"Holiday sales will be fair at best," said Marshal Cohen, chief retail analyst with research firm NPD Group. "Retailers definitely had their inventories under control this year so profits are in their pockets."
Snow factor
Cohen also played down concerns over the heavy snow storms that blanketed much of the East Coast on the crucial final sales weekend before Christmas.
"The impact of that storm was miniscule at best," said Cohen. "Retailers and consumers had five whole days to make up for that lost weekend," he said
Some shops, including Macy's (M, Fortune 500) and Toys R Us, announced they would be open 24 hours in the final run-up to Christmas. And Cohen said shoppers who were snowed in likely shifted their leftover shopping online.
Outlook for 2010
If 2009 marks a "transition year" for consumer spending, the hope is that 2010 becomes the year of recovery for consumers and retailers, said Michael Niemira, chief economist with the International Council of Shopping Centers (ICSC).
That's essential because consumer spending fuels two-thirds of the nation's economic activity.
"Maybe we'll see a sales recovery on its way by the summer," said Niemira.
NPD's Cohen said he's tracking several signs pointing in that direction.
"Between the holiday season not being disastrous, more people buying for themselves on top of gifts, and retailers not offering crazy sales, I think these are good indicators for 2010," said Cohen.
"Consumer will slowly come out of a spending slump,"he said. "But consumers are usually the last ones back after the recession ends. I think it will be six months after the recession is over before we see a definite pick up in spending."
When that happens, department stores and higher-end sellers could benefit the most, Cohen said, simply because these two sectors have suffered the most from shoppers seriously cutting back on discretionary purchases for more than a year.
The recession also boosted sales of discounters like Wal-Mart (WMT, Fortune 500) as budget-conscious households shifted much of their buying to these lower-prices sellers. Cohen warned that Wal-Mart and its peers shouldn't be complacent that this trend will continue indefinitely.
"Yes, Wal-Mart and others have gained market share but the challenge for them is to keep these new customers," he said. "Discounters have to now figure out how to hold on to them."
For his part, Hoyt predicts consumer spending will remain weak for the first half followed by modest growth in the second half.
Citing the nation's unemployment picture, still-tight credit markets and only modest growth in their personal income, "I don't expect a strong consumer spending recovery in 2010," said Hoyt.
"The economy can live without the consumer in the short term, for another year or so," Hoyt said. But other economic drivers such as exports and business investments will have to pick up the slack in that period, he said