Mardi Gras on ice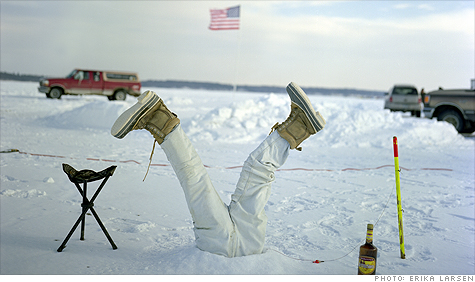 WALKER, MINN. (Fortune Small Business) -- For more than an hour I watched half-naked revelers jump into the 34° waters of Leech Lake. Some held hands, and others did backflips; all wore costumes. There were young women in prom dresses; gray-haired ladies with pink boas; big, furry men holding up their trunks with suspenders; and one gutsy woman who wore nothing but pink hot pants and a flimsy white T-shirt.
Moments after their exposed bodies emerged from the 20-by-12-foot hole in the 36-inch-thick ice, they rushed out into the freezing north-country air. Sue Burley, 49, dressed only in a grass skirt and a coconut bikini top, wrapped herself in a towel and chattered, "It's brutally cold."
The Polar Plunge is a highlight of the International Eelpout Festival, held each February near this northwestern Minnesota town. The event is named after the eelpout, a slimy, green-and-gold member of the cod family that weighs about eight pounds and is best caught by ice fishing. First held in 1979, the festival has become a three-day gala that attracts revelers from Canada, the Midwest and all over the North Star State.
"Sixty percent of the people who come here don't even fish," says Jim Gerchy, the festival's organizer. "December and January up here are brutal, like a nuclear winter. People are cooped up for so long that when the temperature gets into the twenties, they want to get out. If it gets into the thirties, hell, they'll put on bathing suits."
Last February was mild by Minnesota standards -- daytime temperatures ranged from the mid-teens to the low twenties -- and brought roughly 17,500 people to Walker (pop. 1,400). Some showed up days in advance for the weekend festivities.
"The hard-core people started arriving on Tuesday to find the perfect place to set up on the ice," Gerchy says. "By Thursday there was just one long parade through town."
Once the Eelpout gets under way, the ice becomes one continuous beer-and-schnapps-soaked bash. Events range from the practical (the ice-hole-drilling championship) and the repulsive (the hairiest back contest, whose entrants at the 2009 festival were deemed "too gross to judge") to the athletic (men's and women's ice rugby) and, of course, actual fishing competitions. Jody Smith won the largest-fish category last time, with an eelpout of 10.52 pounds. (The state-record eelpout, caught in 2001, weighed 19 pounds 3 ounces and measured 36 inches long.)
The festival is like a big, all-night fraternity-sorority mixer, with revelers ages 18 to 80, creating Mardi Gras on a frozen lake.
Inspired by one ugly fish
Despite the cold and the drink-and-be-merry vibe, the Eelpout Festival is a hot spot for entrepreneurs. When I attended in February 2008, I paid a visit to Craig Woken, the burly, bearded proprietor of Norsemen Products, a Roslyn, S.D.-based firm that sells hand-stitched fur hats, gloves and buckskin. Woken has been making the trip to Walker for the past 26 years.
"This is one of my top festivals," he said, standing in his tent, surrounded by his handiwork with fox, beaver and raccoon fur. "I don't advertise. I just go to events like this."
Out on the lake, Dave Plan was showcasing his WilCraft, a small amphibious vehicle that doubles as an ice-fishing shack. With its small-boat body, snowblower engine and ATV tires, the WilCraft scoots easily over the lake. Its hydraulic system lowers it to the ice, allowing the operator to drill holes through gasket-lined ports in the hull. When you pull up the canopy and turn on the heater, it's quite comfortable inside.
And if the ice gives way, you seal the ports and float away. Since his firm began manufacturing WilCrafts at its nearby Maplewood facility four years ago, it has sold a number of them (at $10,495 each) at events like the Eelpout.
The festival is the brainchild of entrepreneur Ken Bresley, 68, who quit his job with Ogden Food Service in Chicago to open a sports shop in Walker in 1978. "I went through one summer of business, and people were just handing me money," he recalled. "Then Labor Day came and it was over. I looked around for something to get people up here in the wintertime."
Some friends took Bresley ice fishing, and he pulled an eelpout through the hole in the ice. "I'd never seen one before," he said. "It was so ugly. People wouldn't even touch them." Bresley came up with the idea of an ice-fishing festival based on this unpopular fish, which had long been the bane of ice fishermen seeking walleye.
He pitched it to the Walker Chamber of Commerce. "They ran me out of the meeting," he told me with a laugh. "They said, 'You can't talk about those garbage fish.'"
Bresley ignored the skeptics, and he held the first Eelpout Festival in 1979. He covered his operating costs by selling eelpout buttons at his store for $3. The festival drew 700 people, mostly locals, but Bresley knew he was onto something.
His next move was to rehabilitate the despised eelpout. "We did some research about eelpout and found out they were in the cod family," he said. Like walleye and monkfish, eelpout is perfect for fish-and-chips because of its white, flaky meat. "Suddenly people started eating them."
At the same time, festivalgoers discovered that eelpout bite on anything that glows. Nighttime anglers developed a new gadget: They put a glow-in-the-dark lure in a coffee can lined with tinfoil and set off a camera flash in the can, which imbued the lure with a scorching luminescence.
Of course, all that ice-top revelry tends to scare away the fish, so serious "pouters" head off for secluded ice in the hope of landing a big haul. They often wield underwater cameras and other high-tech gadgets, but nobody in the past two years has been able to hook the tournament's grand prize, a specially tagged rainbow trout worth $25,000. "Some big pike or muskie probably ate that $25,000 trout," Gerchy said.
The ice fishers keep at it
Roving around on the lake during my first full day of the festival, I met Matthew Rzab and Bill Rich. They found a spot out on the ice, far from the revelers, where they could do some serious fishing.
Rzab, a contractor, gave up the presidency of a steelworkers union in Chicago to move to Walker 27 years ago. "I wanted my kids to grow up in a good place," he said as we sat inside the narrow ice-fishing house that he'd built by attaching knotty pine boards to a steel frame. The structure was equipped with bunks, a fully operational kitchen and the requisite ice-hole portals.
The black-and-white screen of my host's Aqua-Vu fishing camera showed a flat, empty lake bottom about 20 feet below us. There were no eelpout or $25,000 trout in sight. "I thought it was so beautiful here, so I asked myself, 'Can I make it through the winter?' " said Rich, who had also moved to Walker from Chicago. "I stayed. Winter came and I said, 'Yep, I can make it.' "
Driving out that afternoon toward the main lake, I came upon what appeared to be a man who'd gotten stuck diving into the snow-laden ice, an empty bottle of schnapps nearby. "That's Fred -- he gets a lot of attention," Carl Johnson, who hails from Grand Rapids, Minn., said of his make-believe, accident-prone friend. (Johnson created Fred with mannequin legs.) "Every year someone actually tries to save Fred from freezing or drowning."
Out here on the ice in the 20° air, inhibitions disappear. At every fish camp I visited, folks invited me to join them at the festival the following year. Craig Woken, greeting revelers in his tent full of fur hats, compared the event to a family reunion where "you want to hug everyone." Friends and acquaintances are constantly grabbing each other, rolling in the snow and pouring each other drinks. With spring just four weeks away, the locals have plenty to celebrate.
I stood near Bresley as he emceed the Polar Plunge. We watched the plungers' shocked expressions as they escaped from the frigid waters, and I observed that it appeared the fishermen had become the fish. "If people want to fish, God bless 'em," he said. "But come up and have fun."