Texas wins college football $ title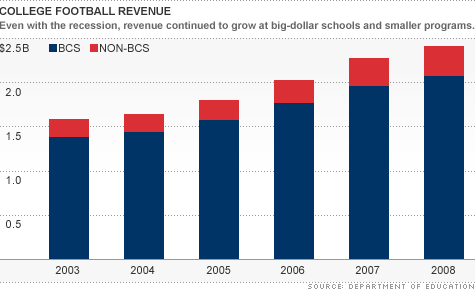 NEW YORK (CNNMoney.com) -- The University of Alabama's Crimson Tide may be the top ranked team heading into college football's national championship game on January 7. But in one key measure, the team clearly trails the No. 2 University of Texas: money.
Texas has no peer when it comes to both revenue and profits, according to figures from the nation's colleges. During the 2008 season, the most recent for which figures are available, Texas took in $87 million in revenue and had a profit of $65 million after reported expenses, both well ahead of any school.
This is the fifth time in the last six seasons that Texas topped the revenue and profit ranks, a dynasty that would make not only other schools but most professional teams envious.
No. 2 in revenue in 2008 was Ohio State, which took in $68 million, while No. 2 in profits was the University of Georgia, which earned $45 million after expenses.
Alabama's $65 million in revenue is the fifth-highest, but its $38 million in earnings was only good enough for a No. 8 seed in the profit rankings, just behind Notre Dame, whose on-field performance this year left the Fighting Irish at home during bowl season and its coach looking for a new job.
The revenue and profit figures, which CNNMoney analyzed, are filed by each school to the Department of Education. It shows that the major Division 1-A college football programs seem to have escaped relatively unscathed from the financial crisis that hit the rest of the nation, including many professional sports teams, in the fall of 2008.
Revenues increased 5% at the schools in the six big-dollar conferences that together host the Bowl Championship Series. On average, the 66 schools took in just over $31 million each. Total revenue at those schools topped $2 billion for the first time.
Profits were essentially flat for these big dollar schools, but nearly half of their revenues flowed to the bottom line. That's a profit margin which any sports team owner and most Fortune 500 CEOs would kill to achieve.
Only four of the big dollar schools lost money from their college football teams last season -- Duke, Wake Forest, Syracuse and Connecticut.
Haves and have-nots
Even schools outside of the top six conferences that also send teams to bowl games did well as a group, although at a far more modest level. Total revenue from those 51 schools was up 8% from 2007 to 2008 to $335 million, while profits slipped 3% to a collective $7.7 million. Still, 2008 was the second year in a row that the non-BCS schools finished in the black as a group after years of losses.
But profits are still tough to come by for most of the schools from the smaller conferences -- a third of them reported losses while another third merely broke even.
Even the successful small conference schools find it tough to make a buck on football. Texas Christian University, which finished the 2009 season undefeated, is one of the schools that broke even the previous year. Boise State, which also enjoyed a perfect season and will play TCU in the Tostitos Fiesta Bowl on January 4, eked out a $3 million profit on revenue of $8.5 million.
When their 2009 numbers are reported next year, don't expect to see Boise State or TCU scoring any big paydays because of their appearance in a major bowl game this year. That's because of how the system is set up to distribute money from the bowls.
Under the current structure, the five non-BCS conferences will get an equal cut of the approximately $24 million of BCS money available because of the success of Boise State and TCU and then split that money among their respective schools. That works out to just over $500,000 each for Boise State and TCU.
By way of comparison, each of the six big-money conferences are guaranteed a total of $18 million in BCS money, or between $1.5 million to $1.8 million per school, depending upon the number of teams in each conference. In addition, any BCS conference that sends more than one school to a major bowl is eligible for an extra $4.5 million.
These huge payouts make it very unlikely that the big conferences will ever agree to a playoff system to determine a champion -- even though many college football fans, including President Obama, have lobbied for a playoff.
This is clearly a case where the haves are going to make sure they remain the haves, no matter what the have-nots and many fans think is fair. There are more than 2 billion reasons why nothing is going to change soon.