How Ronald Perelman met his match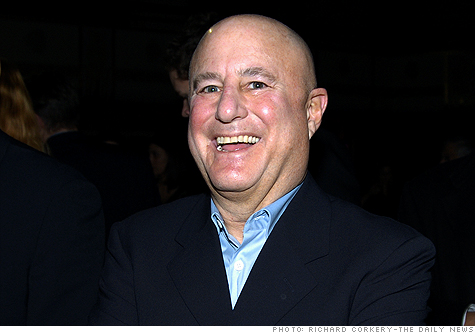 (Fortune Magazine) -- --Editor's Note: This story contains profanity.
Ronald Perelman may not be the most disputatious tycoon on the planet, but he sure spends a lot of time in the courtroom. Something about the bullet-headed billionaire engenders conflict. The list of formerly close associates and relations with whom Perelman has engaged in knockdown, drag-out legal battles includes a former chief financial officer of his company, a former vice chairman, and all four ex-wives. Perelman, evidently, has issues with exes.
So when the Revlon chairman sued his ex-father-in-law Robert Cohen and his ex-brother-in-law James Cohen in 2008, hardly anyone batted an eyelash.
Robert Cohen is the father of Perelman's late ex-wife, the society journalist Claudia Cohen. Perelman's suit sought to wrest control of half of Robert Cohen's fortune and bestow it on Samantha Perelman, the daughter he had with Claudia Cohen -- even though Samantha is one of six grandchildren who are descendants of Robert. Perelman argued that, as executor of Claudia's estate, he had a duty to sue, because decades ago Robert had promised the money to Claudia.
Even by modern standards of dysfunctional-family estate battles -- think of the Astor clan -- this one was a lulu. Robert Cohen is not a well man. He suffers from a rare neurological disease that has paralyzed him, rendering him all but speechless. He needs round-the-clock attention from a team of nurses who bathe, dress, and feed him, and make sure he doesn't choke.
But Perelman, it turned out, tangled with the wrong octogenarian invalid.
The Cohen family business, Hudson Media, is one of the largest regional magazine wholesalers -- it is, in fact, a long-standing business partner of Time Inc., the publisher of this magazine and other big titles including Time, People, and Sports Illustrated. The Cohen family, although not nearly as wealthy as Perelman, has built a major business fortune in three generations -- in 2008, Hudson sold its ubiquitous newsstand business for around $800 million.
But their business has been a rough-and-tumble one, especially in the early years. When the Cohens were fighting for dominance in the Hudson County, N.J., market, they had to deal with shakedown artists, racketeers, and even Mafia thugs. They are not pushovers.
Robert Cohen was 82 years old when he learned in February of 2008 that Ronald Perelman was mobilizing one of the most feared law firms in the country to sue him.
He responded by summoning the roughest trial lawyer he could find to his New Jersey office. That was Robert Gold, a former federal prosecutor whom a colleague described as having "just two gears: sleeping and tearing into red meat." Gold wasn't sure how much fight the old man had in him, and he told Cohen, "If you want a lawyer who will push papers around and ultimately capitulate, you should find someone else," according to someone in the room. "I'm the guy who fights."
"Bobby," Robert Cohen croaked, "I want you to fight him and fuck him."
Highfliers
There was no hint of the conflict to come on the warm, hazy day in June 2007 when a cavalcade of limousines glided up to Central Synagogue in midtown Manhattan for Claudia Cohen's funeral. It was the kind of A-list event that Cohen herself might have covered in her days as one of the city's preeminent gossip columnists: The boldface names in the crowd included Donald Trump, Jon Bon Jovi, and Calvin Klein.
To those mourners Claudia had been royalty. One of her former suitors was there: former Republican senator Alfonse D'Amato, who had announced his love for her at a press conference. The first love of her life was there too: her father, Robert Cohen, sitting erect in his wheelchair.
All eyes turned to Ronald Perelman as he gripped the lectern and stood behind his ex-wife's casket. Most people in the sanctuary probably knew the story of Perelman's highflying marriage to Claudia and their equally high-profile divorce. But until now few had heard how he had spent years trying to fund an experimental vaccine to treat her cancer. "She was my rock," Perelman said, choking up. "She was my confidence builder. She was the person who every night whispered in my ear that I could do it."
Perelman had met Claudia in early 1984. They were introduced by a mutual friend at what Perelman jokingly called his "cafeteria," the legendary restaurant Le Cirque. Three days later he asked her out on a date.
Perelman, then 40 years old, was on the verge of becoming a force on Wall Street. The grandson of a Lithuanian immigrant, he had been raised in a prosperous Philadelphia family. After graduating from the University of Pennsylvania and its Wharton School, he went to work for his father, Raymond, a fiercely disciplined and unsentimental buyout artist. He married Faith Golding, a real estate heiress. When he was 35, Ronald Perelman struck out on his own, borrowing money to buy a chain of jewelry stores. Then he acquired a stake in MacAndrews & Forbes Group, the licorice-extract maker that would eventually become his main holding company.
If Perelman's business career was on the takeoff runway, his personal life was a shambles. Golding filed for divorce, alleging that he was having an affair with a florist. She claimed ownership of the stake in MacAndrews & Forbes, saying she had put up collateral for the loan that allowed Perelman to acquire an initial share in the company. Perelman fought the claim, represented by none other than Roy Cohn, the notorious Red-baiter and mob lawyer. The two sides settled, and Perelman kept control.
Perelman's new love, Cohen, was a wealthy woman too. Though she earned around $50,000 a year as a TV society journalist, she lived in a spacious apartment on Central Park South. Her father paid her bills. When Perelman and Cohen went to Florida for a friend's party, Claudia was unhappy with their room at the luxury resort the Breakers. She had a car take them to her parents' oceanfront mansion in Palm Beach. Robert Cohen and his wife, Harriet, were having a drink when the lovebirds arrived.
"This is the nicest second house I've ever seen," Perelman told Robert Cohen after Claudia introduced him. Cohen was amused. Nicest second home? Why wasn't it the nicest first home? he asked.
Perelman conceded that it probably was.
The two tycoons would spend a lot of time together. They both liked the finer things, including cigars and Hermès ties -- Cohen had hundreds of them. Perelman, a shopping fanatic, kept suits arranged chronologically, based on the year he'd had them made.
Mindful of his fight with his first wife, Perelman asked Claudia Cohen to sign a prenuptial agreement in which she forswore any claim on his MacAndrews & Forbes holdings. In return he agreed not to seek any of her estate. Robert Cohen handled negotiations for his daughter. He told Perelman that she was a "very, very wealthy girl." Her prenuptial agreement "conservatively valued" her worth at $3 million.
Perelman and Claudia Cohen married on Jan. 11, 1985, in a service performed at Perelman's New York home by a surrogate court judge. A few months later Robert Cohen threw a party for the newlyweds at the nightclub Palladium, where the Pointer Sisters performed.
At the time Perelman was in the midst of a bitter takeover battle for control of Revlon (REV). Ten months after the wedding, Perelman finally took over the giant cosmetics concern; Robert Cohen accompanied his triumphant son-in-law to the Revlon office when the deal closed. After the takeover, Perelman was suddenly a billionaire. Proud as he was of Perelman, Cohen would often rib him, saying that unlike people who made their money playing games with debt, the Cohens built companies from the ground up and then ran them.
Indeed, Ronald Perelman had no idea of the kind of nerve it took to make it in the newspaper distribution business. Compared to that shark tank, Perelman's takeover world was a carp pond.
Brushes with the law
Like his new son-in-law, Robert Cohen had spent his formative years working for his hard-driving father. Like the Perelmans, the Cohens had roots in Lithuania: Robert's father, Isaac "Ike" Cohen, had come to the U.S. as a boy. He started his company as Bayonne News in 1918 in a small store in Bayonne, N.J. By the time it was renamed Hudson News in 1926, it was becoming the largest newspaper distribution company in Hudson County, N.J.
Robert Cohen started working at the company in 1947. A New York University graduate, Cohen was dashing, hard charging, and smart. Though he hadn't completed his studies at West Point, he maintained a military bearing. He and his wife, Harriet, a former concert pianist, had three children: Claudia, whom he nicknamed "Cupcake," and sons Michael and James.
Both Ike and Robert Cohen had brushes with federal authorities and with a prominent organized-crime figure. In the late 1950s federal investigators began looking at the relationship between wholesale distributors, including Ike Cohen and a notorious gangster named Irving Bitz.
Bitz, a former foreman for Hudson News, had ties to organized crime that went back decades. When the Lindberghs sought to open negotiations with the kidnappers of their baby, they hired Bitz. He also had a rap sheet that included narcotics and weapons charges.
In 1961, in exchange for immunity, Ike Cohen testified against Bitz in a bribery case involving corrupt union officials, but their friendship survived. Ike Cohen died two years later, and Bitz served five years in prison.
In the late '70s, federal prosecutors began investigating Robert Cohen and other wholesalers in a scheme that was nearly a duplicate of the one that had tripped up his dad. According to a New York Times story about the investigation at the time, the feds were interested in Cohen's relationship with Bitz, now out of jail, and organized crime. In 1981, Cohen agreed to plead guilty to 20 misdemeanor counts of bribing a union official.
"The crime you committed is a serious one," the judge told Cohen on the day of his sentencing. "It was motivated partly by greed, because you were looking to get an edge in your business ... if you could get these union hoodlums off your back, and you had no courage."
Robert Cohen got three years' probation and no jail time. Bitz fared worse: Five months later the tiny gangster was kidnapped and murdered. His body washed up on a Staten Island beach.
Symbols of an age
By the mid-1980s, things seemed back to normal for the Cohens. Robert was off probation, and business was booming.
The media spotlight was shining much brighter on Claudia Cohen and her husband, who soon became symbols of the excesses of the 1980s. Spy magazine made sport of their over-the-top home renovations. In his biography of Perelman, When Money Is King, author Richard Hack described how she ordered an enormous cooling system to replace an air conditioner that took 15 minutes to bring the temperature down from 90 to 78 degrees. "What I want from an air conditioner is you turn it on -- and it's cool," Claudia barked, according to Hack.
In 1990, Perelman and Claudia Cohen's daughter, Samantha, was born. Perelman and Claudia's relationship soured, and they divorced in 1994. Perelman was soon in love again, swooning over Patricia Duff, a striking Democratic fundraiser. Duff initially resisted Perelman's marriage proposal but acquiesced after becoming pregnant.
Though he was divorced from Claudia, Perelman still behaved proprietarily. They went to court over one of her expensive renovations. Perelman later testified that the dispute was "motivated by me being disturbed as to who she was dating at the time, and that individual's proximity to Samantha." That person was Sen. Alfonse D'Amato, according to people familiar with the matter. (D'Amato declined to speak with Fortune.) When Claudia stopped dating D'Amato, she and Perelman resumed their friendship, calling each other daily.
Seeds of acrimony
In the predawn hours of May 25, 2004, Claudia Cohen asked her best friend, Susan Hess, the wife of John Hess, the oil company scion, to help her write her will. She had been diagnosed a few years earlier with a virulent form of cancer, and it was getting worse. She wanted the Hesses to serve as her estate's executors.
By then the value of Claudia's estate had ballooned to around $60 million. She had been supported since her divorce by her father and by Perelman, whose divorce settlement with her included a $20 million cash payment over time, as well as $1.8 million annually until Samantha was 18. The will left the bulk of Claudia's estate to Samantha, with $5 million to go to her when she was 25, half of the remainder when she was 30, and the rest when she was 40.
As Cohen's cancer worsened, Perelman fought to save her. He convened a group of the best researchers to develop new approaches to her cancer. At a cost of millions they developed a tumor-specific vaccine, and Perelman worked behind the scenes to speed regulatory approval.
Tragedy had been stalking the Cohen family for some time. Claudia's younger brother, Michael, died suddenly in 1997. Her mother's mind had been lost to Alzheimer's. And Robert had been diagnosed with a Parkinson's-related disorder called progressive supranuclear palsy. It typically begins with gait and eye control problems, but can also affect speech, mood, and behavior. In reaction to his medications, he began having hallucinations.
Control of the company had been shifting increasingly to James Cohen, who, having spent much of his life in his father's shadow, now emerged as a formidable businessman in his own right. He spearheaded the company's immensely profitable drive into retail news and bookstores, which soon began popping up at major airports around the country. Sales in that business rose from zero to $650 million annually.
Robert Cohen's estate planning reflected his son's growing role in the business. Since Michael's death, James has been the sole heir of the companies. Claudia was provided for with other assets, including life insurance, jewelry, real estate, and Cohen's G5 jet.
Like his former brother-in-law, the younger Cohen lived large. For his new primary residence, he built a 25,000-square-foot mock-Tudor castle in Alpine, N.J. In a February 2007 article entitled "Windsor on the Hudson," Architectural Digest chronicled the construction of the home, which boasts 13 gables and 15 bathrooms.
Over the protests of historic preservationists, he paid $26.5 million to buy an old estate in East Hampton, where Perelman had his own grand home, according to court papers. He had the local fire department burn it to the ground as part of a training exercise, earning a tax deduction.
In 2007, Claudia checked into Memorial Sloan-Kettering Cancer Center. Her disease had spread, and the end was near.
What happened in her hospital room -- a VIP suite -- on the 18th of May, just a month before she died, is shrouded in controversy. On one thing the two sides agree: Perelman visited Claudia that day, and when he emerged, he was the new executor of her estate.
Perelman has testified that Claudia wanted him to be her sole executor and trustee, and that accordingly, he had summoned their trusts and estates lawyer, Matthew Kamens, to the hospital. Kamens brought along a copy of a 2002 will that hadn't been executed.
The lawyer testified that he crossed out the Hesses as executors and trustees, writing in Perelman's name instead. The terms in the new will were changed so that Samantha, then a teenager, wouldn't receive the money outright, as she would have eventually under the now voided 2004 will. Instead Perelman, as trustee, would have lifetime discretion over the principal.
The signing of the will was witnessed by Perelman's bodyguard and another lawyer. Kamens said Cohen was "mentally sharp, although clearly physically weakened and fatigued."
Today James Cohen believes Perelman took advantage of his sister's weakened condition to make himself executor, a position he used as a wedge to pry his way into their business affairs and eventually sue them, according to his lawyer Frank Huttle.
"The lawsuit is a financial grab for the Hudson companies and a way for Perelman to turn his daughter against her mother's family," Huttle says. A lawyer for Claudia's estate says Huttle's claim is "simply false -- Ronald Perelman has never had any interest in the Cohen family assets, or in any other aspect of the Cohen family."
Whatever his feelings, James Cohen did not, at the time, challenge the new will or raise formal objections. In fact, before the litigation started, he sent a letter to the court supporting it. Huttle says he did so in deference to his sister's stated wish that family harmony be preserved.
The probate court appointed a guardian on behalf of Samantha to look into the matter. The guardian acknowledged that "some of the circumstances surrounding the execution" of the will were "not ideal," including the fact that Kamens was acting both as Claudia's and as Perelman's lawyer. But he wrote that he was confident that the new will was on the up and up.
What helped convince him was Samantha's statement that she was "far more comfortable" with her father as executor than the Hesses, given Perelman's "great business and financial expertise." In November 2007 a probate court judge gave her final blessing to Perelman as executor.
Gloves off
By that time, relations between the Cohens and Perelmans had deteriorated. Perelman was furious that less than a month after Claudia's death James Cohen had sought to buy out Claudia's stake in a partnership that owned part of the Palm Beach house. Not only did the timing seem colossally insensitive to Perelman, but the price seemed absurdly low. "It was shocking to Samantha Perelman and her father, and deeply offensive," says a lawyer for Claudia's estate.
The Cohens felt they were only observing terms of the partnership, which required a buyout within 60 days of the death of one of Robert Cohen's children. The formula they used to determine the price was the same one they had used when Claudia and James's brother, Michael died, they noted.
Perelman began pushing for information about other Cohen assets that he said had been promised to Claudia. The Cohens at the time were deep in discussions to sell Hudson News' retail operations to Advent, a big private equity firm.
They were convinced Perelman had somehow gotten a heads-up about the deal, a notion that Perelman's camp says is preposterous. The deal was announced in December, but Perelman's camp claims it wasn't aware of the transaction until February, when lawyers stumbled upon the press release.
In February, Perelman's advisers signaled their willingness to go nuclear when they retained noted trial lawyer Ted Wells to take over discussions with the Cohens. Wells sent the Cohens a letter that spelled out Perelman's intentions to sue if his demands weren't met. Wells asked for an assurance that Samantha Perelman would receive "monies in an amount equal to the current value of a one-third interest in the Hudson Group." Such a sum, he wrote, had been "committed" to Claudia Cohen.
The Cohens' worst suspicions had been realized. To them, it looked like Perelman was sharpening his corporate-raider cutlass for an assault on Hudson. They, too, began to prepare for war. (A lawyer for Claudia Cohen's estate denies that Perelman ever intended to make a "grab" for Hudson.)
Family history
Perelman filed a blizzard of lawsuits against the Cohens. There was a New Jersey case involving the buyout of the Palm Beach vacation home. There was a separate case in a New Jersey court to have a guardian appointed for Robert Cohen. Perelman also filed a federal racketeering claim against James Cohen, alleging that he had fraudulently transferred assets from his father to himself.
But the main case was the Estate of Claudia Cohen v. Robert Cohen and James Cohen, filed in April 2008 in New Jersey state court. The core of that case was a claim that Robert Cohen, many years before, had promised Claudia that he would leave half of his own and his wife's assets to her. Perelman argued that Claudia, though she never asked for the promise in writing, had lived her life assuming that money would come to her. What Claudia never knew, Perelman alleged, was that James Cohen had been plotting to make sure that he had "sole control over Hudson" and to guarantee that only minimal assets would go to Samantha. James, the complaint argued, exerted "undue influence" to take advantage of his weakened father -- an exertion of power that would nullify any changes made to the older man's will.
In June 2008 the suit survived a first and critical legal test when a New Jersey court judge refused to dismiss it. However, the judge warned that Perelman faced "significant hurdles," as oral promises involving wills are unenforceable in New Jersey unless they were made before Sept. 1, 1978, when a law was passed to stop such claims.
The Cohens hit back. In September 2008, Robert Cohen's lawyer submitted an affidavit in which Cohen denied ever making the promise to his daughter. Perelman, the affidavit said, had mistakenly believed he would lack the stamina to wage a defense. "However, for as long as I am able, I will find the strength and summon the energy that now seem to be required of me on a daily basis to resist this lawsuit," Cohen swore in his affidavit, signed by his nurse.
Cohen would need a lot of energy in the coming months. His granddaughter Samantha sent a sworn statement to the court claiming her grandfather was too sick to have prepared his affidavit. Things were getting very ugly, very fast.
"Stop pulling my heartstrings"
Judge Ellen Koblitz's courtroom was a small, unprepossessing space with low ceilings in the Bergen County Court House in Hackensack, N.J. The air-conditioning system was fitful at best. Even during pretrial hearings tensions often ran high, with the judge having to frequently admonish the lawyers for yelling.
As the trial approached, Perelman's lawyers got copies of Robert Cohen's wills and other estate-planning documents. The documents, reviewed by Fortune, show that millions of dollars of assets, including women's jewelry, real estate, and ownership in several small corporations that had been pledged to Claudia and Samantha, shifted in 2007 to Robert Cohen's other grandchildren. Perelman's lawyers argued that James Cohen had engineered the changes in the wake of his sister's death.
People close to the Cohens say that Robert Cohen was simply balancing his assets more evenly among his grandchildren, and that the changes also reflected the extraordinary wealth of Samantha's father. These people say that the changes in the wills were made by Robert, not James Cohen. "No one tells Robert Cohen what to do," says Frank Huttle, James Cohen's lawyer.
As the case headed to trial in the spring of 2009, Judge Koblitz expressed skepticism about Perelman's claim that Samantha, one of Robert's six grandchildren, should get half of his money. "The 18-year-old granddaughter, whose father is extraordinarily wealthy, should receive the same amount of inheritance as James, a generation above her -- that's your claim?" It was.
When Perelman's lawyer tried to suggest that a major victim of the saga was Samantha Perelman, who had lost a mother only to be robbed by an uncle, Judge Koblitz brought her up short, saying the suffering of Samantha Perelman could not compare with the tragedy of a severely disabled and dying man being sued by his daughter's ex-husband. "Stop pulling my heartstrings," she snapped.
Perelman's team kept raising the ante. First they claimed that Robert Cohen could not have written the affidavit denying the promise to his daughter. Then they asked the judge to declare Cohen incompetent. They scoured his medical records and subjected him to hours of depositions and cognitive tests in an effort to get the judge to appoint a guardian to oversee his litigation. In other words, Perelman was seeking to protect Robert Cohen from his own lawyers.
Perelman's lawyers asked the judge to force Cohen to attend the trial so that she could observe his condition herself -- a request she rejected as burdensome, considering his frail health. She agreed to let him testify again in his East Rutherford, N.J., office. More than 20 people crowded into that room. Perelman's team had brought their own speech therapist along. Cohen looked awful: His mouth was frozen open like a cave, and his breathing was ragged.
The court took two days of testimony from Robert Cohen. Asked by his lawyer, Gold, whether he had ever made a promise to divide his estate equally among his children, Cohen answered no. He answered yes when asked if he always intended to transfer the vast majority of his assets to James. No, he did not want a court-appointed guardian for him, and yes, he wanted his lawyer to keep fighting for him. "Mr. Cohen, having spent the last 13 months in litigation, can you tell Judge Koblitz how you feel about your former son-in-law?" Gold asked. Cohen's answer was difficult to understand.
"I'm going to object," said Martin Flumenbaum, Perelman's lead trial lawyer, his voice rising in pitch. "There are no articulable, intelligible words that were uttered. It's just unfair."
"Overruled," said Judge Koblitz, asking the speech therapist to continue.
The speech therapist hesitated: "He may have said 'asshole.'"
Claims dismissed
And what of Samantha Perelman, the one for whom this war was formally being fought?
Samantha testified through a deposition that she had pursued the suit to protect her mother's legacy and estate. "I felt that this was a matter that had to be addressed. And this was the only way, after multiple times of trying to resolve it in a better manner."
But Samantha did not seem well-prepared for the deposition. After a year in litigation she couldn't identify any of her side's lawyers in the room, except for a MacAndrews & Forbes attorney. She admitted she hadn't met her own lawyer until the day before her deposition.
"I was shocked," the judge told Perelman's lawyers. "Shocked. I mean to say -- you've never met your attorney until yesterday. That's shocking to me." A lawyer for Claudia Cohen's estate says "clients involved in complex litigation frequently do not know personally the names of all the individual lawyers working on the matter." A spokeswoman for Ronald Perelman says Samantha has been an active participant in the case.
Perelman didn't perform much better when he was questioned by the Cohens' lawyers. He claimed not to have read the original demand letter from his lawyer Ted Wells that claimed "one-third" of monies associated with Hudson News Assets. Nor did he put much meat on the bones of the supposed promise that Robert Cohen had supposedly made to Claudia. His legal team had suggested his testimony would be pivotal, but the best he could offer was a memory of a talk with Claudia in which she said that as a teenager, she understood that "as a general concept" it had always been her father's intention to divide his estate equally.
Judge Koblitz's decisions fell like a lash on Perelman's legal team. In June she found Robert Cohen competent, rejecting Perelman's demand that a guardian be appointed to represent him during the litigation. Later in the month she ruled on the central claim in Perelman's case, that Robert Cohen had made a promise to Claudia before Sept. 1, 1978. "It's just not there," the judge said. "You can't make a silk purse out of a sow's ear."
In a later ruling, the judge dismissed all of Perelman's other claims. (After a separate trial, another New Jersey judge rejected Perelman's claim that the Cohens' buyout of the Palm Beach vacation house had been improper.) The billionaire had taken on an ailing octogenarian and lost on every count.
Neither side, however, is ready to stop fighting. Perelman's camp is either appealing or planning to appeal all the rulings. Separately, they are waiting to hear if the civil racketeering claim against James Cohen will be allowed to move forward in federal court.
The Cohens, meanwhile, want revenge. They filed a counterclaim to collect a $10 million loan that Robert Cohen made to Claudia. They have asked for an accounting in New York probate court of the finances of Claudia Cohen's estate.
Perelman testified at trial that he has used millions of dollars from his late wife's estate to fund the legal campaign against the Cohens. What the Cohens want the court to examine is to what extent Perelman financed his crusade by draining away the assets that had been bequeathed to his daughter.
In a statement to Fortune, Samantha Perelman defended the ongoing litigation. "I love my family dearly, and this lawsuit is only to protect its innocent members, specifically my deceased mother," Perelman wrote. "The lawsuit in no way stands to enrich my father. Instead it stands to protect my mother's legacy ..."
It is impossible to know what Claudia would think of the various claims and counterclaims. But we do have an idea of what she would think about the big picture.
In her now voided will, which she composed on her computer on an early spring morning in 2004, she wrote:
"I request that my ex-husband Ronald allow my daughter to have liberal visitation time with my parents, and with my brother James ... These relationships are EXTREMELY important to me to preserve, and I hope that Ronald will understand and facilitate this." It was the only word she capitalized in the whole document, and the only request she made of Perelman.