Super Bowl ads are going, going ...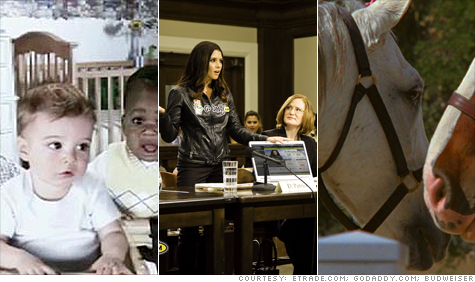 NEW YORK (CNNMoney.com) -- Buy your Super Bowl ads while you still can, because spots are filling fast.
CBS has sold 95% of its 30-second spots and is cutting deals for the rest, according to John Bogusz, executive vice president of sports sales for the network.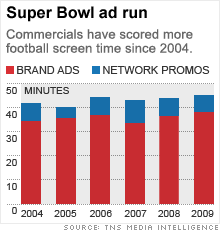 "We literally have a few units left to sell, and we are in conversations right now about those remaining units," he said.
CBS is charging up to $3 million for the spots, according to comments made by Chief Executive Leslie Moonves at a financial conference in December. Advertising Age has estimated that the broadcaster is charging between $2.5 million and $3 million.
"The clients who are in the game believe in the value and the reach of network TV and they want their brand on the biggest event of the year on network TV," said CBS head of sales Jo Ann Ross.
CBS executives said they've already sold out for the first half.
It's taken for granted that the Super Bowl is an effective way to reach consumers. Last year was a record high for viewer volume, according to The Nielsen Company, with 98.7 million people tuning in to watch the Pittsburgh Steelers beat the Arizona Cardinals. That outpaced 2008, when 97.5 million football fans watched the New York Giants' narrow victory over the New England Patriots.
"No matter what anybody says, it's the biggest TV audience in the world," said John Verret, professor of advertising at Boston University. "On a cost per thousand basis, it's very efficient."
The price of airtime has gradually increased over the years. NBC, the 2009 Super Bowl broadcaster, said it charged an average of $3 million for 30-second spots. This was an increase from $2.7 million in 2008 and $2.385 million in 2007, according to TNS Media Intelligence.
Ad revenue for the 2009 Super Bowl totaled $213 million, according to TNS, a significant increase from $186.3 million in 2008 and $151.5 million in 2007.
Also, the amount of airtime dedicated to Super Bowl advertising has jumped over the five years, to 45 minutes and 10 seconds in 2009 from 41 minutes and 55 seconds in 2004, TNS said.
Who's advertising this year
Anheuser-Busch (BUD) bought the most airtime this year, according to CBS, knocking PepsiCo (PEP, Fortune 500) from the top slot and continuing its status as the exclusive beer brewer for Super Bowl advertising. PepsiCo will continue to advertise its Frito-Lay products, but not its soda, the broadcaster said.
Dr. Pepper said it will advertise in the Super Bowl for the first time this year and recruited the rock band KISS for its commercial.
Tire company Bridgestone is the halftime sponsor, according to CBS, which listed other 2010 advertisers as Coca-Cola (KO, Fortune 500), Denny's (DENN), CareerBuilder.com, Monster (MWW), GoDaddy, E*Trade (ETFC) and Teleflora, as well as automakers Hyundai, Kia, Honda (HMC) and Audi, and film companies Universal Studios, Walt Disney (DIS, Fortune 500) and Paramount.
This year's drop-outs include energy drink company SoBe, tax preparer H&R Block and the conglomerate General Electric (GE, Fortune 500), according to the broadcaster.
The Super Bowl will take place on Feb. 7 at Dolphin Stadium in Miami.