Job growth returns -- then fades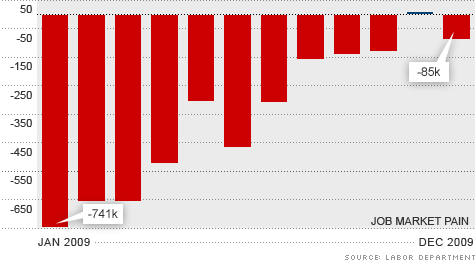 NEW YORK (CNNMoney.com) -- Employers once again slashed a substantial number jobs off their payrolls in December, according to a disappointing report from the government Friday. But there was a small glimmer of hope as well.
The payroll number for November was revised to a net gain of 4,000 jobs. That's the first increase in jobs in nearly two years. The government had previously indicated that 11,000 jobs were lost in November.
Still, the government reported a loss of 85,000 jobs in December -- much worse than expected. Economists surveyed by Briefing.com had expected no net gain or loss in payrolls in December.
The economy has lost 7.2 million jobs since the start of 2008. Losses for 2009 alone came to 4.2 million jobs, the most in one year since the government started tracking payrolls in 1939.
But even with the poor end to the year, the pace of job losses has slowed dramatically from the beginning of 2009. There were 741,000 jobs lost in January, the worst total in 60 years.
Some economists said that this broader trend is more important than the bigger-than-expected losses in December.
"I don't see this as a setback. We're still on the right trend here," said Tig Gilliam, CEO of Adecco Group North America, a unit of the world's largest employment staffing firm.
Gilliam said he's expecting job growth to resume in the first three months of this year, perhaps as early as February, and that gains of about 200,000 to 300,000 jobs a month by the middle of this year are possible.
"Our clients are still cautious, still concerned about the strength of the recovery," he said. "But they're much more focused on adding resources."
But other economists said this report showed how weak the economy and labor market continues to be two years after the start of the worst economic downturn since the Great Depression.
"There is still plenty to be concerned about. Layoffs have clearly slowed but hiring shows few signs of accelerating," said Mark Vitner, senior economist with Wells Fargo Securities.
The unemployment rate stayed at 10% in the December, in line with economists' forecasts.
It could have risen except for the fact that many people who want jobs stopped looking and were no longer counted as unemployed. That group of people wanting a job but are not counted in the labor force rose by 263,000 to a record 6.3 million.
Another 9.2 million people are stuck working part-time jobs when they want full-time work. Including discouraged workers and those not able to find the full-time job they want, the so-called underemployment rate rose to 17.3% from 17.2% in November.
Long-term unemployment also worsened in December, with those out of work for more than six months rising to a record 6.1 million. The typical unemployed worker has been out of work for five months.
Construction and manufacturing, two sectors of the economy particularly hard hit during the recession, again suffered large job losses in December. Construction lost 53,000 jobs while employment in manufacturing fell by 27,000 jobs.
But the losses were not limited to those areas. Retail employment fell by 10,000 jobs on a seasonally-adjusted basis, even with the holiday shopping season in full swing. The leisure and hospitality industries cut 25,000 workers.
Perhaps the most encouraging news from December was a 46,5000 net increase in temporary help jobs. Temporary employment is typically seen as a leading indicator of job growth because employers will add part-time workers before they're willing to hire permanent employees.
While most economists believe that the recession ended at some point in the middle of 2009, the labor market generally doesn't turn as quickly as the overall economy. Employers often wait to make sure of improved conditions before adding staff once again.
But the disappointing numbers for December raise worries that continued problems in the labor market could keep economic growth weak for much of this year, perhaps even leading to a so-called double dip recession.
Even if there isn't another recession, a so-called jobless recovery can feel like a recession for the typical American worker. After the 2001 recession ended, job losses continued for nearly two years and resulted in 1.1 million additional job losses.
Christina Romer, chair of the White House's Council of Economic Advisors, called the December job loss a "slight setback" in a statement. But she pointed out that quarterly job losses steadily declined throughout the year.
"The monthly employment and unemployment numbers are volatile and subject to substantial revision. Therefore, it is important not to read too much into any one monthly report, positive or negative," she said. "It is essential that we continue our efforts to move in the right direction and replace job losses with robust job gains."
But Republicans argued the report shows that the administration's stimulus package passed by Congress on mostly party lines at the start of 2009 is costing jobs instead of helping.
"A jobless recovery is a far cry from what the American people were promised last winter when Washington Democrats jammed through a trillion-dollar 'stimulus' that they said would create jobs 'immediately,'" said House Minority Leader John Boehner (R- OH) in a statement. "Instead, roughly 3 million Americans have lost their jobs since then, and joblessness remains in the double-digits."
The House passed a $154 billion jobs bill at the end of December that includes about $48 billion in infrastructure spending and another $27 billion in help to the states to prevent the layoffs of teachers, police and firefighters. There is also $79 billion in additional benefits and health insurance assistance for the unemployed.
The measure will be considered by the Senate after it returns to session Jan. 19.