Detroit Auto Show 2010: Less is more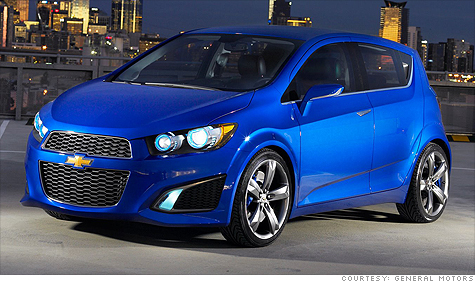 DETROIT (CNNMoney.com) -- The annual auto show that kicks off here Monday is very much like the auto industry itself: Greatly relieved to not be on death's door.
But it's still a long way from its former glory.
It is a much more subdued show than during the boom years earlier in the decade when automakers made a splash with events like cattle drives down Detroit streets.
This year's show has less of everything. The traditional Sunday start was scrapped and a two-day preview will replace the three day rollout of new vehicles and concept cars.
There will also be fewer journalists (media has been hit almost as hard as automakers in the last year), fewer new models revealed to the public and even fewer major automakers making a splash. Nissan is all but absent at the show, and Chrysler Group, the traditional grand showman of previous get togethers, is quietly unveiling its vehicles with none of the razzle and dazzle of the past.
"That's what happens when you don't have the money or the product that you did in the past," said Rebecca Lindland, director of industry research at IHS Global Insight.
Still the forecasts are for U.S. sales to increase to about 11.5 million vehicles this year, up from the 10.4 million sales in 2009.
While that has raised the hopes of a return to profits at many automakers as soon as this year, there are many experts who say there is still much to worry about.
There are concerns about a return of $80 oil and what high gas prices could do to auto sales. There are worries about the strength of the nascent economic recovery and an unemployment rate expected to stay at or near 10% for much of the year.
At the analysts' meeting Sunday, GM Vice Chairman Bob Lutz quoted Yogi Berra in saying "It's tough to make predictions, especially about the future."
But Lutz insisted he was very optimistic given the restructuring of GM and the industry in the past year, and the pent-up demand by buyers. He turned another Berra line around when he said, "Our future ain't what it used to be -- because indeed it is much, much brighter."
GM and Chrysler both survived the bankruptcy that loomed over them a year ago. At the time many feared bankruptcies would lead to liquidation rather than reorganization, which could have resulted in an industry-wide disaster.
As bad as 2009 was for the industry, with nearly 200,000 manufacturing and dealership jobs lost in the United States alone, it wasn't as bad as many feared.
"I think everybody has realized that we can take a deep breath, that the worst is over," said Jesse Toprak, vice president of industry trends for car price tracker TrueCar. "But everyone feels this is not a time for celebration. It's a time for reflection."
Last year the show took place on the heels of the automakers' trips to Washington to beg for help to stay in business.
This year Washington is coming to Detroit to see how what taxpayers are getting for the money. House Speaker Nancy Pelosi leads a delegation to the show Monday, mostly of Democrats but also two Michigan Republican House members. Also expected to make an appearance outside the show will be so-called Tea Party protestors opposed to the industry bailout.
As for the vehicles that will get a lot of attention at this year's abbreviated show are various plug-in electric cars. Some are merely concepts that may never see a showroom. Others making debuts at the show, such as the Chevrolet Volt and the Nissan Leaf, will both be on sale at the end of this year.
The Leaf's debut will be Nissan's only real presence at the show, but it will be on a display at the so-called "Electric Avenue," an unusual display showing offerings from many different manufacturers rather than just one.
The electric cars are likely to be money losers, not makers, for years to come, due to high development costs and only niche sales demands. And in his remarks Sunday night Lutz said most cars will remain internal-combustion engines, rather than electric vehicles, for at least the next 20 years, and that there will be a place for pickups and SUVs, even with the increased emphasis on small cars.
All three U.S. automakers, including GM, are focused on small cars like never before. Lutz said that despite the attention to the Volt, the lower-profile Chevy Cruze, the company's new small car offering, is more important to the company's future, predicting it could see global sales of 1 million vehicles a year. He said the Volt, even at full production, won't sell more than 50,000 vehicles.
Lutz also said the company will be able to do what it hasn't done before: make money on its small cars like the Cruze, even when they are built in America.
If he's right then his prediction about the show in future years could well prove to be true.
"I think Detroit, the American auto industry and Detroit auto show will all experience in the next three to five years a prestige Renaissance," he said.