China: Too big to ignore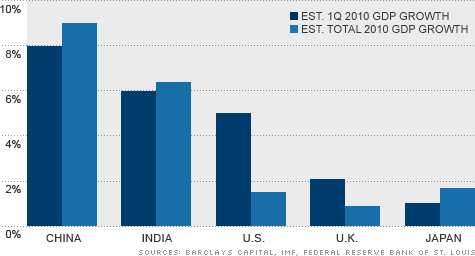 NEW YORK (CNNMoney.com) -- If the global economy really does rebound this year, guess what country is likely to lead the way? Hint: it's not the United States.
China is increasingly showing signs of economic life that aren't yet evident elsewhere.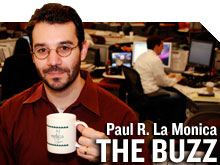 Last week, a Chinese trade organization reported that 13.6 million cars were sold in China in 2009, making China the biggest market for autos for the first time. By way of comparison, 10.4 million vehicles were sold in the United States last year.
And on Monday, China said that its exports rose nearly 18% in December. That was the first gain after 13 consecutive year-over-year declines. What's more, the increase allowed China to top Germany as the world's largest exporter of goods in 2009.
So what's this mean for the United States and the global economy at large? Well, much like Glenn Close in "Fatal Attraction," these numbers show that China's not going to be ignored.
"There is a very good case you can make that focusing on the G-7 five years from now will not be as important as focusing on the G-2. And the G-2 will be the United States and China," said Fred Fraenkel, chairman of investment policy with Beacon Trust Company, a money manager in Madison, N.J. "China won't be as big as the U.S. by then but they are getting closer and they will be the second most important economy."
As I've pointed out in this column numerous times, China (like it or not) has a lot of influence over the U.S. economy simply because it is the largest foreign holder of U.S. debt.
At the same time, China's position as the world's largest exporter rankles many, particularly since other nations have long argued that the Chinese government does several things to make Chinese goods more competitive, such as keeping its currency, the yuan, artificially low.
January Yen, head of Chinese equities at Auerbach Grayson, a broker dealer based in New York, said that if exports continue to bounce back in the next few months, China will face even more pressure to let the yuan appreciate. But Yen added that China is unlikely to take such action until the second half of the year at the earliest.
Still, it may not take that long. There has been a mini-trade war brewing between China and the United States. America slapped tariffs on Chinese-made tires last fall, and China responded with tough talk about investigating "dumping" of auto parts and chickens by U.S. companies on the Chinese market.
Protectionist trade policies won't really do either country any good. And if the U.S. economy is indeed improving, China will not want to miss out on cashing in on a rejuvenated U.S. consumer.
With that in mind, Joanne Thornton, trade policy analyst with Concept Capital's Washington Research Group, thinks China may bow to calls to boost the yuan sooner rather than later.
"We are coming up to a crunch point but China will probably be more comfortable with a stronger exchange rate now that exports are growing again," Thornton said.
Don't forget how much China is importing
Still, the China story is not just about exports. China is buying a lot more from abroad as well. In fact, imports in China surged 56% in December from a year ago. So China's trade surplus actually shrunk from November.
Of course, it's still a surplus and not a deficit. But the point is that China is not just pumping out cheap goods at the expense of U.S. producers.
"China is going from being a supplier of things to the world to a demander of things from the world at an incredibly rapid pace," Fraenkel said.
With that in mind, Fraenkel said that some U.S. companies are seeking to take advantage of the growth in imports. So China's growth should not be viewed as entirely a negative for the United States.
Fraenkel added that his firm invests in several companies that he thinks are doing a good job of making inroads in China, such as Chevron (CVX, Fortune 500), Caterpillar (CAT, Fortune 500), semiconductor company Qualcomm (QCOM, Fortune 500) and fast food chain owner Yum! Brands (YUM, Fortune 500).
"It's important to have a two-way flow of trade with China. There are companies that are figuring out they can do way better selling to the faster-growing part of the world," Fraenkel said.
Still, China's explosive growth may also be creating some problems. Several prominent hedge fund managers, including Jim Chanos, have been airing concerns about how China may be the next big bubble waiting to pop.
Fraenkel does not agree with the China bears. But Yen said there's merit to the bubble argument, particularly when it comes to soaring property values in China. (Sound familiar?) And if there is a crash in China, that could be bad news for the rest of the world.
"China has been leading the global economy for the past year. It has been helping to lead the world out of the financial crisis," Yen said.
So while it may be tempting to take an isolationist stance and root for China's economy to cool off, that really would not do the United States any good.
"The trade deficit stands out politically," Thornton said. "But China's imports have held up better than their exports. So it's not all black and white. The U.S. benefits from a healthy China."