Google rolls the dice in China
NEW YORK (CNNMoney.com) -- Wow. It takes a lot of cojones to stand up to the Chinese government. But Google seems willing to give up on a huge market to protest strict censorship rules.
The company said Tuesday it may shut down its Google.cn site after discovering an attempt to gain access to Gmail accounts of Chinese human rights activists.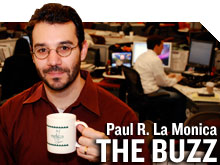 This is clearly good news for champions of free speech. Google and many other big U.S. companies have been criticized for agreeing to some of China's more tough demands on censorship.
But while Google is winning praise from some corners, investors aren't too thrilled about Google embracing its "Don't be evil" mantra.
Shares of Google (GOOG, Fortune 500) were down about 2% by early Wednesday afternoon. While that's hardly a bloodbath, it's worth noting that virtually all of Google's key competitors were rallying.
Baidu.com (BIDU), the search engine often referred to as the Google of China, shot up more than 13%. Shares of Chinese online media companies Sohu.com (SOHU) and Sina (SINA) were also up slightly.
"Regardless of anyone's political views on this issue, from a pure investor standpoint, this move likely means that Google will not be a competitor in China for the foreseeable future," wrote Benjamin Schachter, an analyst with Broadpoint AmTech, in a note Wednesday.
Heck, even Yahoo (YHOO, Fortune 500) and Microsoft (MSFT, Fortune 500), which trail Google in the search race in China (just like the rest of the world) were up a tad.
Yahoo, unlike Google, does not operate its own site in China. China's privately held Alibaba Group runs Yahoo! China; Yahoo owns approximately a 40% stake. Microsoft is still beta testing its Bing search engine in China.
Nonetheless, Wall Street analysts were quick to defend Google -- and argue that even if the company makes good on its threat to abandon China, it may not be a disaster for Google.
Google isn't the market leader in China. According to figures from online tracking firms comScore and Analysys International, Baidu controls 64% of the search market in China; Google has just 31% of the market.
Several analysts estimated that Google's 2009 gross revenue from China is tiny -- between $200 million and $250 million, about 1% of total revenue.
Many analysts weren't predicting a big increase this year. Sandeep Aggarwal, an analyst with Collins Stewart, wrote in a research note Wednesday that he's forecasting only $300 million in online ad revenue from China this year -- assuming Google stays in China, of course.
George Askew, an analyst with Stifel Nicolaus, also sought to downplay the issue. He wrote in a report Wednesday that he believes Google's profit margins in China right now are low.
Still, these arguments are missing the point. China is not a 2009 or even 2010 story for Google. The hope is that Google (like other big U.S. multinationals) could generate a sizeable chunk of their business from China. As I pointed out in Monday's column, China is simply too big to ignore.
For that reason, some think that Google and China will eventually make nice. Google may not necessarily be bluffing, but Marianne Wolk, an analyst with Susquehanna Financial Group, said she thinks there's just a 35% chance Google would actually leave China for good.
"This is about Google trying to put some pressure on China so that they are treated more fairly and they are trying to get the support of global Internet community," Wolk said. "Even if they leave, they'd end up coming back in a few years. China is an important high-growth market."
But what if Google does leave? Google's stock is trading at about 22 times 2010 earnings estimates. That isn't absurdly high, but it's not a dirt-cheap bargain either.
Anyone buying Google's stock now has to be betting on growth around the world. Those hopes could take a hit if Google abandons the biggest emerging market of them all.
"The company's inability to participate in China's growth will be seen as a long-term negative," wrote Youssef Squali, an analyst with Jefferies & Co., in a report Wednesday. Squali added that the stock might even begin to trade at a discount to peers if Google left China.
Google could get a goodwill boost
That argument makes sense. But you know what? Once the knee-jerk sell-off is over, Google's defense of free speech could help the company. It's possible that investors may decide Google is worth an even bigger premium as a reward for being a good corporate citizen.
"Their stance on human rights, censorship and user privacy is likely to aid Google in other locations. It can definitely increase their brand value," said Clayton Moran, an analyst with the Benchmark Company.
Sure, brand value is one of those notoriously nebulous numbers to try and calculate. And socially responsible investing isn't always synonymous with stellar returns.
But Google is clearly doing the right thing and should be applauded for taking a stance that could actually hinder its growth. One money manager said that Google has already won over some investors who apparently are valuing morals over margins.
"From a PR view, Google just became one of the great good guys in the world. I can't tell you how many clients have called me up to talk about this," said Morris Mark, president of Mark Asset Management, a New York-based hedge fund that owns Google.