GM puts brakes on Hummer production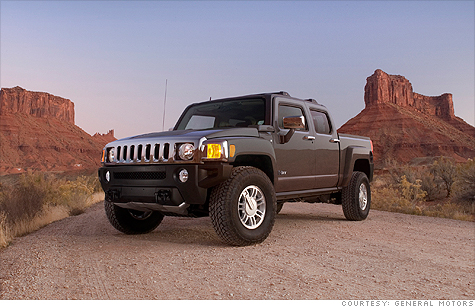 NEW YORK (CNNMoney.com) -- General Motors has suspended production of Hummer vehicles pending Chinese government approval of its deal to sell the unit to Sichuan Tengzhong Heavy Industrial Machinery Co., a GM spokesman said Thursday.
The H3 and H3T, the last two Hummer models still being made, are produced at GM's Shreveport, La., factory. The factory, which also makes the GMC Canyon and Chevrolet Colorado pick-ups, will stay open. The plant employs 1,120 people and no layoffs are planned.
GM sold 325 Hummers last month and there are about 2,100 of the trucks still in dealer inventories, "enough inventory to get dealers through the point in time when the deal is done," GM spokesman Nick Richards said.
There is still no indication of when, exactly, that might happen, Richards said.
"We're assuming this happens within the early part of this year," he said.
Sales have suffered, in particular, because of consumer uncertainty about the brand's fate, said Richards, and the fact that GM has not been advertising it.
GM finalized its deal to sell 80% of the Hummer brand to Sichuan Tengzhong Heavy Industrial Machinery Co. of China in October. The Chinese government still must approve the deal.
The remaing 20% is being sold to a private investor.
GM stopped producing the larger Hummer H2 SUV in 2008.