Tylenol recall: FDA slams company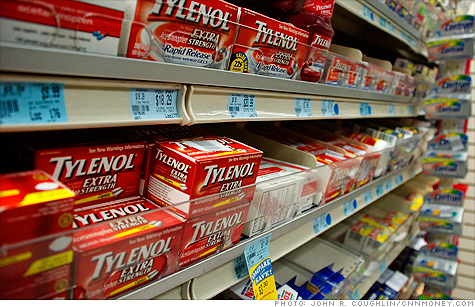 NEW YORK (CNNMoney.com) -- The maker of several over-the-counter drugs, including Tylenol, Motrin and Benadryl, announced a broad-based recall of these and other drugs Friday after receiving complaints of an "unusual moldy, musty or mildew-like" odor.
The recall drew the FDA's wrath on Johnson and Johnson (JNJ, Fortune 500) for not reacting quickly to customer complaints and its failure to fix the problem. The company has struggled to resolve the issue since it was first reported in 2008.
"When something smells bad, literally and figuratively, you aggressively investigate and solve the problem," said Deborah Autor, director of FDA's compliance office.
"The company should have acted faster," Autor said. "All companies have a responsibility to ensure high quality, safety and effectiveness of their products and protect consumers."
McNeil-PPC, the Johnson and Johnson division that manufactured the recalled products, said it received a "small" number of complaints of "non-serious" stomach problems, including nausea, stomach pain, vomiting or diarrhea. However, it did not say when the complaints were received or how many.
The recalled products include junior strength Motrin, children's Tylenol grape meltaway tablets, extra strength Tylenol, extra strength Tylenol rapid release gelcaps, extra strength Tylenol PM geltabs, Motrin caplets, extra strength Rolaids fresh mint tablets, St. Joseph Aspirin chewable orange tablets and Benedryl allergy ultratab tablets.
These products are widely sold through a number of retail stores, including large chain drug stores, independent pharmacies and supermarkets.
Autor said the FDA has issued a warning letter to McNeil, saying the company has 15 days to report back on its efforts to address the problem and prevent future violations.
In a letter, the agency said it is "concerned" about Johnson & Johnson's response to the matter.
A warning letter from the FDA is a very serious thing, explained Ira Loss, senior health policy analyst with consulting firm Washington Analysis.
"A warning letter indicates that this is the last time that the company will get a heads-up from the agency," said Loss. "If things don't get fixed, then there are other ways for the agency to make its point."
The agency warned Johnson & Johnson that "failure to correct these violations may result in legal action, including seizure and injunction."
Further, the agency warned that it may "withhold approval of requests for export certificates or approval of pending new drug applications" that list one of the company's facilities as a manufacturer until the violations are resolved.
Loss said he would not be surprised if the FDA is setting out to make an example of McNeil to other companies.
Said Loss, "The FDA's been criticized for not being aggressive enough in the past. The goal ultimately is to make the industry police itself so that we don't end up with situations like this."
On Friday, the FDA said McNeil informed the agency that it had received 70 complaints and expanded its recall of over-the-counter drugs.
The company said the smell was caused by a chemical called "2,4,6-tribromoanisole (TBA)," which is applied to wooden pallets that are used to transport and store packaging materials.
McNeil said a small number of the recalled drugs were found to contain small traces of TBA, but did not provide details about whether it changed the chemical composition of the drugs.
The FDA said the pallets were traced to a plant in Puerto Rico, and the agency is looking into whether any other drugmakers also used pallets from this plant to transport their products.
History of problems fixing a funky odor
The agency said McNeil first received complaints of an odor in its products in early 2008, but the company did not "identify it as an issue" until September of that year.
"McNeil did not report the issue to us until a year later," Karen Hirshfield, acting branch chief of the FDA's Recalls and Shortages Branch, told reporters.
In November 2009, McNeil recalled five lots of its Tylenol Arthritis Pain 100 count with the EZ-open cap product due to reports of an unusual moldy, musty, or mildew-like odor that led to some cases of nausea, stomach pain, vomiting and diarrhea.
On Dec. 18, 2009, McNeil expanded that recall to include all available product lots of Tylenol Arthritis Pain caplet 100 count bottles with the red EZ-open cap.
A spokeswoman for McNeil said about 500 "lots" of the products are included in the latest recall, which covers the Americas, the United Arab Emirates and Fiji. However, the company did not specify the total number of individual units of each drug affected by the recall.
McNeil said consumers who purchased from the lots included in its recall should stop using the product and contact McNeil Consumer Health care for a refund or replacement. Lot numbers can be found on the side of the bottle.
Consumers can call 1-888-222-6036 or log on to www.mcneilproductrecall.com. The company said consumers with medical concerns should contact their health care provider.