Wyclef Jean tearfully defends charity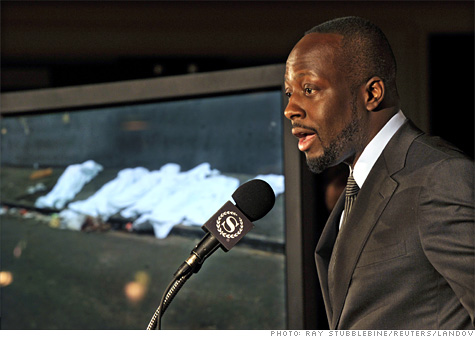 NEW YORK (CNNMoney.com) -- As musician Wyclef Jean tearfully denied recent allegations that he misappropriated funds from his Yele Haiti charity, experts on non-profits said they couldn't find serious wrongdoing, except for a lapse of discipline in filing his taxes.
"Did I ever use Yele money for personal benefits? Absolutely not," Jean said Monday at a press conference in Manhattan. "Yele's books are open and transparent, and we have a clean bill of health by an external auditor every year since we started."
The tears began as Jean addressed his fellow Haitians in his native Creole. "I do not cry for myself; I cry for them," he explained, translating for the English-speaking members of the audience. "I tell them, just permit us a little time."
The charges of misappropriated funds emerged over the last several days, as Jean was in Port-au-Prince assisting with relief efforts following last week's earthquake. Donations have poured in during that time, totaling "several million dollars," Hugh Locke, president of Yele Haiti, said at the press conference.
The accusations stem from the tax forms for Jean's charity, Yele Haiti, that came under scrutiny after being made public.
Referring to the forms, Web site The Smoking Gun claimed the Haitian-born musician was using money raised by his foundation to fund personal projects, including his production company, recording studio and a live performance.
Meanwhile, Charity Navigator, which evaluates non-profit organizations, pointed out that Yele Haiti was late in filing three years worth of taxes to the Internal Revenue Service.
In the largest transaction noted by The Smoking Gun, Yele Haiti's 2006 tax filing said it purchased $250,000 worth of "TV airtime and production services from Telemax, S.A which is a for-profit company located in Haiti and which two board members (Wyclef Jean and co-musician Jerry Duplessis) own a controlling interest in."
But tax experts say it's routine for individuals to charge their own charities, so long as services are being provided in return. "The tax rules do not prohibit related party transactions," said Marcus Owen, former chief of the IRS unit that oversees non-profits.
And the filing also stated that the charges were "below market." This is an important distinction supporting legitimacy, according to Owen, who said that rules require that they be at no more than market value.
Locke said that Yele Haiti used businesses affiliated with board members to get the cheapest rates, but he added that the organization would not be doing that again.
"On the books, it looks as though there was a benefit, but there was not," he said, at Monday's press conference. "It was not done with the intent to do anything other than be efficient."
Late and lackadaisical
"We find it odd that the charity filed all three 990s (for fiscal years 2005, 2006 and 2007) in August of 2009," Charity Navigator pointed out on its Web site. "Charities are often not especially timely in filing these documents, but this is beyond late."
At the press conference, Locke admitted that the failure to file taxes for three years was a mistake. "We should have been on top of it; we were not," he said.
Experts say that lackadaisical accounting is common among non-profits and is not necessarily a red flag for suspicious behavior.
"They could be well-intentioned, but not take [tax] reporting seriously," said Daniel Borochoff, president of the American Institute of Philanthropy in Chicago in regards to Yele Haiti's tardiness in filing.
"The pattern of filing and the nature of some of the transactions or some of the financial information reported suggests that the organization was probably dormant for a while, that there wasn't much thought put into it," said Owen.
But now that Jean's charitable work in the aftermath of the Haitian earthquake has entered the media spotlight, he'll have to clean up his "casual approach" toward bookkeeping. "All that needs to be tightened up now," Owen said. "There is a more serious amount of money involved."
Charity Navigator could not immediately be reached for further comment.
Help down the road
In 2008, Yele Haiti spent $138,000 on disaster relief and $140,000 on food distribution, compared with $460,000 on two outdoor concerts to promote the arts and culture, according to the tax filings.
Art Taylor, chief executive of the Better Business Bureau's Wise Giving Alliance in Arlington, Va., said there are "legitimate questions about [Yele's] ability to help" in providing disaster relief, which requires more infrastructure support and personnel than the organization can provide.
But Taylor said that Jean's greatest asset -- star power -- could be crucial to the continued development of his native land.
"Maybe six months to a year from now, when the attention of the world turns away from Haiti and moves to something else," he said, "his value as a Haitian and a celebrity will be far greater than it is now."