Old GM is a hot stock again, but why?
NEW YORK (CNNMoney.com) -- The auto industry is hoping that there will be no detours on the road to recovery in 2010, and investors going along for the ride have driven up the stocks of industry leaders.
But the gains of Ford (F, Fortune 500), Toyota (TM) and Honda (HMC) are nothing compared to the revved-up returns of one Motors Liquidation Company. The stock has soared nearly 50% in 2010.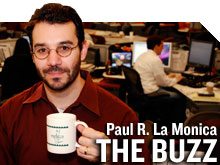 What the heck is Motors Liquidation Company (MTLQQ)? Well, it's probably easier to tell you who it's not. This is not the new General Motors.
Motors Liquidation Company is what's left of the old GM following its bankruptcy, mostly liabilities and claims against the company. The stock first began trading under the ticker symbol GMGMQ on what is known as the Pink Sheets, a haven for many down on their luck companies, after GM filed for bankruptcy.
I first wrote back in June about how shares of GMGMQ were inexplicably rallying, partly due to investor confusion. Since then, in an attempt to clear up any doubts about whether this stock represented the new GM, the ticker was changed to MTLQQ
Shares of bankrupt entities are required to have a Q at the end of their ticker symbol to note that the company is in bankruptcy proceedings. That Q is the investing equivalent of Hester Prynne's scarlet letter. So you'd think that extra Q would scare off investors even more.
Apparently not. So once again, here's a reminder of why MTLQQ is only a game for hardcore day traders to be playing in. Do not buy this stock if you think it could be a way to benefit from a turnaround at GM. Do not pass go. Do not collect $200.
The new GM is a privately held company that is currently owned by the government, a trust controlled by the United Auto Workers union, bondholders and other creditors.
The new GM will probably sell shares to the public later this year or in 2011. Once that happens, that will be the way to profit from a potential revival in GM. Shares of MTLQQ will be worth essentially nothing.
The Web site for Motors Liquidation Company states this fact bluntly, cautioning investors that "none of the publicly owned stocks or bonds issued by the former General Motors Corporation" would become shares of new GM.
If that wasn't enough, there's this warning as well.
"Management continues to remind investors of its strong belief that there will be no value for the common stockholders in the bankruptcy liquidation process, even under the most optimistic of scenarios."
And just in case that wasn't sufficient to scare investors away from MTLQQ, the Motors Liquidation Company site also includes links to alerts from the Securities and Exchange Commission and the Financial Industry Regulatory Authority (FINRA) about buying shares of bankrupt companies. The FINRA alert is titled "Investing in a Bankrupt Company: A High Risk Venture."
Auto show gave the 'old GM' a big boost
Still, that hasn't deterred some investors (and more likely traders) from speculating in this clunker. The stock currently trades for about 70 cents a share, which is arguably 70 cents higher than what it will be worth in a few months.
And it's not just the fact that the stock has shot up so much this year that is puzzling. It's the high level of interest in it that really makes me scratch my head.
On Jan. 11, the first day of the big auto show in Detroit, about 41.6 million shares of MTLQQ exchanged hands. To put that in perspective, that's more than the volume of Apple (AAPL, Fortune 500), Google (GOOG, Fortune 500) and IBM (IBM, Fortune 500) combined that day.
What's more, MTLQQ is the ninth-most looked up ticker symbol on CNNMoney.com so far this year. That ranks it ahead of high-profile companies such as Microsoft (MSFT, Fortune 500) and Exxon Mobil (XOM, Fortune 500).
This is madness. In an attempt to try and figure out why anyone would be interested in buying MTLQQ, I went to the Yahoo Finance message board for the stock. A quick glance at that board showed that, fortunately, most people seemed to get that MTLQQ is not the same thing as the new GM.
But there were definitely some investors who were either trying to pump and dump the stock or are seriously delusional.
One poster going by the name of "previewmgt" wrote last week that they were glad they bought the stock because "GM is about to seriously rebound!!!!!!" Ahh, nothing like six exclamation points to get your message across.
Another poster, who apparently is a big University of Kansas fan, also seemed to be ignoring the facts. "The all new GM is on a roll!" proclaimed "jhawks2008ncaachamps" last week.
And "wmills551" chimed in that "there is a spirit and a energy in Old GM right now. Investors are not just day trading here. There is a pull up that some of us can feel. It is hard to explain based on the financial facts, but Old GM is heading up."
But investors looking for a healthy dose of skepticism (not to mention sarcasm) do not need to abandon all hope before entering this message board. One poster using the moniker of "webuchadnezar" did his best David Letterman and came up with the "top ten reasons investors give for buying MTLQQ."
Among the best were the following: "Get turned on by stocks with terrible balance sheets;" "Retirement account had too much money in it; needed to simplify life through total abandonment of material things;" and "Had a bet with co-worker I could lose more in the market than he could."
But my favorite is the most succinct: "Traumatic head injury."
Yes, GM may actually be making a comeback. But this isn't the way to take advantage of that. Investors considering GM should look no further than what recently happened with CIT Group, the troubled small business lender that filed for bankruptcy last year.
CIT, after a brief stay trading on the Pink Sheets, emerged from bankruptcy late last year and started trading again on the New York Stock Exchange in December. People investing in CIT (CIT, Fortune 500) now are actually investing in the new company, but the old CIT shares listed on the Pink Sheets were cancelled.
So once again, if you are a fan of Buicks, Cadillacs and Chevys, wait for the new GM to go public. But MTLQQ will eventually meet the same fate as the Saturn and Pontiac.