Tech job cuts hit 4-year high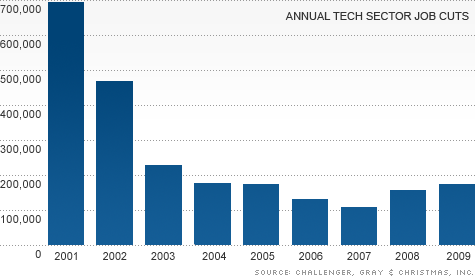 NEW YORK (CNNMoney.com) -- Planned job cuts at tech companies rose in 2009 for the second straight year, hitting the highest level in four years, according to a report released Tuesday.
Outplacement firm Challenger, Gray & Christmas Inc. reported that tech sector employers announced 174,629 job cuts in 2009. That's a 12.3% increase from cuts announced in 2008, and the highest total since 2005.
"The recession's impact on the tech sector was inescapable," said chief executive John Challenger in a prepared statement. "Even with the economy showing some nascent signs of recovery ... many companies are holding off on investments in new technology."
Electronics companies fared the worst, with 65,300 cuts announced. Computer employers were next with 65,261 planned job eliminations, and telecom had 44,068 planned cuts.
The nearly 175,000 total tech cuts comprised 13.2% of the 1.3 million jobs lost across all industries in 2009. That's up slightly from 12.7% in 2008.
The year was top-heavy for tech job losses, as more than 84,000 were unleashed in just the first quarter of 2009. On Jan. 30 alone, more than 65,000 job cuts were announced -- including Sprint Nextel (S, Fortune 500) and Texas Instruments (TXN, Fortune 500). Also in January, Microsoft (MSFT, Fortune 500) said it planned to cut 5,000 jobs.
But by the fourth quarter, tech cuts tapered to just under 34,000. The report said the rapid decline in cuts over the year could signal a 2010 turnaround.
"It's going to be a slow climb," Challenger said. "Computer and electronics firms should be among the first to see the turnaround, as companies try to postpone hiring by achieving productivity gains through technology."
A push for electronic health records should boost spending and jobs in the tech sector, the report said, citing data showing that about 44% of physicians use electronic records but only 7% consider the systems fully functional. That means IT professionals will be needed.
But the sector still faces challenges. The credit crunch has slammed tech firms, the report said, because the companies are having trouble finding new buyers. Fewer businesses have the cash or credit to expand their technology spending.
Earlier this month, in another sign of continued weakness, the government confirmed that nation's unemployment rate remained at 10% in December. The Labor Department said the country lost 85,000 jobs that month.