$8 million in assets - and can't get a mortgage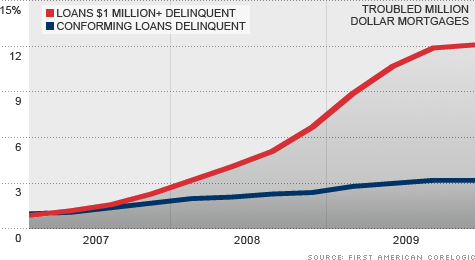 NEW YORK (CNNMoney.com) -- The wealthy have money problems, too -- yeah they do.
Even refinancing a mortgage for their fancy digs or getting a new loan can be near impossible these days thanks to skittish lenders. And the higher the loan value, the more they worry.
Still, that people with high six-figure incomes, stellar credit histories and gobs of assets get mortgage requests turned down seems weird.
"It's amazing really," said Susan Bruno, a financial planner with Beacon Wealth Consulting in Rowayton, Conn., "but it makes sense when you think about it."
For one thing, many rich folks have fallen behind on their loans. About 12% of U.S. mortgages of $1 million and larger were late this fall, twice the rate for loans under $250,000 and nearly triple the default rate on million dollar mortgages 12 months earlier, according to First American CoreLogic Inc., a California-based research firm.
Hard to get jumbos
It was so simple to get jumbo loans just a few years ago. The wealthy barely had to pay a 0.2 percentage point premium over a conforming loan, according to Keith Gumbinger of HSH Associates, a publisher of mortgage information.
Lenders made the loans more expensive because they are too large to be bought or backed by the government through Fannie Mae and Freddie Mac. Today the increased risk is worth about 0.8 percentage points, although that is down from the high of about 1.8 points in late 2008.
"The pendulum has swung from one extreme to the other. Banks are going overboard," said Lyle Benson, a financial planner and member of the executive board of the American Institute of Certified Public Accountants.
That includes asking the affluent for down payments well in excess of the traditional 20%, according to Bruno. Some lenders want loan-to-value ratios to be closer to 60%, even 50%, which means putting 40% or 50% down. Or, on a million-dollar home, having $500,000 ready to hand over.
And all the other underwriting aspects of the loan have to be in place as well, something that can be difficult to demonstrate with some wealthy clients, whose income and assets can be complicated.
One client of Benson's, with $8 million in assets, wanted to refinance the mortgage on his primary residence.
A self-made man, he had sold a business and put much of the proceeds in a charitable remainder unitrust that paid him $150,000 a year. He took paper losses in his stock portfolio against that income, however, which lowered his taxable income. The cash flow stayed intact but the income he showed was much lower.
"The loan officer didn't understand it," said Benson, "and the bank declined the loan."
Double decline for second home
Susan Bruno has a client who was turned down for a mortgage twice -- despite an 800 credit score, more than adequate down payment and plenty of income.
The problem was that the client wanted to buy a second home. And because the client would not, could not, swear that he would occupy the home at least 75% of the time, lenders weren't interested.
"Mortgages for second homes have been tough to get the past couple of years," said Gumbinger. "A lot of second-home areas, like in Florida and Arizona, are among the most challenging markets."
Plus, defaults on second-home mortgages are often handled differently than those of primary homes. The mortgage balances, for instance, can be reduced in bankruptcy court -- "crammed down" in industry parlance -- to their market values. That can wipe out a good portion of what borrowers owe, which banks hate. As a result, they often require a 50% down payment for second homes.
All in all, the wealthy simply have financial problems that we ordinary mortals can only dream of. Take the doctor client of Bruno's with a home on 19 expensive acres of Connecticut countryside. He had more land than he needed and some time ago toyed with the idea of subdividing and selling it off.
Well, the market changed and he shelved the idea -- but only after taking some preliminary steps. Last year, when he tried to refinance his mortgage, this rose up to bite him. His bank wouldn't count the sub-dividable land, worth $8 million, as collateral because it was now a separate parcel.
"[His bank] only counted the house and a small piece of land," said Bruno. "His lenders limited him to a loan of $1.3 million."
For Bruno, that's part of a trend of lenders falling back on rules and guidelines that make little sense sometimes when dealing with the individual cases presented by some high net-worth individuals.
"There's no appropriate business judgment these days," she said.
Aren't you glad you're not rich?