EBay sellers' rebellion: The aftermath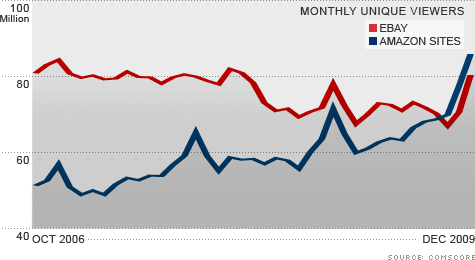 NEW YORK (CNNMoney.com) -- As one of his first moves upon becoming CEO, eBay chief John Donahoe unveiled a slew of changes to the online marketplace, kicking off an uproar among sellers and sparking boycotts. Two years later, eBay is finally starting to see signs of success on its turnaround plan.
The San Jose, Calif., e-commerce giant on Wednesday reported 2009 sales of $8.7 billion, up from $8.5 billion in 2008. That's a 14% increase from the $7.7 billion in revenue eBay had in 2007, the year before Donahoe's overhaul.
EBay's profits, though, haven't kept pace with its sales growth. Net income dropped 8% from last year, to $2 billion -- putting eBay's earnings below where they stood two years ago. Gross merchandise volume, a closely watched metric tracking the value of items sold on eBay (EBAY, Fortune 500), was essentially flat from last year and down slightly from 2007.
"These turnaround efforts are paying off," Donahoe said Wednesday on a conference call with analysts.
That's a sharp change from the tone he adopted last year, as the company struggled through its changes.
"This business has continued to fall short of our expectations and customers' expectations," Donahoe told analysts at a meeting in March. "That's not acceptable. EBay has a storied past. But it's a past that we held onto for too long."
The firestorm: In February 2008, then brand-new CEO Donahoe announced a major revamp of eBay's fee structure and feedback policy. The goal was to make the site more buyer-friendly.
The move inflamed eBay's core community of active sellers, which numbers in the millions. They raised virtual pitchforks and organized protests, including a week-long boycott. Amid a flurry of scathing blog posts and online messages, many jumped ship entirely and migrated their online storefront to other sites.
EBay's complex set of updates reduced some upfront costs but raised the back-end commission the site takes on completed sales. For small-time businesses already subsisting on meager profit margins, the fee hike was painful.
But what most irritated veteran eBay merchants was the site's decision to block sellers from leaving negative feedback about buyers.
EBay's feedback system, the innovation that helped it stand out from a pack of e-commerce pioneers in the Web's early days, had always been a two-way street. Buyers want to be sure they'll get what they ordered; sellers want to guarantee they'll be paid. Feedback helped both sides reduce the risk of online transactions with strangers.
EBay's move to silence those on one side of the street made sellers feel like second-class citizens. Donahoe brushed aside their concerns.
"We are extremely focused on improving the buyer experience on eBay," Donahoe told analysts soon after announcing the changes. "This is not to say that sellers are not important to us, but our belief is and always has been that what is good for buyers is ultimately good for sellers."
A changing market: The strategy didn't play out as Donahoe envisioned. EBay is struggling to keep pace with its competitors, especially Amazon.com (AMZN, Fortune 500).
Amazon's network of sites overtook eBay in monthly unique viewers for the first time in October, according Web traffic research firm ComScore. By eBay's own count, its active user base has grown 8% over the past two years, to 90.1 million.
More worryingly, eBay's reputation with sellers is suffering. JPMorgan Chase recently surveyed a handful of "PowerSellers," eBay's designation for its most active merchants. More than half of those polled had a negative opinion of eBay. While a majority called Amazon an "excellent" channel to drive sales, only 23% felt the same way about eBay.
"The entire competitive landscape has changed, and it may be that there is a larger shift toward general e-commerce over auctions/marketplace transactions," said Andrew Lipsman, an industry analyst at ComScore.
Trying to ride the wave, eBay pushed to transform its sales structure. More than half of its sales now come from fixed-price items, up from 38% at the end of 2006.
But that shift comes with a price. "EBay is a lot more focused now on mainstream and large sellers," said Joseph Cortese, founder of the Professional eBay Sellers Alliance. "The question is, what are they losing in that? You add up all of those independent small sellers, who did all these uniquely wonderful things in their own ways -- there is an element there which no other marketplace can replicate," he said.
One risk is that eBay becomes an advertising front merchants use to drive buyers to other, more lucrative channels.
That's what has happened for Amy Reynolds, in Las Vegas. She and her husband Kent run an online business, rKeepsakes.com, selling personalized picture frames. EBay used to drive a big chunk of her sales, but now, a Yahoo (YHOO, Fortune 500) store is her main outlet -- 95% of her sales go through there. Reynolds has no plans to shutter her eBay shop, but she also isn't relying on it too much.
"They provide free advertising, so it gives you a bigger presence across the Internet," Reynolds says of eBay. "The amount of traffic they get is tremendous."
The changes at eBay left a wake of bitterness, and they've transformed a site once known for its community vibe into a more generic sales platform. But for eBay's management, the financial bottom line is what matters. And in its latest quarter, the company finally presented evidence that its ongoing reinvention may pay off.
"We are starting 2010 with significant progress against our three-year growth strategies for PayPal and eBay and a clear focus on our priorities going forward," Donahoe said.