No cash, no credit, no movie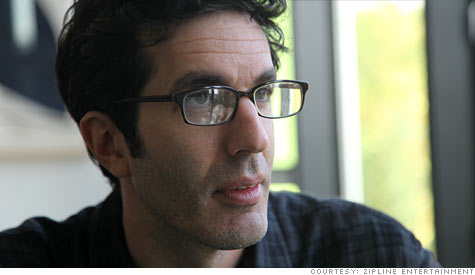 (CNNMoney.com) -- A new category at this year's Sundance Film Festival pays homage to a style of filmmaking that's grown even more popular during the recession: creativity sans cash. Dubbed "Next," the section spotlights six features cobbled together on low or no budgets.
Struggling filmmakers have long relied on credit cards to finance their passion projects. But with consumer credit drying up, indie artists are having to find new ways to subsidize their works.
"Those people are in a terrible situation right now and are taking on second jobs to fund their films," says Joana Vicente, executive director of the Independent Feature Project, a nonprofit organization of independent filmmakers in New York.
That's a far cry from a few years ago, when credit card companies were handing out applications like buckets of movie popcorn.
Just ask Sean Welch and Jeffrey Blitz, the creators of Spellbound, a documentary that charts the progress of eight children competing in a national spelling championship. Welch and Blitz maxed out 14 credit cards to cover the film's travel, accommodation and equipment rental expenses.
"Over the course of several months, we hit the road, using our credit cards to fund the project," says Welch, who co-produced Spellbound. "Then we'd come home between shooting the film, pay down some of the debt and resume shooting."
The strategy paid off: Spellbound earned an Academy Award nomination in 2003 and has grossed nearly $6 million domestically. Welch and Blitz's latest production, Lucky, a documentary about the lives of lottery winners, is screening at this year's Sundance event. The festival opens Thursday in Park City, Utah.
It takes a village ...
With credit disappearing, aspiring auteurs are turning to new channels for financing.
At IndieGoGo, filmmakers solicit cash from the community. They can post clips, share their project goals and offer perks like party invites or T-shirts in exchange for donations. Boasting more than 10,000 members, the site currently showcases 2,300 projects and has raised nearly $200,000 for filmmakers. IndieGoGo takes a 9% cut of funds raised.
"Crowdfunding is a new and exciting channel for funding because it involves your audience from the beginning and allows you to build a fan base throughout the production of your film," says Danae Ringelmann, IndieGoGo's founder.
Another crowdfunding site, Kickstarter, is currently hosting a solicitation from the filmmakers of Bass Ackwards, a road-trip feature film that will premier at Sundance. The film's producer hopes to raise $50,0000 to fund a nationwide, multiplatform release of the film the day after Sundance ends.
"In this terrible climate, where there appear to be no options, the only rational thing is to do something crazy," producer Thomas Woodrow wrote in his appeal.
The downturn's upside
Affordable digital video cameras and off-the-shelf editing software suites are also helping cash-strapped filmmakers do everything from shoot action scenes to compose film scores on a shoestring budget.
"People are doing things today that even five years ago they couldn't," says John Cooper, director of the Sundance Film Festival. "The empowerment of technology is huge and shouldn't be underestimated."
Some even see a silver lining to today's credit crunch. Amateur filmmakers aren't exactly known for their fiscal prowess. Juggling numerous credit cards to subsidize a project can thwart future efforts to purchase a home, qualify for a car loan or even open up a bank account.
"My credit score looks like a batting average. And that's being conservative," laments David Spaltro. Director of the low-budget film Around: Embrace the Fall, Spaltro accumulated $150,000 in debt financing his feature film with 40 -- yes, 40 -- of his own credit cards. Since completing the film in early 2008, Spaltro has managed to pay down three-quarters of his debt by "juggling bills" and "staying on couches."
Jeffrey Blitz, director of Spellbound and Lucky, says that limited access to credit has potentially "saved a lot of people from going deep into a debt they'd have a hard time recovering from."
Still, there are undeniable shortcomings to the credit crunch, including the compromised quality of feebly financed projects. "It's hard to achieve a certain level of professionalism if you're just working with a bare-bones budget," says Vicente.
What's worse, amateur filmmakers that lack the necessary tech skills or gumption to solicit funds from cyberstrangers may find themselves without the financial means to produce their masterpieces. And that could mean some potential cinematic gems never seeing the light of day.
Warns Blitz: "Except for the help of my family, the goodwill of crew members who worked for deferred pay, and a chunky pile of credit cards, [Spellbound] never would have happened."