Stocks muster gains
NEW YORK (CNNMoney.com) -- Stocks managed slim gains Monday as investors weighed recent worries about the bank sector and the likelihood of Federal Reserve Chairman Ben Bernanke serving for a second term.
After the close, Apple (AAPL, Fortune 500) reported quarterly earnings and revenue that topped estimates, thanks to strong sales of iPhones and Macintosh computers. Quarterly revenue surged to a record $15.7 billion. Shares fell 2% after the close.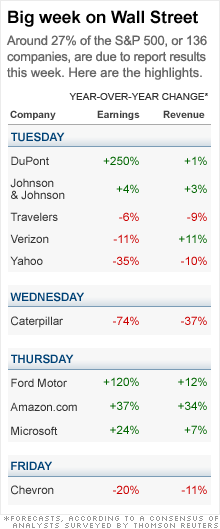 The Dow Jones industrial average (INDU) added 23 points or 0.2%. The S&P 500 index (SPX) added 5 points or 0.5%. The Nasdaq composite (COMP) gained 5 points or 0.3%.
Gains in large bank stocks, techs and big industrial firms helped give stocks a leg up, with Dow components including IBM (IBM, Fortune 500), Hewlett-Packard (HPQ, Fortune 500), Travelers (TRV, Fortune 500), 3M (MMM, Fortune 500) and Caterpillar (CAT, Fortune 500). But a weaker-than-expected housing market report put a lid on any gains.
Stocks plunged last week after the White House proposed new limits on banks and talk swirled that Federal Reserve Chairman Ben Bernanke's term may not be renewed. In three sessions, the Dow, S&P 500 and Nasdaq all slumped 5%.
But those worries were tempered Monday at the start of a busy week for economic and earnings news. This week brings the Federal Reserve policy-setting meeting, the first reading on fourth-quarter GDP growth, the president's State of the Union address and profit reports from a slew of major companies. Apple reports after the close Monday.
The market is bound to walk a narrow path this week, especially through Wednesday, which brings the conclusion of the Fed meeting and the president's State of the Union speech, said Ted Weisberg, NYSE Floor Trader at Seaport Securities.
"Last week's flogging of the banking sector and the political theatre around Bernanke sent a negative message to the markets," Weisberg said. "But after the weekend and a moderation of the message, people realize that nothing has changed in terms of the fundamentals."
He said that investors are acknowledging Monday that the economy is still making a slow recovery, fourth-quarter earnings have been looking strong, and that Obama's bank plan may not gain approval from Congress. Additionally, the five percent selloff in three days was giving investors a chance to dip back into stocks Monday.
The Dow's weekly loss of 4.1% was the worst since the week ended March 6, 2009, when it closed at a 12-year low and the market hit bottom. Since then, the Dow has risen 56% as of Monday's close.
On Friday, the VIX (VIX), the market's fear gauge, spiked at a 6-month high as investors worried that a bigger selloff was brewing. But on Monday, the VIX was back down 7%.
"We had a series of events last week that hit the market broadside, but I think we've gotten past that sting," said Fred Dickson, chief market strategist at D.A. Davidson & Co. "The good ship Wall Street should be starting to right itself."
Quarterly results: So far 19% of the S&P 500, or 97 companies, have reported results. Earnings are on track to have risen 193% from a year ago and revenue 6%, according to the latest from earnings tracker Thomson Reuters. But a lot of that gain is due to easy comparisons to a terrible fourth quarter of 2008, the worst in Thomson's 15-year history.
Financials as a sector are fueling most of the gains. Strip out financial results and year-over-year earnings are set to rise just 9% and revenue to rise just 1%.
Dow components DuPont (DD, Fortune 500), Johnson & Johnson (JNJ, Fortune 500), Travelers (TRV, Fortune 500) and Verizon Communications (VZ, Fortune 500) are all due to report results.
Housing: Sales of existing homes fell to a 5.45 million unit annual rate in December from a rate of 6.54 million units in November, according to a National Association of Realtors report released in the morning. Economists surveyed by Briefing.com thought it would fall to a 5.9 million unit rate.
December was expected to show a decline following a robust November that benefited from a belief that the first-time homebuyer tax credit was about to expire. But when that credit was extended and expanded, the momentum dropped.
Federal Reserve: Amid ongoing questions about whether Bernanke's term will be renewed, the central bank is meeting to discuss interest rate policy. Bankers meet Tuesday and Wednesday and are widely expected to opt to keep interest rates steady at historic lows near zero.
Although the bank isn't likely to say much, investors will still scour the statement for hints about when the Fed plans to start raising interest rates or withdrawing some of the trillions in stimulus dollars it has put into the system.
Sustained low interest rates and the increase of money in the system are seen as among the main reasons why the economy didn't crater and the stock market was able to bounce back last year.
"You may see the Fed's language change marginally later this year, but not this week," said Drew Kanaly, Chairman and CEO at Kanaly Trust.
"The housing numbers this morning were all over the place because of the stimulus," he said. "Lending has fallen off the table. The Fed can't raise rates in the near term."
World markets: Asian markets tumbled, with the Japanese Nikkei losing 0.7%. European markets tumbled as well.
Commodities and the dollar: The dollar gained versus the euro and fell against the yen.
COMEX gold for February delivery rose $6.50 to settle at $1,095.70 an ounce. Gold closed at an all-time high of $1,218.30 an ounce last month.
U.S. light crude oil for February delivery rose 72 cents to settle at $75.26 a barrel on the New York Mercantile Exchange.
Bonds: Treasury prices fell, raising the yield on the 10-year note to 3.61% from 3.69% late Thursday. Treasury prices and yields move in opposite directions.
Market breadth was mixed. On the New York Stock Exchange, winners beat losers by four to three on volume of 1.05 billion shares. On the Nasdaq, decliners narrowly topped advancers on volume of 2.18 billion shares.
Were you placed in a HAMP trial modification but denied a permanent modification? What are you doing now? If you are in this situation, please send an email to realstories@cnnmoney.com. You could be profiled in an upcoming story. For the CNNMoney.com Comment Policy, click here.