Best places to work: No stock? No problem!
NEW YORK (CNNMoney.com) -- If you take a look at Fortune's latest list of the 100 Best Companies to Work For, you'll note an interesting trend: you can't buy stock in four of the top five.
SAS, a privately held software company is the most employee-friendly firm. Brokerage Edward Jones is No. 2 while supermarket chains Wegmans and Nugget Market are third and fifth respectively. Google (GOOG, Fortune 500) is the only publicly traded company to crack the top five.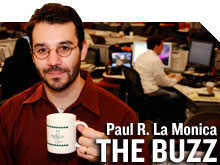 In fact, nine of the top 20 Best Companies are privately held and 40 of the top 100 do not have stock that you can buy and sell on the NYSE or Nasdaq. There are also 15 non-profits, two partnerships and one cooperative in the top 100. The remaining 42 companies are public.
This is fascinating. I have one theory as to why so many private companies were dubbed great places to work: without having pesky shareholders to satisfy, these firms can probably worry more about keeping employees happy than satisfying the whims of Wall Street.
The whole notion of managing for short-term performance, beating analysts' earnings and revenue estimates so that traders don't freak out, can do a disservice to people who work for a public company.
"There is something to be said for a private company's ability to think longer term. We don't have to worry about quarterly earnings reports. Sometimes public companies serve too many masters," said Alan Skrainka, chief market strategist with Edward Jones.
When times are tough, investors often look for companies to cut expenses in order to preserve profits. Pink slips are typically a quick and dirty way to slash costs and boost the bottom line.
But SAS and Wegmans were both cited by Fortune as companies that have never had layoffs. Ditto for privately held household cleaning product company SC Johnson & Son.
Private companies may offer more stability. But one potential knock on them could be that as long as they stay private, they may not give employees a path to big riches down the road through an initial public offering or from the exercising of cheap stock options.
Private doesn't mean poverty
Then again, taking a job just because of stock options is so 2000. After several years of wild market volatility, the chance to work for a public company may not seem as appealing anymore.
"Most people are more sophisticated today than a decade ago. Employees are more focused on the likely success of a company overall as opposed to whether it is public or private," said Rich Lesser, chairman of the Americas for Boston Consulting Group, which ranked 8th on Fortune's list.
And many long-standing private companies, even without the promise of a juicy IPO or stock grants, are still compensating employees handsomely.
Memphis-based law firm Baker Donelson topped Fortune's best payer list. Unsurprisingly, several other law firms ranked high on this list.
But other private firms, such as general contractor DPR Construction and Milwaukee-based investment bank Robert W. Baird, also made it to the 25 top-paying companies list.
Yet -- as crazy as this may sound -- money may not be everything when it comes to job happiness.
At a time when many big publicly traded banks are paying gigantic bonuses to employees -- ostensibly to keep them happy and not look for jobs elsewhere -- it is somewhat surprising that the big publicly traded Wall Street firms are largely absent from Fortune's list.
The only major bank that made the cut is Goldman Sachs (GS, Fortune 500). Apparently an average annual take per employee of just under $500K to do "God's work" is something people like.
Now don't get me wrong. I work for a public company (Time Warner) and have for the past eight years. And during my nearly 15-year career as a journalist, I've spent about 13 of them at subsidiaries of three different public companies and have been lucky that none of them have been complete nightmares to work for.
So I'm not trying to suggest that trading on a stock exchange has to be a bad thing for employees. As Fortune's list shows, there are plenty of publicly traded companies that do right by their workers and their investors.
Still, it must be comforting to work at a place where you don't have to worry about what a 5% drop in a daily stock price might mean for your career.
"Inevitably, there are ups and downs in the market, and last year was a challenging one for many," Lesser said. "Sometimes, private companies have an advantage of being able to not face as much pressure in the short term to respond."
Tweet tweet tweet! You may have noticed from the top of the column that The Buzz is entering the Twitter age. Although I still have my doubts about the long-term viability of Twitter, I do think that "tweeting" will allow me to write about topics that don't merit a full-blown column.
I'm going to try and tweet several times a day. I've already got a few posts up there for your reading pleasure. But here a couple of ground rules.
I'm only tweeting during office hours about topics related to the markets and economy. I'm not going to bore you with details about my daily commute or tell you what I had for breakfast. I'm also not going to pull a Chad Ochocinco and trash talk other business journalists.
Finally, I'm also going, to the best of my ability within the 140 character limit, not abuse the English language the way some do on Twitter. I'm hoping this will be fun. So please go sign up to follow me @LaMonicaBuzz and I look forward to getting feedback from followers. Let's flood Twitter with so much traffic so that silly fail whale pops up!