Ford: First profitable year since '05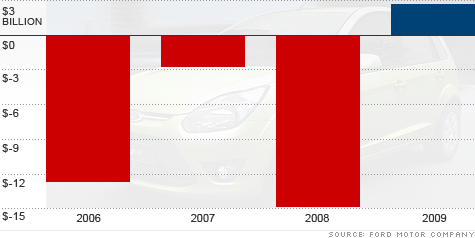 NEW YORK (CNNMoney.com) -- Ford Motor reported its first full-year profit since 2005 and said it expects to be profitable again in 2010.
The automaker, which has outpaced the turnaround at both its domestic and some overseas rivals, said Thursday that it earned $2.7 billion in 2009. The company was helped by special items that added $2.6 billion to its bottom line during the year.
But even without that assistance, Ford (F, Fortune 500) essentially broke even after taxes. That's far better than the loss of 31 cents per share that analysts had forecast for 2009. Ford lost $7.3 billion, or $3.20 a share, on that basis in 2008.
Despite the good news, Ford shares fell about 1% Thursday morning.
For the fourth quarter, the company reported a net profit of $868 million. Its operating income of $1.6 billion, or 43 cents a share, was a dramatic improvement from the operating loss of $3.3 billion, or $1.40 a share a year earlier. This also easily topped forecasts of a 26 cent per share operating profit.
Ford's automotive operations earned $1.1 billion in the quarter. The company also said auto operations added $3.1 billion to its cash flows in the quarter, a remarkable turnaround after drawing down the company's cash reserves for years.
Profits ahead. Ford also said it now expects to be profitable on a pre-tax basis in 2010. Previously, the company had said it expected profits to return in 2011 but that it was not yet willing to predict it would make money this year.
"While we still face significant business environment challenges ahead, 2009 was a pivotal year for Ford," said Ford president and CEO Alan Mulally in the company's statement. "Our progress has helped us gain market share in most of our major markets."
One of those markets was the United States. Ford's share rose to 16.1% from 15% in 2008, its first increase since 1995.
Still, auto sales plunged around much of the world in 2009. Ford's global vehicle sales fell 11% to 4.8 million, causing the company's overall revenue for the year to slide 14% to $118.3 billion.
But auto sales were much better in the fourth quarter, jumping 26% compared to a year ago to 1.4 million vehicles. Total revenue rose 22% to $35.4 billion, easily beating forecasts of $32.6 billion.
The company said it expects the sales momentum from the end of 2009 to continue into this year. And it has increased its first quarter production targets by 42% from year-ago levels.
Ford chief financial officer Lewis Booth said the bounce in sales during the last two months of the year gave the company more confidence going into 2010.
"We feel just a little more positive that the green shoots are still there, that they haven't shriveled up," Booth said.
Ford was helped last year by federal bailouts and bankruptcies at its two major domestic rivals, General Motors and Chrysler Group, actions that drove many customers who prefer domestic automakers to Ford.
"It's amazing how quickly these things can change," said Mike Boudreau, director of Michigan turnaround firm O'Keefe & Associates. "By avoiding bankruptcy, they told everyone out there -- its employees, its suppliers, its customers -- that Ford stands behind its obligations and its products."
Gaining on the imports. Ford also has enjoyed bigger gains than any of its Japanese rivals, and it begins 2010 with Toyota Motor (TM) being hit by a recall of more than 5 million vehicles in the United States and Europe and a halt in sales of its best-selling U.S. models due to problems with a sticking gas pedal.
Mulally said it is too soon to say how much Ford will benefit from Toyota's problems, but he said he's pleased with the gains the company has been making with customers who formerly bought import brands.
"It depends on how this all plays out and how fast Toyota gets this behind them," he said in response to a question during a conference call. "It's really an opportunity for our products to be viewed again."
There was a bit of bad news for Ford Thursday though, as a joint venture it has in China has halted production of a commercial van it builds there because of concerns it could be hit by the same gas pedal problems as Toyota.
But Ford's problem affects less than 2,000 vehicles in China, and so far no problems have been reported by customers, said Mulally. He said the halt in production is a precaution because the company uses the same supplier for that part as does Toyota.