Las Vegas: Most foreclosures of any city in 2009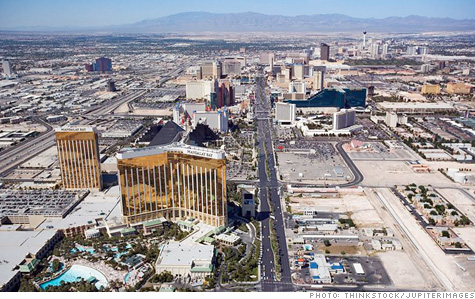 NEW YORK (CNNMoney.com) -- Cities in the so-called Sand States dominated the foreclosure rankings in 2009, with the 20 worst-hit metro areas residing in Nevada, Florida, California and Arizona.
Las Vegas had the largest number of foreclosure filings of any city last year, with 12% of its households receiving at least one during the year, according to RealtyTrac, the online marketer of foreclosed homes. That was more than five times the national average.
Cape Coral, Fla., was a close second with 11.9% of its households; Merced, Calif., was third with 10.1%.
The good news is that all top 20 cities recorded declines in foreclosure filings in the last three months of the year.
The bad news is that the foreclosure plague is spreading beyond these usual trouble spots, according to RealtyTrac's CEO, James Saccacio. And, nationwide, foreclosures grew 21.2% during the year.
"Areas like Provo, Utah, Fayetteville, Ark., Portland, Ore., and Rockford, Ill., all posted foreclosure rates above the U.S. average in 2009," he said. "And markets like Honolulu, Minneapolis and Seattle saw foreclosure activity increase at more than twice the national pace over the past 12 months."
He added that the new foreclosure wave seems more grounded in traditional foreclosure causes, such as job losses, than those recorded in the Sand States, where they were much more "bubble related."
In cities such as Las Vegas, Phoenix, Miami and Bakersfield, Calif., soaring home prices of the mid 2000s drove homebuyers to desperate measures, such as taking on hybrid adjustable rate mortgages, also called toxic ARMS. These products only remained affordable as long as home prices grew; once prices stopped rising, borrowers began to default.
New hotspots
Some cites that had escaped the worst of the default demon in prior years saw foreclosure filings -- default notices, auction sales and bank repossessions -- soar. The Gulfport area of Mississippi recorded a year-over-year spike of 784%. Houma, La., recorded a 379% gain, and Roanoke, Va., filings jumped 352%.
Despite the big increases, however, the foreclosure rates for those cities ranked in the bottom third of the nation. For example, Gulfport was number 180 out of 203 metro areas listed.
Filings in Boise, Idaho, on the other hand, grew 103% but that was enough to put it 24th among cites, the highest ranking of any place outside the Sand States.
In contrast to the boom areas, cities where home prices never soared have endured far fewer foreclosures. The lowest rate of filings for any of the cities covered in the RealtyTrac report were found in Burlington, Vt., and Utica, N.Y, each of which had a miniscule 0.05% filing rate.
The housing boom, with its annual double-digit price increases, mostly bypassed areas like those, enabling buyers to escape the necessity of stretching their incomes to cover high housing costs.
In Burlington, the median home price has stayed under $230,000, and median home prices in Utica have been very cheap, not more than $120,000 at any time.
For cities like that, few foreclosures are caused by mortgage related issues and, as long as the local economies don't crash, defaults should remain well under national averages.