Apple unveils iPad. Your move, Amazon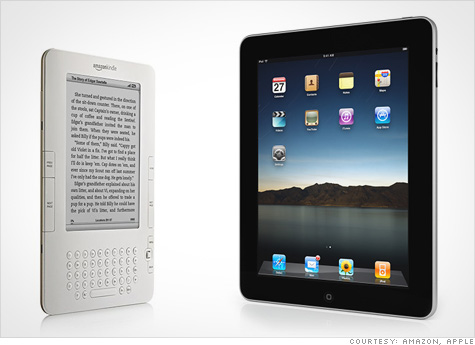 NEW YORK (CNNMoney.com) -- Why would anyone buy a Kindle for $259 when they can have an iPad for $499?
That's the question that Amazon.com (AMZN, Fortune 500) and many consumers are likely asking themselves after Apple (AAPL, Fortune 500) Chief Executive Steve Jobs finally unveiled his company's much-hyped tablet device on Wednesday.
The iPad has all the mobility and much more functionality than the Kindle or any of Amazon's competitors, including the Sony (SNE) Reader and the Barnes & Noble (BKS, Fortune 500) Nook. So, the question for consumers will be: Is access to the Internet, 140,000 apps, music, movies and photos worth springing the extra $240?
"People will do the cost-benefit analysis in their own heads and say, 'If I can read books on one thing and read books, newspapers and CNNMoney.com on this other thing and get a full color experience and get apps,' it's not a very difficult decision," said David Wertheimer, executive director of the Entertainment Technology Center at the University of Southern California.
That cost-benefit analysis over the Kindle is what Steve Jobs is banking on.
"Amazon's done a great job of pioneering this functionality with the Kindle," Apple's CEO said at Wednesday's iPad event in California. "We're going to stand on their shoulders and go a little further."
Before you decide, let's take a closer look.
Display
On the surface, it's really no comparison. The iPad has a 9.7-inch, full-color, high-resolution, LED-backlit screen. The Kindle has a 6-inch black and white screen with no backlight. Amazon offers the larger Kindle DX with a 9.7-inch screen, but that costs $489 -- only $10 less than the lowest-priced iPad.
But Kindle users love to tout the device's "e-ink," no backlight display.
"Heavy readers don't like staring at a backlit LED display," said Dmitriy Molchanov, e-reader analyst at Yankee Group. "E-readers are easier on the eyes."
This one is a wash. Are you going to spend hours a day reading books and newspapers? The Kindle is probably for you. But for the casual reader, the iPad's screen is a winner.
Books
Both Amazon and Apple have struck deals with the big publishers, so most bestsellers should be available on both devices.
Unlike Amazon, which forces publishers to package its books in a special, only-for-Kindle format, Apple has embraced the so-called ePub industry standard. Still, those books will be locked, so the books you download at Apple's iBookstore can only be read on the iPad.
So what this category really comes down to is the price. Almost all e-books at Amazon's digital bookstore are all available for $9.99 or less. Apple's iBookstore will sell most bestsellers for prices in a range of $12.99 to $14.99.
This one goes to Amazon.
"In the end, it's all about what the consumer will be willing to pay, and Amazon is leading in that battle," said Molchanov.
Still, if the iPad really takes off like many tech analysts think it will, then Apple is in a position where it can charge higher prices.
"Apple is a brand that doesn't discount, because when demand is high enough, you don't need to cut prices," said Nancy Koehn, Harvard Business School historian and author of The Story of American Business: From the Pages of the New York Times. "Apple can price e-books higher than Amazon, and they'll get people to buy them."
Connectivity
Surprisingly, this one is all Kindle.
Apple will unveil two different kinds of iPads: One with Wi-Fi capabilities and another with Wi-Fi and an ability to connect to AT&T's (T, Fortune 500) 3G network. The lowest-priced iPad with 3G goes for $629 with a $14.99 per-month connection plan for 250 MB or a $29.99 per-month rate for unlimited data access.
Amazon's Kindle offers 3G access via the AT&T network for free. It's all built-in and ready to go as soon as you turn it on.
"The out-of-the-box experience of the Kindle is unparalleled," said Wertheimer. "The average user doesn't have to think about the network, username, or the authentication process."
Strong advantage: Kindle.
Function over price
The ultimate question. If you're just looking to read books, magazines, newspapers, etc., then the Kindle has a leg up. But is the Kindle still worth $259 now that you know you can get an iPad for $499?
Most analysts say, "Probably not." As a result, experts widely predict that the iPad's cost will force Amazon's hand, and the online retailer will slash the Kindle's price very soon.
By how much is up for debate. According to a recent Yankee Group study, the "sweet spot" for e-readers is $150, at which point the market for Kindles, Nooks and Readers will soar. Molchanov, the author of the study, said he expected e-reader prices to drop 15% per year before the iPad was released, but he now expects a much more significant price drop this year.
Apple and Amazon appear headed on a collision course. But the fact is that these two devices are very different -- one is optimized for reading, and the other is optimized for mobile entertainment. If the Kindle's price takes a significant enough dive, both devices may be able to coexist.
"If Amazon is going to play the cost-cutting game, there is plenty of room for consumers to pick up both of these devices," said Koehn.