Best economic growth in six years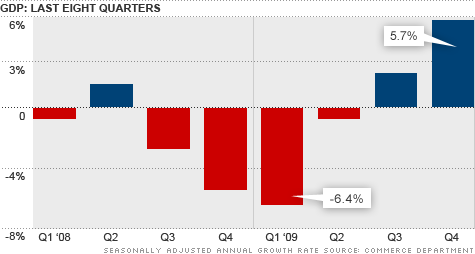 NEW YORK (CNNMoney.com) -- The U.S. economy grew at the fastest pace in more than six years during the fourth quarter of 2009, according to a government report Friday.
The nation's gross domestic product, the broadest measure of economic activity, rose at a 5.7% annual rate in the fourth quarter. That was much stronger than expected and provides another sign that a recovery in the economy is taking hold.
Economists surveyed by Briefing.com had forecast growth of 4.7%.
Good end to a terrible year. The growth in the fourth quarter was the highest since the third quarter of 2003. The economy rose at a 2.2% annual pace in the third quarter of last year.
But even with the strong growth in the second half of 2009, the economy shrunk by 2.4% last year. That was the biggest drop in 63 years and first annual decline for the economy since 1991.
The GDP report does not mark an official end of the recession. That determination will be made by the National Bureau of Economic Research, and that group typically waits months -- if not more than a year -- to declare when recessions ended and began.
But two straight quarters of economic growth is typically a sign of a recovery, and most economists agree that the recession ended at some point in the middle of 2009. The Federal Reserve even used the word "recovery" in the statement following its latest meeting earlier this week.
Inventories lead the way. Much of the improvement was driven by a turnaround in inventories, the supply of goods that businesses produce in anticipation of sales. Businesses slashed inventories in late 2008 and early 2009 due to concerns about worsening economic conditions.
According to Friday's report, 3.4 percentage points of growth in the fourth quarter came from the change in inventories. A pickup in auto production was a significant part of the inventory turnaround, even though auto sales themselves only rose modestly.
But the U.S. consumer was somewhat of a bystander in the fourth quarter, as personal consumption grew at only a 2% annual rate in the period. Spending by consumers accounts for more than two-thirds of economic activity.
Lakshman Achuthan, managing director of Economic Cycle Research Institute, said that growth from inventories shouldn't be dismissed since they are typically a driving force of strong recoveries.
"In late 2008 into 2009 everyone freaked out to prepare for Armageddon," he said. "They fired everybody and stopped buying inventories. That overreaction is what's being undone. Yes, you have to have jobs growth, but we'll get that next, probably in January or February."
Other economists say the turnaround in inventories isn't enough to lead to strong growth over a sustainable period. A better labor market that would give consumers the confidence and money they need to spend is also necessary.
"I'm not dismissing the inventory gain, but now that inventories are getting more into line with final sales, then the thrust of economic growth depends on final demand picking up," said John Silvia, chief economist with Wells Fargo Securities.
Stimulus, exports, also feed growth. Economic growth in the third quarter was greatly attributed to the federal stimulus bill passed at the beginning of 2009. But stimulus doesn't appear to have had as big of an impact in the fourth quarter.
Federal spending on stimulus does not show up on any one line of the GDP report. In fact, government spending contributed little to growth by itself, even as non-defense spending by the federal government rose at an annual 8% rate in the quarter.
But money pumped into the economy by tax cuts, such as the first-time home buyer tax credit, coupled with spending by businesses that received stimulus dollars, did have an impact in the quarter, even if it was harder to quantify.
An 18% jump in the value of exports also played a major role in the economy's rebound, contributing nearly 2 percentage points of growth. Silvia said exports have a chance to be a significant source of growth in the coming year, helped by the weaker dollar and stronger growth in developing economies, particularly in Asia.
Investment in business equipment and software jumped at a 13% annual rate, the biggest increase in nearly four years. That spending added almost a full point to GDP, and is often a precursor to employers starting to hire once again.
Slower growth ahead? Sung Won Sohn, economics professor at Cal State University Channel Islands, said there was good news in the report, but cautioned that the economy is unlikely to keep growing at such a strong pace.
"The not-so-good news is that most of the growth came from temporary factors such as inventories and government stimulus which can't be sustained," he said.
Sohn's forecast is for GDP growth of 2.6% in the first quarter, and only a bit higher than that for the full year. Silvia expects GDP growth of 2.3% in the first quarter of 2010, and 2.7% for the full year.
But Achuthan said growth doesn't have to stay above 4% or 5% for the economy to start making significant gains.
"It is normal to have a burst of acceleration coming out of a recession, particularly a sharp recession, and then have growth ease back," he said.