Why doing good is good for business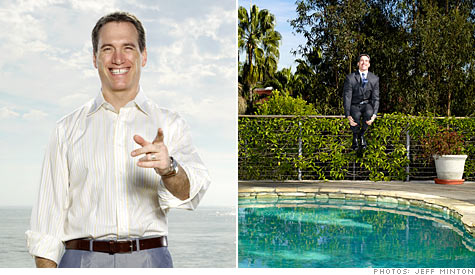 (Fortune Magazine) -- As unemployment crept toward 10% last year, the drug giant Pfizer decided to do a good deed. For customers who had lost their jobs during 2009 and lacked prescription coverage, Pfizer would supply 70 of its name-brand drugs, from Lipitor to Viagra, free of charge for up to a year.
For a company whose reputation has suffered some blemishes, including $2.3 billion in fines last year for improperly marketing drugs to doctors, the free-prescription program was well worth the cost.
"We did it because we thought it was the right thing to do," says Pfizer CEO Jeffrey Kindler. "But it was motivational for our employees and got a great response from customers. In the long run it will help our business."
Virtue is supposed to be its own reward, but according to an emerging line of thought, it's profitable too. The Pfizer (PFE, Fortune 500) case is the kind of object lesson that permeates the gospel of Dov Seidman, a Los Angeles-based management guru who has become the hottest adviser on corporate virtue to Fortune 500 companies.
A trained moral philosopher, Seidman has built a highly successful business on the theory that in today's wired and transparent global economy, companies that "outbehave" their competitors ethically will also tend to outperform them financially.
More than 400 companies, including Pfizer, Wal-Mart (WMT, Fortune 500), and Procter & Gamble (PG, Fortune 500), have hired Seidman's firm, LRN, to analyze their corporate cultures, rewrite their codes of conduct, and give ethical-compliance training to their employees. "Dov has done a terrific job of focusing companies on the question of how we behave," says Pfizer's Kindler. "He's right that how you behave and operate can be a real competitive advantage."
Seidman's vision challenges conventional wisdom on many levels. Don't nice guys finish last? Since when has success in business been about goodness rather than earnings growth? To paraphrase the 13th-century management theorist Genghis Khan, isn't it more about crushing your competitors, seeing them fall at your feet, and taking their horses?
The world has changed, Seidman argues, and winner-take-all strategies are obsolete. He contends that the rise of information technology has made good behavior more important because it has become increasingly hard to hide bad behavior. (Ask Wall Street.)
In the days of "fortress capitalism," to use Seidman's term, companies had more ability to control what was said about them because it was more difficult for outsiders to understand what was happening inside the corporate walls.
It's true that in recent years lax regulation and asset bubbles have allowed many corporate players to conceal their ethical shortcomings long enough to become obscenely rich. But in a world where disgruntled employees and unhappy customers can trash you globally in the time it takes to dash off a nasty blog posting or upload a cellphone video, it's becoming much harder to manage reputation the old-fashioned way, by hiding behind lawyers and crisis-management consultants.
Ultimately, the only way to enjoy a good reputation is to earn it by living with integrity. "We can't control our stories," Seidman says. "We can control how we live our lives."
Seidman laid out this vision in his bestselling 2007 book How: Why How We Do Anything Means Everything ... in Business (and in Life). The book made him a fixture on the global business-guru circuit, just in time for the moral crisis in capitalism over corporate greed and irresponsibility.
Lately Seidman has debated ethics with New York Times columnist Thomas Friedman at a Manhattan forum, addressed senior management teams at DuPont (DD, Fortune 500) and PepsiCo (PEP, Fortune 500), and signed on as a featured speaker at the World Economic Forum in Davos, Switzerland.
Friedman credits Seidman with inspiring some of the arguments in his 2008 bestseller, Hot, Flat and Crowded. "It's too bad Tiger Woods never read How," said Friedman, speaking from the sidelines of December's climate conference in Copenhagen. "Today people can see into your life farther, faster, and cheaper than ever before. Dov really helped me understand the behavioral implications of that: You are on Candid Camera, so be good."
At 45 and sporting a California tan, Seidman doesn't look like the ethereal, pipe-chomping philosophers of popular lore. He resembles a younger, less pumped-up but equally relentless version of Arnold Schwarzenegger -- picture the Terminator with a toothy grin and an expensive suit, quoting Aristotle and Kant while fielding nonstop calls on his BlackBerry.
Not unlike Schwarzenegger, he moves fluidly between cultures and has achieved success in two very different realms. Seidman grew up in Israel and California, earned advanced degrees in philosophy and law, and then left academia for what he describes as "the applied ethics business," a field that he basically invented.
As a child, Seidman struggled with acute dyslexia: Today he likes to tell audiences that the only two A's on his high school transcript were in auto repair and physical education. UCLA accepted him on condition that he enroll in remedial English courses. He worked his way through college by running a car-washing business (famous client: R&B singer Lionel Richie) and discovered an intellectual passion for moral philosophy, a field where he could excel because it rewarded the ability to master a conceptually challenging but relatively short reading list.
He mastered the secular realm of rulemaking at Harvard Law School, but his ethics are also informed by the rabbinical tradition. Although Seidman is not a particularly devout Jew, he speaks fluent Hebrew and quotes the Talmud and Heraclitus with equal facility. "Our 3,000-year tradition has always recognized the infinite power of values," Seidman told the graduating class of Hebrew Union College in New York City when he received an honorary doctorate there last April.
The economic value of an apology
Seidman launched his company on a credit card in 1993, originally naming it Legal Research Network. His goal was to disrupt the legal services market by producing high-quality research, created by a network of independent experts and sold to corporate clients at a fixed price.
LRN rapidly snagged a bunch of big-name clients, including MCI, DuPont, and Motorola (MOT, Fortune 500). Seidman was featured in The American Lawyer magazine under the headline "Should You Be Afraid of This Man?" (Not really, as it turned out: LRN found a niche producing generic research, but it hardly displaced the profession's core business of dispensing personalized legal advice.)
Over time, the company started selling legal-compliance services to corporations, which has evolved into an online education platform that now offers some 500 courses in more than 50 languages, on topics ranging from international corruption law to intellectual property, data protection, and environmental sustainability.
LRN is one of the market leaders in a field that also includes many major law firms and all the big audit companies. The closely held firm has about 300 employees in the U.S., Europe, and India. Although LRN doesn't disclose revenues, Seidman says that the company is profitable.
As it has grown, LRN has morphed from a business that helped companies understand and obey the law into one that aspires to help its clients create more ethical cultures. "Our business started as legal compliance," Seidman told me, "but I always thought that ethical inspiration was more important."
The practice of corporate social responsibility has been on the rise for some time, evidenced most recently by the outpouring of U.S. corporate donations to support earthquake relief in Haiti. But Seidman believes it should go well beyond a company's CSR department.
He makes an economic argument: Globalization has made it increasingly difficult for companies to differentiate themselves based on their products alone. Whatever your product or service might be, chances are that someone on the other side of the world can copy and sell it for less money. And if money is the only bond between you and your employees, they will quit the moment another firm offers them more cash.
All the more important, then, for companies to compete at the level of behavior: crucially, how they treat customers and employees. "It's about who has the most trust in their relationships, and where most people want to work," Seidman told me. "This will be the soft currency of the 21st century."
But can you really measure the impact of good behavior? One promising area of research is around trust.
In his book Seidman discusses Jeffrey H. Dyer and Wujin Chu's landmark 2003 study of buyer/supplier relationships among eight major automakers in the U.S., Japan, and South Korea. Dyer and Chu found a strong correlation between trust and procurement costs. The least trusted buyers in the study incurred procurement costs that were five times higher than the costs of the most trusted buyers.
Moreover, the least trusted companies in the study were also the least profitable. And companies that trusted each other were more likely to share valuable information like new product designs. "Trust between companies leads to more trust," Seidman says. "It sets off an upward spiral of cooperative, value-creating behaviors."
Or consider the economic value of an apology. Several years ago the University of Michigan's hospital system embarked on a major revision of its medical malpractice policies. Departing from the standard industry practice of reflexively "denying and defending" most claims, doctors and hospital officials started sitting down with plaintiffs and their lawyers to discuss complaints prior to any formal litigation.
In many of these meetings the doctors apologized directly to patients for any harm that their professional actions had caused. And while the hospitals continued to defend doctors vigorously if the evidence suggested that their care had met professional standards, they also instituted a policy of quickly settling meritorious claims. The results were concrete and dramatic: Between 1999 and 2006 malpractice claims against University of Michigan hospitals dropped by more than half, as did total malpractice litigation costs.
For Seidman, the lesson is that the hospital system prospered by applying fundamental values of decency and transparency. "With the working atmosphere now free of retribution, doctors no longer have to duck and dodge to avoid the appearance of guilt when errors occur," he said in his book. "The culture of transparency ... has brought error rates down throughout the hospital and measurably improved the quality of patient care."
Ethical office cultures
Seidman is obsessed with the classic philosopher's challenge: Live your principles. During our first conversation he explained his belief, grounded in Aristotelian ethics, that you earn trust by extending it to others.
He drove the point home by handing me a confidential packet of information that he had distributed to LRN's board last spring, when the company went through a painful restructuring. Seidman laid off 63 employees, mainly in midlevel sales and marketing positions, while beefing up his Mumbai-based engineering team and hiring several senior executives, like former Altria chief compliance officer David Greenberg, who could help bring LRN's new message of ethical leadership to corporate C-suites.
But how's this for an ethical dilemma: Hiring the likes of Greenberg, 55, effectively meant firing a number of junior employees who may have shared the commitment to LRN's mission but lacked Greenberg's intellectual chops and high-level corporate connections.
The irony was not lost on the LRN workforce. Seidman's board packet included the full rationale for the restructuring along with numerous internal e-mails about the process, not all of them flattering to Seidman. One employee wrote, "In this horrible economic climate, LRN put 60+ people in the LRN family out of work ... I struggle to understand how LRN is 'doing the right thing.'" Another staffer commented, "Overall, I think this has been handled well and shows a lot of foresight, intelligence, and courage. However, (only) one comment from Dov struck me as disingenuous: he said something like, 'We behave according to our values, even if something is not profitable.' I think it's important to be honest here -- that one major motivation is to keep LRN profitable."
This open debate is typical of life inside LRN's sleek industrial headquarters in Westwood, which feel less like a corporate office and more like a perpetual graduate seminar in the humanities. Conference rooms are all named after A-list philosophers (I attended several meetings in Aristotle, with occasional excursions down the hall to Wittgenstein).
Everyone, down to junior software engineers and the company receptionist, appeared to have memorized How and internalized Seidman's moral vocabulary. I heard a great deal of talk about leadership frameworks, journeys of significance, outbehaving, outgreening, and progress along the cultural road from blind obedience to self-governance.
Seidman's rhetoric floats high above the everyday imperative of just staying out of trouble, but it can lead to measurable results on that front.
In partnership with LRN, chemical giant DuPont recently embarked on an ambitious effort to promote ethical behavior among its 60,000 global employees. The program, which includes a detailed culture assessment, live workshops, online education, and an anonymous hotline that employees can use to report problems, has borne early fruit: Confirmed ethical violations (which can include everything from bribing a foreign official to deliberately misstating records) dropped from 65 in 2008 to 54 in 2009.
Those results are striking, DuPont general counsel Thomas Sager told me, given that DuPont has historically seen an uptick in violations for personal gain during tough economic times. "I think Dov is really onto something," Sager said. "When you energize a culture like that, people compete more effectively."
In the future, LRN may find ways to mine its vast trove of data about organizational behavior in ways that will allow it to establish meaningful correlations between a company's ethical choices and its balance sheet. "LRN can change the world by convincing people that it's in their interest to do the right thing," says former senator Bill Bradley, a senior adviser to LRN. "That's how you create a brand that lasts forever rather than a few years."
If so, Seidman could find himself playing in the M&A world, gathering fees for valuing companies based on their ethical cultures. If it became possible to put a price on virtue, even more companies might be compelled to take the high road. And Dov Seidman will have the best of both worlds: the philosopher who made a fortune.