Good news: Sales growth is back! - The Buzz
NEW YORK (CNNMoney.com) -- Is the economy really getting better? It's tough to keep track of all the reports about jobs, housing and manufacturing. The daily data dump is overwhelming.
But make no mistake. The economy does appear to be improving at long last -- albeit slowly. Here's how you can tell. Corporations are finally reporting sales growth, not just better profits juiced by pink slips and other cost cuts. Honest-to-God revenue growth.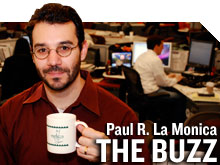 On Tuesday, for example, companies in a variety of industries reported that revenues were up at least 10% from a year ago, including Whirlpool (WHR, Fortune 500), Dow Chemical (DOW, Fortune 500) and homebuilder D.R. Horton (DHI, Fortune 500).
Bill Stone, chief investment strategist with PNC Wealth Management in Philadelphia, wrote in a report Tuesday that once all the latest quarterly results are in the books,.companies in the S&P 500 will report about 7% sales growth in the fourth quarter compared to the fourth quarter of 2008.
He thinks that this is just the beginning of better times ahead.
"Revenue is going to be up year-over-year. Hopefully companies will continue to report more sales growth and they can start bringing back more employees to meet demand. That would make this recovery self-sustaining," Stone said in an interview.
Stone also cited research from investment bank Brown Brothers Harriman which showed that through the end of January, nearly 75% of the companies that have reported their numbers so far have posted better-than-expected sales.
Along those lines, engine maker Cummins (CMI, Fortune 500), Marathon Oil (MRO, Fortune 500) and Tupperware (TUP) all reported sales growth that topped Wall Street's forecasts in the past two days.
This is obviously encouraging, but investors and consumers have to temper their enthusiasm a bit.
The fourth quarter of 2008 was a disaster. So it's easy to dismiss any growth as simply being a byproduct of ridiculously easy comparisons. But the growth has to start somewhere, of course.
"These sales numbers are all relative. It's almost inevitable that sales will go up off of the previous year's lows. But any increase in sales will go straight to the bottom line," said Sean O'Hara, president of RevenueShares, a firm that has six exchange-traded funds (ETFs) that weigh stocks in various indexes ranked by their revenue.
The firm's Large Cap ETF (RWL), for example, is based on the S&P 500. And it has slightly outperformed the S&P 500 over the past year. So there is something to be said for sales being a more true indicator of health than profits.
Still, skeptics may argue that companies could be slashing prices to stimulate demand. But profits are continuing to rise as well. So even if companies are reducing prices, that does not appear to be hurting the bottom line just yet.
That can't last forever though. Price wars are never a good thing. Just ask the airline industry.
Finally, it's worth noting that many of the companies that are reporting improving demand are benefiting from stronger economic rebounds in emerging markets like China, India and Brazil.
Dow Chemical, for example, said Tuesday that sales volume in emerging markets surged 33% from the fourth quarter of 2008. But volume in North America declined by 1%.
With demand picking up much more slowly, if it all, in the U.S., it's becoming increasingly clear that an economic recovery here is going to lag most other areas of the world. So any rebound here might be led by exports, not healthy spending by U.S. consumers.
"Sales growth here is not terrific. For a lot of companies, the growth came from international operations, not the domestic side. The U.S. is still struggling. The global economy is a smidgen better," said Paul Nolte, managing director with Dearborn Partners, an investment firm based in Chicago.
For that reason, Nolte said he thinks companies with a big multinational presence, such as IBM (IBM, Fortune 500), Cisco Systems (CSCO, Fortune 500) and 3M (MMM, Fortune 500) are likely to do better over the next few months than companies with more of a focus on the U.S.
Still, sales can only go up for one reason. Demand is on the upswing. People are buying stuff. That's a good sign even if that demand is not as strong in the U.S. just yet.
"Revenue growth is the only way out of the recession. We can't keep laying people off and have a prosperous economy," O'Hara said.
-- The opinions expressed in this commentary are solely those of Paul R. La Monica.