Cantor Fitzgerald rolls the dice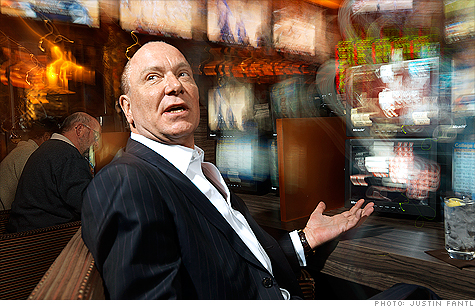 (Fortune Magazine) -- The only thing wrong with an afternoon spent poolside in Vegas is that you're missing the action at the tables inside.
But that won't be true for much longer thanks to a new unit of Wall Street firm Cantor Fitzgerald, which is exporting its trading know-how to casinos.
Cantor Gaming's mobile tablet, the eDeck, allows users not only to play games like blackjack but also to wager "in-running" -- betting on thousands of possibilities within a sporting event, from whether the Jets will make a field goal to whether Kobe Bryant will sink both free throws -- from almost anywhere on the property. The small but growing gambling division joins the partnership's more conservative businesses in bond and Treasury markets.
Cantor Gaming is the brainchild of Cantor Fitzgerald's former No. 2, Lee Amaitis. Way back in 2001, he envisioned using Cantor's vaunted trading platform to create mobile betting, believing that sophisticated algorithms like those used to conduct high-speed trades could also generate live odds as a game was going on.
Amaitis lobbied Nevada's Gaming Control Board to allow it on consumers' mobile phones, but they nixed the idea, believing it too hard to police. (How do you stop a teenager from swiping a parent's BlackBerry?)
So Cantor developed its own device. The eDeck, which can be used solely onsite at a casino, lets people bet while eating at certain restaurants and, soon, at the pool. "The potential is huge, because you're not married to a seat anymore," says Amaitis. The firm recruited an executive from casino giant Harrah's to develop layers of security to ensure the technology was hack-proof.
After gaining approval by the Nevada legislature in 2005, Amaitis began to pitch to the Strip. He did deals with billionaire Sheldon Adelson's Las Vegas Sands (LVS), owner of the Venetian and the Palazzo, and the M Resort. He expects three more casinos to sign on this year despite a recession-led falloff in 2009 gambling revenues.
"This gives you a lot more flexibility on your floor," says Anthony Marnell III, CEO of M Resort. The potential, Amaitis thinks, is huge: the U.K.-based research firm Juniper says mobile betting will rise from $1 billion in 2007 to an estimated $8.9 billion this year -- led mostly by Europe, where it is already legal.
Though only a sliver of the estimated $380 billion annual sports betting market in the U.S. is legal, Cantor provides what a bookie cannot: real-time odds. Say you have the Broncos winning over the Chiefs, and you want to hedge that bet in the fourth quarter -- Cantor's algorithms update the odds as long as you stay in the casino.
Later this year, the firm plans to launch an online site limited to Nevada users that shows live odds. The plan is to attract new bettors and offer an alternative to gambling sites such as Antigua-based Bodog, which began offering similar sports betting in 2006 that is illegal for U.S. users.
Since its March launch at M Resort, Cantor's in-running technology is now used for 5% of all sports betting. With Wall Street acting like a casino of late, it was only a matter of time before its systems showed up in one.
--An earlier version of this story stated that Cantor Gaming plans to launch a web site that shows live odds and would compete with other gambling sites such as Antigua-based Bodog. The firm is launching an online site that is limited only to Nevada, and it does not plan to directly compete with Bodog.