Tablet wars: Google looks to take on Apple iPad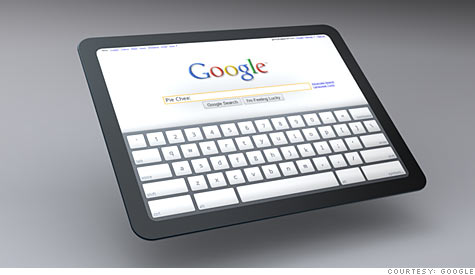 NEW YORK (CNNMoney.com) -- As the fanfare over Apple's new iPad reaches a fever pitch, Google is not standing idly by.
The search giant has already unveiled concept designs for its own version of a tablet, though it's unlikely that a Google tablet will hit store shelves until at least 2011.
Developers of Google Chrome OS, an open-source operating system that is set to debut in the second half of 2010, recently posted a mock tablet design on the developers' Web site chromium.org.
The design was actually unveiled two days before Apple CEO Steve Jobs gave the world its first glimpse at the iPad. But it wasn't widely noticed until this week.
According to chromium.org, Google's operating system would be optimized for a tablet that has a 5-inch to 10-inch screen, but it could work on larger devices.
The designs showed a user interface that includes large, square icons and controls, navigation tabs on the side and the ability to run multiple programs in separate, side-by-side windows at once.
The tablet running Google Chrome OS would also include a virtual keyboard at the bottom of the screen or a keyboard that could be opened in a separate window that could be placed in different areas of the screen. Applications would be placed at the bottom edge of the screen and could be opened with an upward dragging motion.
When Google first announced that it was building an operating system, the company said it was focusing on the netbook market. Though Chrome OS' developers said they are still primarily focused on netbooks, the operating system "could eventually scale to a wide variety of devices," including an iPad-like tablet computer.
"Google Chrome OS is still in development and we are constantly experimenting with various user interfaces to determine what designs would produce the best user experience," said a Google spokesman.
Google (GOOG, Fortune 500) probably won't design the tablet hardware itself. Instead, as with its Nexus One smartphone, which is made by HTC but runs Google's Android operating system, Google would probably look to partner with one or more hardware makers.
With a Chrome OS launch slated for the the holiday season, it is unlikely that a Google tablet would be released until next year at the earliest.
Taking on Apple: Who wins?
Google's tablet concept for Chrome OS is similar to how it made its move into mobile devices with Android, which is gaining market share like wildfire after the successful launch of the Motorola (MOT, Fortune 500) Droid. Analysts say Google's mobile operating system offers a strong alternative to Apple's (AAPL, Fortune 500) iPhone.
Similarly, experts say Google is well positioned to take on the iPad.
"Google has tremendous momentum in software...and it certainly isn't running away from Apple," said Laura DiDio, principal analyst at ITIC.
Though price, ease of use and hardware functionality will certainly be important factors in who wins the tablet battle, the most important determinant of who comes out on top may be the variety and quality of applications available for the devices.
"Applications are what will help tailor the tablet to your use and make it relevant," said David Krajicek, managing director of market research firm GfK Technology. "If we're going to have tablet mania, Apple can use Safari and Google will try to convince everyone else to use Chrome."
Apple touted the iPad's ability to run all of the iPhone's 140,000 apps. Though a tablet running Chrome OS wouldn't likely be able to run the tens of thousands of apps available on Android phones, a "Google tablet" would be optimized to run Google's host of Web applications like Gmail, Google Docs and Picasa.
Tablets with Chrome OS would also likely integrate Google Books to compete with the iPad's iBookstore and other e-reading devices like Amazon.com's (AMZN, Fortune 500) Kindle.
In the end, it won't be about the most apps but the best apps, Krajicek argued. He said the winner of the tablet wars will likely be the one that integrates multimedia and Web browsing the best, but will not necessarily the one with the most bells and whistles.
In other words, though the iPad is sleek, sexy and runs more apps, if a Google tablet can run e-mail, browsing, media and word processing better than the iPad, it could ultimately win out.
"In the days of tightening belts, the fundamental issue is, 'What is this device going to do for me?'" said Krajicek. "Instead of the 'gee whiz' aspect," the best devices will gain traction by creating better 'so what?' moments."