Wall Street dusts off 'Help Wanted' sign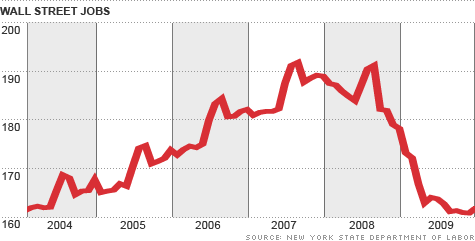 NEW YORK (CNNMoney.com) -- After shedding more than 30,000 workers over the past two-and-a-half years, is the job market on Wall Street finally turning a corner? It might be the case.
Earlier this month, speculation surfaced that Bank of America (BAC, Fortune 500) was looking to boost its network of retail brokers that once made up Merrill Lynch's "thundering herd" following a number of employee defections to rivals.
And Morgan Stanley (MS, Fortune 500), which has been bulking up its securities business in recent months, is expected to add several hundred more traders to the division over the next few years, according to a recent report by The Financial Times.
Spokespeople for both companies would not confirm the reports, but experts who track employment trends on Wall Street suggest that banks and securities firms are indeed feeling comfortable enough these days to at least start contemplating the idea of adding workers.
"I think we are seeing the gradual return of confidence in the hiring market in a number of areas within the financial services sector," said John Benson, CEO of the online job site eFinancialCareers.com.
Industry figures seem to at least support that position. U.S. job postings for financial positions at eFinancialCareers, for example, have climbed 5% or more in the last two months compared to a year ago.
At the same time, the latest employment numbers published by New York State revealed that the securities industry added 1,000 jobs during the month of December.
This is worth noting since it's rare for Wall Street firms to add jobs at the end of the year. Typically, banks do most of their hiring in the spring -- a time when college grads and newly-minted MBAs join the workforce.
So where is the hiring happening these days? Just about everywhere, according to experts.
While up-and-coming investment firms like Greenhill & Co. (GHL) and European financial firms like Deutsche Bank (DB) did most of the hiring last year, experts say larger institutions have also started to ramp up their recruitment efforts recently.
Banks have also revved up efforts to hire in areas hit hard during the credit crisis, such as fixed income, sales and trading, as well as continuing to look for new workers in accounting and risk management businesses.
More than anything, firms seem to be anxious to nab experienced workers who can help expand different parts of their business, said Kathy Tompkins of Sheffield Haworth, an executive search firm that focuses on the financial services industry.
"In general, [firms] are looking for someone with an active book of business and people who have active client relationships," she said.
Experts are quick to warn though that the recovery of the Wall Street job market is hardly assured and tenuous at best.
The employment gains from December could be quickly erased if forthcoming state employment figures for January at all mirrors what happened at the national level. Last week, the Labor Department revealed that the U.S. economy lost over 600,000 additional jobs in 2009 than previously estimated.
"Revisions for the last two years have yielded a lot of surprises," said Barbara Byrne Denham, chief economist at New York City-based real estate investment services firm Eastern Consolidated. "That may or may not happen for New York City.
But there are also a number of potential headwinds Wall Street faces on the hiring front.
Banks and securities firms are still anxiously awaiting a regulatory reform bill out of Washington, which could potentially limit their size or operations. With arguably fewer dollars coming in as a result, the demand for financial pros could remain weak.
Ultimately though, the direction of the U.S. economy will help determine the speed of Wall Street's recovery. So experts are hopeful the worst is over.
"Assuming there is not another drop in the stock market and drying up of financial market activity, then I think we can be hopeful that we have seen the bottom," said Benson.