5 unknown facts about Valentine flowers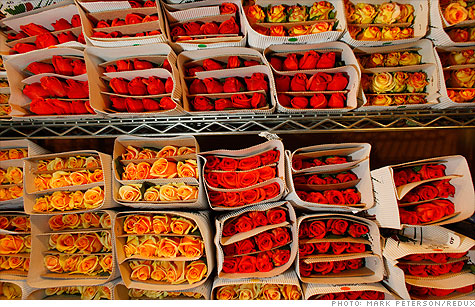 NEW YORK (Fortune) -- You can complain that Valentine's Day is just a commercial holiday, but you won't hear any griping from retailers. A typical panicked shopper searching for the perfect gift on February 13 is expected to spend on average $103, according to the National Retail Federation (NRF). And that's in a shaky economy.
That makes Valentine's Day the top-grossing celebration behind the winter holidays. For many florists, it's the biggest single day of the year and one that requires months of preparation.
At 1-800-Flowers.com (FLWS), up to 6,000 extra workers are brought in to help out. Florida-based Armellini Express Lines, which specializes in floral transportation, starts preparing for the onslaught two months ahead of time and hires owner-operators of trucking companies to help deal with four-and-a-half times its usual volume.
While flowers might seem like a simple way to express your feelings, for the florist that gets them to your sweetheart on time it's anything but. Here are five things about the flower industry you probably never knew.
1. Bad timing
This year, Valentine's Day falls on a Sunday, and that's a horrible thing for the industry, says Teleflora President Shawn Weidmann. Consumers want flowers delivered to the office so the lucky recipient can show them off to colleagues. Having a bouquet sit on your kitchen table might be nice, but it's not as big a draw. "Florists will tell you it can be a 10-20% hit when it falls on a Sunday," Weidmann says.
2. Women say it more with flowers
It's no small secret in the industry that women usually dominate flower-buying. They tend to be the buyers of the bouquet for Mom on Mother's Day and the poinsettias on Christmas. But on Valentine's Day, almost 60% of the adults purchasing flowers as gifts are men, according to the NRF. That's what drove Teleflora to advertise during the Super Bowl this year -- to reach as many male eyeballs as possible.
3. Takes money to make money
The one-day marathon for the flower industry might be great for sales but not so great for margins. 1-800-Flowers.com CEO Jim McCann says his company does about 10% of its annual sales in the run-up to Valentine's Day, but the extra infrastructure that's needed to pull it off raises costs. In the end, he says, it's worth it for the exposure: The period leading up to the holiday adds about 1 million new people to 1-800-Flowers.com's customer list.
4. Dígalo con flores
Those dozen long-stems for your sweetheart probably came from South America. U.S. flower growers can grow perfect roses with supplemental lighting and temperature controls, says John Dole, professor of horticultural science at North Carolina State University. But those added costs make it cheaper to import them. It's not just roses either; most fresh flowers in the U.S. have been imported from South America.
5. The old standby
Still No. 1 on Valentine's Day: red roses. That's probably because the main buyers are men, according to 1-800-Flowers.com's McCann. "Some would say they're not quite as creative as women," he notes. But then again, you probably already knew that.