Wall Street's Toy Story
NEW YORK (CNNMoney.com) -- There are still 10 months and 10 days until Christmas. But investors in toy companies are already in a festive, holiday mood.
Shares of the top two toy makers have held up nicely during this tumultuous start to the year on Wall Street. Mattel and Hasbro have continued to ride a wave of momentum that began last year on hopes that the recession was over and consumers would start spending again.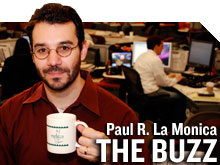 Mattel (MAT, Fortune 500) is up 5% this year, while the stock of top rival Hasbro (HAS) is up 12%.
Other toy companies have done even better. Shares of interactive educational toy maker Leapfrog Enterprises (LF) are up 20%. So are shares of Kid Brands (KID), which makes toys and other products for infants.
The American International Toy Fair is taking place in New York this week and there's a good chance that the toy stocks will continue to do well as companies unveil their hot new products for 2010.
But what about the outlook beyond this week? Can the toy companies keep chugging along even as investors worry about the still sluggish U.S. economy and the debt crisis in Europe? It appears so.
Hasbro reported fourth-quarter results earlier this month that blew away analysts' estimates. Earnings rose 77% thanks largely to strong sales of Transformers. The wildly successful "Transformers 2" movie came out last summer.
What's more, Hasbro CEO Brian Goldner said in a statement that he expected the company's revenue and earnings will grow this year. Hasbro could have some likely hits tied to big 2010 movies such as "Toy Story 3" from Walt Disney (DIS, Fortune 500) and Pixar and "Iron Man 2."
In a further reflection of this confidence, Hasbro also announced earlier this month that it was boosting its dividend by 25%. The dividend now yields an impressive 2.8%.
And while Hasbro was having itself a merry Christmas in the fourth quarter thanks to toys for boys, rival Mattel was also enjoying a superb holiday season thanks to a stronger focus on girls.
Mattel profits soared 86% in the fourth quarter, led by a 12% sales increase in the company's iconic Barbie line of products. Its line of Hot Wheels cars also continue to be a stellar performer. Looking ahead, the company also has a license to sell toys tied to "Toy Story 3"
Unlike Hasbro, Mattel hasn't raised its dividend recently, but the dividend yield is 3.6%. That's not child's play when you consider a 10-Year Treasury yields about 3.7%.
Best of all, both stocks still look relatively cheap -- even after their big moves over the past year.
Hasbro trades at about 14 times 2010 earnings estimates, a reasonable price given that analysts expect earnings to increase at about 10% annually, on average, over the next few years.
Mattel's a bit cheaper, at 13 times 2010 estimates. But analysts also are forecasting a slightly lower projected earnings growth rate of 8.5% a year for the next few years.
To be sure, it's not all fun and games in Toyland. Jakks Pacific (JAKK), which is probably best known for having a license to sell toys based on World Wrestling Entertainment characters, and infant and toddler toy maker RC2 (RCRC), are both expected to report little to no sales growth in 2010.
And it's worth noting that Hasbro, despite its bullish forecast for this year, hedged a bit when discussing its expectations of a strong 2010.
Goldner said that its outlook was doable "absent a deterioration in consumer spending, global economic conditions or the value of foreign currencies."
The recent strength in the dollar could hurt Hasbro, and to a greater extent, Mattel. More than a third of Hasbro's total sales in 2009 came from outside the United States, while nearly half of Mattel's overall sales are in international markets.
So even though Hasbro and Mattel should continue to benefit as long as the global economy doesn't slide into a double-dip recession, a stronger greenback may wind up limiting just how well the stocks do this year.
-- The opinions expressed in this commentary are solely those of Paul R. La Monica.