Dow in triple-digit rally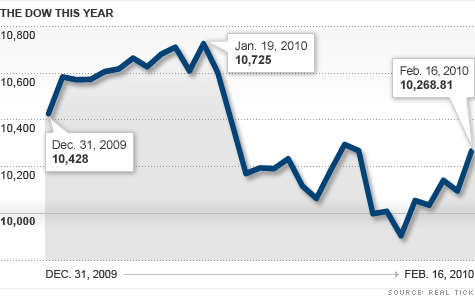 NEW YORK (CNNMoney.com) -- Stocks rallied Tuesday as better-than-expected quarterly results from Merck and Barclays reassured investors, and the weaker dollar boosted commodity prices and shares.
A bigger-than-expected rise in a measure of manufacturing activity in the New York area and some strength overseas added to the momentum.
The Dow Jones industrial average (INDU) rose 170 points, or 1.7%, for its biggest one-day point gain since Nov. 9.
The S&P 500 index (SPX) rose 19 points, or 1.8%. The Nasdaq composite (COMP) rose 30 points, or 1.4%.
"Between the good manufacturing report this morning, international markets rising and people wanting to come back in after a holiday weekend, there were plenty of reasons for stocks to rise today," said Kenny Landgraf, principal and founder at Kenjol Capital Management.
The stock advance was broad based, with 28 of 30 Dow components rallying, led by Boeing (BA, Fortune 500), United Technologies (UTX, Fortune 500), Chevron (CVX, Fortune 500), Exxon Mobil (XOM, Fortune 500), 3M (MMM, Fortune 500), Caterpillar (CAT, Fortune 500) and Procter & Gamble (PG, Fortune 500).
Dow component Merck also rose after its quarterly results. Dow financial companies gained too, including American Express (AXP, Fortune 500) and Bank of America (BAC, Fortune 500), as part of a bigger run in the sector after British bank Barclays said profit more than doubled last year.
The KBW Bank (BKX) sector index added 2.9%.
Wall Street managed gains last week, after four weeks of declines, but the advance was tepid amid worries about China's plans to curb lending and the threat of Greece's debt crisis spreading. Those worries were set aside Tuesday as investors focused on some of the stocks that were hit in the recent selloff.
Landgraf said that there had been so much bad news over the last few weeks in terms of issues abroad that most people who were going to sell already did it. Since about the middle of last week, the tone has been better, with buyers starting to come back in at lower levels.
"Generally speaking, people are in a period of readjusting and reevaluating what credit issues are out there," said Bernard McGinn, CEO at McGinn Investment Management. "In the last few days, we had a hint that the EU won't let Greece go down and that's providing some reassurance."
Between rally highs hit on Jan. 19 and the lows of early February, the S&P 500 fell more than 9% and the Dow and Nasdaq lost more than 7%.
U.S. markets were closed Monday for Presidents Day.
Quarterly results: A handful of influential companies report results this week, although the bulk of the reporting period has already passed.
Two Dow companies released results Tuesday morning.
Merck (MRK, Fortune 500) reported higher quarterly revenue that beat estimates on higher earnings that were in line with analysts' estimates. The drugmaker said it won't issue 2010 guidance until April. Shares gained 2%.
Kraft Foods (KFT, Fortune 500) reported higher quarterly earnings that topped estimates on higher quarterly revenue that missed analysts' estimates.
The food maker said the sale of its frozen pizza business to Nestle (NSRGY) will cut 5 cents per share from earnings annually, but its recent buy of British chocolate maker Cadbury will speed up long-term growth. Shares ended slightly lower.
With 379 companies, or 76%, of the S&P 500 having reported, fourth-quarter earnings are on track to have risen 208% from a year earlier, according to Thomson Reuters. Revenues are set to rise 8%. Stripping out the buoyant financial sector, earnings are set to rise 16% and revenues 3%.
Other company news: No. 1 shopping mall owner Simon Property Group (SPG) made a $10 billion hostile bid for troubled rival General Growth Properties. The deal would allow the No. 2 owner of malls to emerge from bankruptcy. Simon shares gained just short of 4%.
Manufacturing: The Empire State index, a read on manufacturing in New York State, rose to 24.91 in February from 15.92 previously. Economists surveyed by Briefing.com thought it would rise to 18.
World markets: In overseas trading, European markets ended higher and Asian markets finished mixed.
The dollar and commodities: The dollar gained versus the euro, recovering after sliding against the European currency in the morning. The dollar gained versus the Japanese yen.
The dollar's weakness versus the euro gave a boost to dollar-traded commodity prices.
U.S. light crude oil for March delivery rose $2.88 to settle at $77.01 a barrel on the New York Mercantile Exchange.
COMEX gold for April delivery rose $29.80 per ounce to settle at $1,119.80.
Bonds: Treasury prices rose, lowering the yield on the 10-year note to 3.66% from 3.69% late Friday. Treasury prices and yields move in opposite directions. The Treasury market was closed on Monday for Presidents Day.
Market breadth was positive. On the New York Stock Exchange, winners topped losers five to one on volume of 1.08 billion shares. On the Nasdaq, advancers beat decliners nine to on volume of 2.04 billion shares.