Obama gives $8 billion to new nuke plants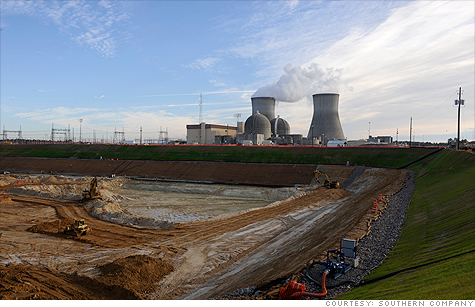 NEW YORK (CNNMoney.com) -- President Obama announced Tuesday over $8 billion in federal support for two new nuclear power plants in Georgia, setting the stage for what could be the first completed reactor in this country in over three decades.
The money, coming in the form of loan guarantees, is going to build two new reactors at Southern Company's Vogtle plant facility, located some 170 miles east of Atlanta.
In announcing the grant at an electrical worker's union hall in Maryland, Obama used to occasion to tout the benefits of nuclear power.
"Nuclear energy remains our largest source of fuel that produces no carbon emissions," said the president. "To meet our growing energy needs and prevent the worst the worst consequences of climate change, we'll need to increase our supply of nuclear power. It's that simple."
But Obama's speech made clear the move is also deeply political.
The money is part of $18.5 billion in loan guarantees for nuclear power approved under the 2005 energy bill. This grant is the first slice of money to be awarded.
President Obama has increased the amount of money available for nuclear loan guarantees to over $54 billion in his 2011 budget.
The increased funding is part of an effort to win Republican support for the president's overall energy plan, which includes building more nuclear plants as well as making fossil fuels more expensive in an effort to cut greenhouse gases and make renewable energy more competitive.
"Those who have long advocated for nuclear power, including many Republicans, have to recognize that we will not achieve a big boost in nuclear capacity unless we also create a system of incentives to make clean energy profitable," Obama said. "As long as producing carbon pollution carries no cost, traditional plants that use fossil fuels will be more cost-effective than plants that use nuclear fuel."
Passing legislation to make fossil fuels more expensive and clean energy more profitable is a centerpiece of the Obama administration's domestic agenda.
A bill designed to do just that narrowly passed the House last summer, but faces stiff opposition in the Senate from lawmakers that are concerned about its cost to the economy, or don't believe in global warming. The Senate is expected to take up the matter sometime this year.
The Georgia plant
Southern Company is one of a handful of power producers that has been vying for this federal funding over the last few years.
Preliminary construction work on new reactors has already begun at a few sites around the country, including the Georgia plant. But the U.S. Nuclear Regulatory Commission hasn't issued a final permit at any of the facilities.
Winning the government loan backing is a major breakthrough for Southern, and underscores just how expensive and risky building a new nuclear facility is.
Nuclear plants have been subject to massive cost overruns in the past, and without government support even those in the industry recognize a new plant would not be built.
The Georgia expansion is estimated to cost $14 billion, and is scheduled to be completed in 2017.
When originally built late 1980s, the plant was expected to have four reactors and cost $975 million, according to the Atlanta Journal Constitution. The final price tag for two reactors was $9 billion.
The new construction in Georgia is expected to create 3,500 jobs building the plant and 800 permanent jobs once the facility is complete, according to a Southern Company press release.
Each new reactor is expected to produce 1,100 megawatts of electricity, enough to power over 800,000 homes.
Too expensive?
Opponents of nuclear power claim the plants are too expensive to build, and fear government support will distort the power market in this country for years to come.
They also fear the plants will be the target of a terrorist attack, and say there is still no plan for what to do with the waste.
Supports contend the plants will get far cheaper after the first few are built, and will be a good source for clean, domestic power.
The Energy Department has stopped building a permanent waste disposal site at Nevada's Yucca mountain, but says the waste can be safety stored on-site in pools or concrete bunkers for many decades until another site is found.