Sirius XM above $1 again. Now what?
NEW YORK (CNNMoney.com) -- Time to pop champagne corks if you're a Sirius XM Radio shareholder. The stock closed above a buck Wednesday for the first time since September 2008.
Then again, maybe not. Sure, shares of Sirius XM (SIRI) are up more than 85% this year and now trade at about $1.12.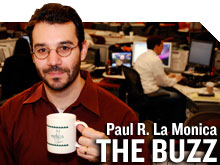 But that's still a far cry from the nearly $4 level the stock traded at when Sirius and XM announced their plans to merge three years ago. And it seems safe to say Sirius XM will likely never come close to hitting its all-time high of about $70 from March 2000 ever again.
But let's give credit where it's due. Sirius XM has made a stunning comeback from a year ago. The stock has recovered from an all-time low of 5 cents a share in early February 2009.
At that time, plunging auto sales and weak consumer confidence were significant concerns. There were worries that Sirius XM might have to do a reverse stock split (cutting the number shares to artificially boost the stock price) or face being delisted by the Nasdaq.
There was even speculation that Sirius XM would need to file for bankruptcy due to its continued losses and a heavy debt load that was set to mature later in 2009.
Sirius XM escaped Chapter 11 though. In the middle of last February, media mogul John Malone's Liberty Media (LCAPA, Fortune 500) agreed to invest $530 million in Sirius in exchange for preferred stock that could convert into a 40% stake in Sirius XM.
Since then, the economy has edged back from the abyss and several auto companies that aren't named Toyota (TM) are starting to report higher sales.
Thanks to that improving backdrop, Sirius XM announced last month that it added more than 257,000 net subscribers in the fourth quarter of 2009 and that it expected to report over $100 million in free cash flow for the year. The company will release full-year results later this month.
But despite this good news, some analysts think the stock's big run could soon end.
James Goss, an analyst with Barrington Research, said that he will reevaluate his outlook for Sirius XM after the company reports its full results. But for now, he thinks $1.25 a share is a fair price.
David Joyce of Miller Tabak & Co. said that Sirius XM is fully valued at $1.33 a share while Matthew Harrigan of Wunderlich Securities thinks $1.35 a share is reasonable.
So any investor buying now may have limited upside left.
Sirius XM still faces many challenges ahead of it. First and foremost, it's not clear whether the company's biggest star will be on the Sirius XM payroll at this time a year from now.
Will Stern stay or go?
Howard Stern's contract expires in January 2011, raising the possibility that Sirius XM could lose its top subscriber draw. Last month, there was talk that Stern could return to his terrestrial radio roots -- and gain a wider following again -- by joining Clear Channel after his Sirius XM deal is up.
That seems unlikely though, given that Stern would have to give up the freedom from FCC scrutiny the shock jock now enjoys on satellite radio. Plus, Stern has publicly feuded with Clear Channel in the past. Sounds to me like more of a potential negotiating ploy than a serious threat to bolt from Sirius XM.
But an even stranger rumor popped up last month that Stern was talking with News Corp.'s Fox about replacing outgoing judge Simon Cowell on "American Idol" in 2011.
That seems way too bizarre to be true, but News Corp. (NWS, Fortune 500) CEO Rupert Murdoch has shown a penchant for paying top dollar for "content" in the past. And if Stern really wanted to get his name in front of the widest possible audience, it's hard to find a bigger platform than ratings juggernaut "Idol."
Harrigan said he expects an "aggressive" fight for Stern's services in the coming months, but predicts he'll stay with Sirius XM.
Joyce agreed. He argued that even though Sirius XM has done a good job of cutting costs after doling out expensive contracts for on-air personalities with a much smaller following than Stern, Sirius XM may have no choice but to pay up for a Stern renewal or risk losing a big chunk of its subscribers.
But Joyce cautioned that investors may be driving up the stock price on chatter that Stern is likely to stay with Sirius XM and are ignoring all the company's other risks in the process.
"This could be day traders jumping in and not paying that much attention to anything but Stern," he said.
Among the bigger unknowns is whether Sirius XM -- with or without Stern -- will be able to continue to report healthy levels of subscriber growth and ever make a profit. Positive cash flow is a nice milestone, but analysts are still predicting a small net loss for 2010.
And there is more competition from the likes of Apple (AAPL, Fortune 500) and the makers of other mobile music players, Internet radio services like Pandora and even the auto companies themselves.
Ford (F, Fortune 500), for example, is a Sirius XM partner but it is also heavily pushing the Sync entertainment system it's developed with Microsoft (MSFT, Fortune 500) for Ford vehicles.
To be sure, Sirius XM is back from the brink. Goss said that having Malone on the company's side is a big endorsement. Still, he added that many big mutual funds and other institutional investors tend to shun stocks that trade below $5 a share.
That may mean that the stock's performance could continue to be extremely volatile since much of the trading will be done by smaller, more short-term focused investors.
"There really is no rational process for valuing this stock," Goss said.
Harrigan took it one step further, comparing what's going on now to those heady days of the tech bubble a decade ago.
"The stock's acting like it's 1999 again. The company has done a good job of fixing its balance sheet with Liberty getting involved," he said. "But the stock is getting a little frothy. People that are talking about it getting back to $2 or $3 are drinking the Kool-Aid."
-- The opinions expressed in this commentary are solely those of Paul R. La Monica.