One million could lose jobless benefits in March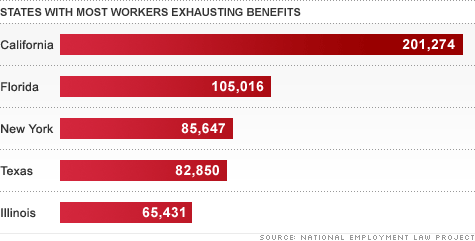 NEW YORK (CNNMoney.com) -- More than 1 million people could lose their jobless benefits and health insurance subsidy in March if Congress doesn't act fast.
When it returns from the President's Day recess on Monday, the Senate will have one week to extend the deadlines to apply for federal unemployment benefits and the COBRA health insurance subsidy. Currently, the jobless have until Feb. 28 to sign up.
Without an extension, people receiving state jobless benefits won't be able to apply for additional federally paid unemployment insurance, and anyone already receiving those checks could be cut off.
Justin Julian is one the 1 million people who are desperate for Congress to take action next week. If they don't, he and his wife won't have a place to live.
The Lewisville, Texas, resident lost his software position in August and will miss the deadline to apply for additional federal benefits by only a few days. He currently receives $1,600 a month in unemployment benefits, which he uses to cover rent, car payments and the electricity bill. He must borrow money from friends and family to pay for food.
"Without the unemployment insurance, we can't pay any of our bills," said Julian, 39, whose wife is disabled. "It's kind of doomsday for us. We'll wind up sleeping on friends' couches."
Stalled in the Senate
Lawmakers were on track last week to introduce legislation that would have extended the deadlines to May 31 at a cost of $25 billion over 10 years. But Senate Majority Leader Harry Reid, D-Nev., decided Thursday to offer a slimmed-down job creation package that did not include the provision.
But Reid plans to address the jobless benefits deadlines when Congress returns next week, a Senate Democratic aide said.
"We also hope to pass an extension of expiring provisions, including unemployment insurance and COBRA, next week," the aide said. "With Republican cooperation, we should be able to do so."
In December, the House passed a $154 billion job creation package that extended the deadlines to June 30. Speaker Nancy Pelosi, D-Calif., last week urged her Senate colleagues to pass a more comprehensive jobs measure.
While extending the deadline generally enjoys bipartisan support, passing a bill to do so is an entirely different matter. Last year, it took seven weeks for legislation extending unemployment benefits to get through the Senate. But when lawmakers finally took up the measure, it passed by a 98-0 vote.
Potentially out of luck
About 11.5 million people currently depend on jobless benefits. Nearly one in 10 Americans are out of work and a record 41.2% have been unemployed for at least six months. The average unemployment period lasts a record 30.2 weeks.
"These are essential benefits that people spend on food, utilities and housing," said Judy Conti, federal advocacy coordinator at the National Employment Law Project.
While unemployment benefits now run as long as 99 weeks, depending on the state, not everyone will receive checks for that long a stretch. Those who run out of their 26 weeks of state-paid coverage after Feb. 28 would not be able to apply for federal benefits. The jobless currently receiving extended federal benefits, which are divided into tiers, would stop getting checks once they complete their tier.
The law project would like to see the deadline extended to the end of the year so "workers don't fall hostage" to the machinations within Congress, Conti said. Julian agrees, saying waiting for lawmakers to act has been "a living hell."
State agencies are expected to start mailing notices to the jobless to alert them to the impending end of their benefits.
While the economy is slowly recovering, hiring is expected to remain slow in coming years. The unemployment rate is expected to remain at about 10% this year, according to the White House Council of Economic Advisers, and won't fall back to its 2008 level of 5.8% for another seven years.