A search engine for global e-commerce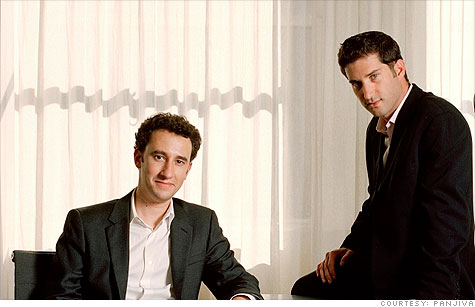 (CNNMoney.com) -- In 2005, Harvard Business School student Josh Green was working as an intern at E Ink, the Cambridge, Mass., company that developed displays for the Amazon Kindle. His boss asked him to find an overseas manufacturer of electronic display components. How hard could that be?
Very, it turns out. There was no consistent way to tell whether small manufacturers on the other side of the planet were any good. You could buy shipping records from the U.S. Department of Homeland Security on CD-ROM for $100 per day, but they were often incomplete, convoluted and unorganized. Company names were misspelled. Addresses were incorrect.
"It was like a jigsaw puzzle with 20 million pieces," says Green.
Then Green met Jim Psota, an MIT graduate and computer whiz. Green told him how hard it was to find reliable suppliers. There had to be a better way of doing business, they agreed.
The idea: In 2006, Psota and Green teamed up to start Panjiva, a company with offices in Cambridge and New York City whose Web site would scour millions of shipping records from databases all over the Internet, allowing businesses to find and vet suppliers. The next year, the company raised $400,000 in seed capital. In 2008, they closed a $5.2 million round of funding led by Battery Ventures.
The risk: Panjiva faces stiff competition from established global intelligence businesses like Dunn & Bradstreet, which focuses mostly on domestic business' financial data, and Alibaba.com, which has a $1 billion investment from Yahoo (YHOO, Fortune 500) and showcases marketing information provided by overseas suppliers.
But in the beginning, Panjiva's biggest challenge wasn't facing down other companies. It was building something customers actually wanted. In 2008, after months of software development, Green and Psota were pleased with the search engine they'd built to help businesses find suppliers. But when Green put it in the hands of potential customers for a test run, the feedback was not what he expected.
"They weren't impressed," says Green, 31. He and Psota were incredulous; they thought their software was great. "Our first impression was that our clients must not get it."
An investor suggested the co-founders try it for themselves: run a real query through their own software. When Green used the search engine to find a sweater maker in Vietnam for a potential customer, it took much longer than it should have.
"We saw firsthand it didn't work," Green said. "The least relevant search results came up top."
Psota and Green started again, building a better search engine that would bring up more relevant answers.
Green says his biggest mistake was not soliciting feedback earlier in the process. If he had, it could have shaved off months of development time.
"It's a common mistake for entrepreneurs," says Eric Sink, a software developer and the author of The Business of Software. "I've seen more than one business go under because a feedback loop wasn't there."
The reward: Three years after its start, Panjiva's Web site works. It can search records from 1.5 million companies in 190 countries. The technology also identifies trends, predicting whether a specific supplier might soon go belly up or projecting which products will be hot in the next holiday season. Green declined to disclose revenues at the 10-employee firm, but he says they've grown six-fold from 2008. Hundreds of clients -- including Guess Jeans, Home Depot and VF, the largest jeans maker in the world -- now pay fees ranging from $99 to hundreds of thousands of dollars for those reports.
Bob Petkun says Panjiva helped his online craft supply company, Crafts Americana Group, grow by 30% and cut its travel budget by $25,000. Before he stumbled upon Panjiva in a Google search last year, Petkun would go to a craft store, find the type of product he wanted to import -- say, a skein of yarn -- then look at its country of origin and sometimes travel abroad to find a supplier.
"I would never know where to look for vendors," says Petkun. "It's a big world."