My life as a cosmonaut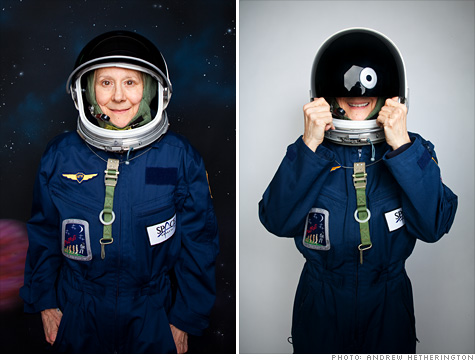 (Fortune Magazine) -- American venture capitalist and philanthropist Esther Dyson spent part of 2008 and 2009 training to be a cosmonaut. Dyson is a well-known figure in the world of technology. For many years she penned an influential monthly tech newsletter, and she hosted PC Forum, an annual technology conference. (She sold her company to CNET Networks, which discontinued the conference and sold the newsletter to O'Reilly Media.)
A few years ago she invested in Space Adventures Ltd., the firm that arranged space travel for Dennis Tito, Mark Shuttleworth, and other space tourists. In 2008 the company's executives invited her to serve as a backup crew member for software entrepreneur Charles Simonyi. As a backup -- Dyson would go into space only if Simonyi could not -- she went through six months of courses, simulations, and drills at Star City, a former Russian military facility that is home to the Yuri Gagarin Cosmonauts Training Center.
On March 26, 2009, Simonyi boarded a Soyuz-TMA spacecraft bound for the International Space Station. Dyson was on hand to watch the launch. Though she did not make it to space last year, Dyson is confident she will experience space travel in her lifetime. Here is an edited account of her life as a would-be space traveler.
When I was 7 years old my father, Freeman Dyson, was building a nuclear-powered rocket ship for General Atomic. He'd always been fascinated by space travel: When he was 6 years old he wrote in a little notebook about rockets going into space. When he and my mother were children, regular people didn't fly in airplanes, but by the time they were adults, they did. And so when I was a kid, I just assumed that by the time I was a grownup, everyone would be flying around in rocket ships.
Perhaps it wasn't surprising that I started taking a professional interest in space and light jets. I am an investor in XCOR Aerospace, which makes spacecraft. In 2008 the guys from another company I back, Space Adventures, said, "We know you don't have $35 million [the price for an orbital flight as a tourist], but would you like to be a backup?" (The backup crew member program costs $3 million.) And I said, "Sure, yeah, maybe in 2015. I'm busy right now."
A couple of weeks later my sister e-mailed the family to say she was going to have a double mastectomy. She's fine now, but a couple of weeks after that I was on the phone negotiating a meeting date for which I already had a conflict, and I thought to myself, "If I just had a double mastectomy, I could cancel all these things." Then I realized, "Wow! There's something wrong with your life if you need a double mastectomy to clear your schedule. You need a much better excuse."
I mentioned this idea of being a backup for a space flight to my father. He's a great father, the kind who says, "Whatever makes you happy" in that vague, benign sort of way fathers have. But instead, he just started glowing. Suddenly I realized, "Oh, yes. This was his dream. And I'm his firstborn." So I called up the Space Adventures people and said, "Okay, let's figure out how to do this." The next thing I knew, I was down in Houston getting medical tests.
Since 2001, Russia has welcomed tourists to help support its space program. Tourists and backups such as Dyson do most of their training -- in Russian -- at Star City, outside Moscow. U.S. astronauts also train there; most Soyuz crews include one U.S. team member. Soon American astronauts will rely only on the Soyuz as the U.S. shuttle program shuts down. (Likewise, Russians and space tourists also go through tests and orientation at NASA's Johnson Space Center in Houston because, once aboard the International Space Station, they will be interacting with American astronauts.) Dyson, a longtime investor in Russian companies, started training at Star City in October 2008.
I know the idea of spending winter at a Russian military training facility sounds unpleasant, but Star City was actually quite nice. First they put me in a unit that was very roomy but out of the way. So they moved me to a single room in the "prophylactorium," where the cosmonauts and astronauts recover after their flights, and where space tourists and other overflow personnel live.
It had a balcony that, of course, wasn't terribly useful from October through March, and it overlooked a beautiful lake. It was always warm, and it had wired Internet. The courses were interesting, but to be honest, I never did much homework. (Instead I kept up with my business obligations in the evenings.)
I did have to prepare for the tests and go over my notes, but the difficulty of being a space tourist is overstated. You have to be in very good health and you need to pay attention -- in Russian. Some of the tourists spend half their time taking Russian lessons. I knew the language, so that part was much easier. But the stuff you learn that's not in the books is always much more important.
In the end you're doing this for experiences like getting fitted for your space suit, or overnight wilderness training. Wilderness training is exactly what it sounds like: My Russian cosmonaut teammates and I had to pretend our spacecraft had landed in "marshy and forested terrain in winter." The fact that the training takes place in a forest next to a resort hotel 10 miles from Star City makes the experience a little less harrowing. (At night we could hear the disco at the hotel, for example, and that first night we saw a large animal with two big eyes staring at us in the dark. It turned out to be a fluffy cat.)
Still, we had to stay in the woods, and we had to fend for ourselves with food and equipment from the escape capsule -- which is packed for precisely such an event. We made a tent using sawed-off tree trunks, which we wrapped in parachute silk. (Luckily, my crewmates were Russian gentlemen and did all the chopping. I mostly just picked up twigs for firewood.) Parachute silk is amazing stuff. It's incredibly strong, and the capsule is outfitted with something like 100 square meters of it. We used it to make bedding, draped over pine fronds. We put it over logs to keep them dry. We used it to make a stretcher.
In the middle of our tent we built a fire to keep us warm. I noticed all these pine fronds next to the fire, and I asked my mates, Alexander Samokutyaev and Oleg Skripochka, "Are you sure these pine fronds aren't going to catch on fire?" And they said, "Oh, no, no. They're green. They'll never burn."
Naturally, the fronds turned brown, and while I was on watch (the three of us took turns sleeping, though Alex snored so, I got only one-third of the night to sleep) the fronds caught fire.
My first thought was to throw water on the fire from our water canister. My second was, "No, I can't use this canister because it's not regulation." My third thought was, "Good grief, there's a fire here!" So I used the water canister to put the fire out. We completed the wilderness training without another major incident, and afterward the trainers took us to the hotel for medical tests.
I'd done "weightless flights" four times in the U.S. I was an investor in a company called Zero Gravity (which Space Adventures acquired in 2008) that operates these flights. As the plane descends at a steep angle, the passengers experience weightlessness. It's a commercial thing, so they know how to execute the flights and guide people so that almost nobody gets sick. The Russians basically are trying to get you almost-sick.
I showed up for the exercise and the handler said, in Russian: "I am Boris. I will take care of you. For the first five or six parabolas [30-second weightless arcs] I'm just going to throw you back and forth across the plane. Then I want you to get into your space suit in the next two sessions." At this point I was filled with anticipation. I was thinking, "Oh, great, I'm going to be weightless."
Boris continued: "Then we're going to do provokatsia." I wasn't really paying attention to this new word. It turns out that provokatsia translates into "provocations." It means that Boris twirls you around until you almost get sick. At the end, I did ask for the plastic bag. I didn't need to use it, but I got really close.
Dyson's small frame -- she is 5 feet 3 inches tall and weighs about 105 pounds -- created interesting challenges for the Russian team fitting her for her space suit, the airtight, pressurized suit used for the launch, and her flight suit (the jumpsuit for use on the space station).
All the clothing is designed for reasonably sized Russian men. The program had to custom-order a flight suit, and it was still too big. The man in charge of the suits came to me one day and said, "I've got this lady to help make it fit." It was his wife; she runs a bridal salon. This was just about the only person I met who really understood my shape. At one of the fittings, she laid a few straight pins on top of my space suit, and everyone in the room froze up. The space suit is airtight and holy, so it was as if she had lit up a cigarette next to a gas pump. Everyone eventually calmed down, and she got the job done: The suit fit.
A few weeks later we left for Baikonur Cosmodrome, the world's largest space launch facility, in the Kazakhstan desert. Basically it is a luxury cosmonaut hotel. It turned out to be absolutely magical: Here you have three people who are going off into space, and there's some chance they'll never return. (And then there are three others, including me that time, who may be called upon.)
Baikonur is devoted to the needs of those six people. It's a little bit of paradise before they go off into the perilous unknown. The food wasn't just better than the food we'd eaten for the past several months, it was astonishingly good, cooked with respect and love. The six of us were up on the top floor, and then there were a couple of doctors, and everybody was there to take care of us.
We couldn't go out because we were in quarantine, but the doctors would bring us milk or fetch us postcards or whatever we wanted that might be available in Baikonur. They would carry our luggage. (On the other hand, they were like anxious mothers. They were always admonishing: "Put your hat on. Don't get cold. Did you sleep well enough?")
The Russian people -- and government officials -- value and support the space program. From time to time, at Baikonur and in Star City, we would talk to journalists and television crews. They interviewed all the cosmonauts going up, their backups, Charles Simonyi, the engineers. And then there was me: a female, foreign, backup space tourist. They put even me on national television. To the Russians, everyone involved in the launch is worth hearing from. I'd love to see us get some of that enthusiasm back in the U.S.
This is, after all, exciting stuff. Science and technology and, of course, dedication and training make it all possible. But there's also an element of risk -- something American businesspeople know a thing or two about. Going into space is as safe as it can be, but it is a risk, and that's why it requires courage.
Commercial space travel is coming. SpaceX, entrepreneur Elon Musk's spaceship company, is making great progress. And XCOR Aerospace is not far behind. I am scheduled to take a test run of XCOR's Lynx, a new two-seat suborbital spaceship. I wouldn't want to go too early in the testing, but I'm willing to take the risk. With the government's recent budget announcement supporting further commercial development of space, things look really good.
People ask me all the time about space travel: "Aren't you scared?" I am 58 years old now. I don't particularly want to die in space, but I'm not afraid of it. It's not that I'd think my life was complete, but rather that I had not wasted what I had of my life...and that the flight was worth risking the rest of it.