Putting out Disney's fires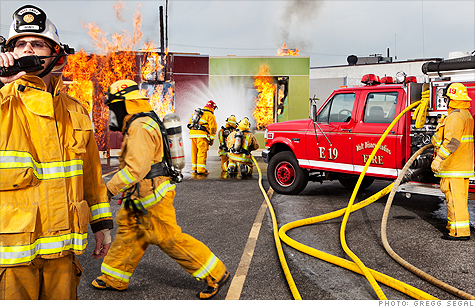 (Fortune Magazine) -- When the script for the science-fiction TV series "FlashForward" called for a scene inside a burned-out restaurant, the crew assembled the makeshift eatery and set it on fire.
Watching it all was Jim Capodieci. As captain of Disney's fire department, he had to make sure the production crew was safe. Standard fireman stuff. The tricky part? The faux restaurant had to look just right. And one false move and the whole set could burn.
Making sure staged fireballs don't turn into real ones is just part of the job for Capodieci. His team stands ready whenever a scene from "General Hospital" requires a car to blow up, or crews need to pull off crucial fire stunts in films like "Pirates of the Caribbean."
But Disney's firefighting team, based in Burbank, Calif., has a more serious mandate: to protect the company's workforce in a part of the country that's prone to fires and sits smack on top of an earthquake fault line.
Today the Walt Disney Studios Fire Department, launched in 1989, is like any other around the country -- it has its own station, its own fire engine, and 15 firefighters. (The one exception: no Dalmatian. You figured they would have one of those, right?)
The original idea was that the company was growing rapidly and couldn't depend totally on the locals in the event of a catastrophic event. "We all know that should something really bad occur, we may be on our own," says assistant chief Don Clark.
While the Disney (DIS, Fortune 500) team occasionally helps area fire departments -- as it did a few years ago when the squad battled a Hollywood Hills fire -- the prime directive is to protect Disney property.
Fire prevention at the company's Burbank and Glendale locations, its Prospect Studios, and its almost 900-acre Golden Oak Ranch falls to the department's three full-time members. They watch for fire hazards typical of any corporate office, but some duties are unique to the entertainment business. The firefighters check production schedules for potentially dangerous special effects and are on the lookout for fire risks such as blown lights.
Most of the fire team is made up of volunteers, who may be Disney IT specialists or financial analysts. Why the second job? Some dreamed of being firefighters as kids. Some just get the bug.
Delilah Macias was a Disney employee for a decade before she took the fire-extinguisher class the department runs for employees -- and signed up for the squad the next day. Volunteers like Macias work at least 120 hours a year; some have left Disney to become full-time firefighters.
Though they may not admit it, one of the cheap-thrill benefits of the job is hobnobbing with actors like those in the "General Hospital" or "Brothers & Sisters" casts. Another perk: maybe a Hollywood career! Capodieci has played a paramedic on "Grey's Anatomy" -- we'll see how it works out for him. Meanwhile, he'd better make sure Johnny Depp doesn't go up in smoke.