A telecommuting pioneer's call center revolution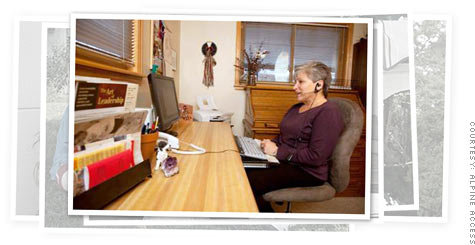 (CNNMoney.com) -- When Jim Ball ran a traditional call center in Golden, Colo., in the late 1990s, employee turnover was rampant. Often, Ball was forced to hire just about anyone who walked in the door because few people were willing to commute to the call center and sit in a sterile cubicle for minimum wage.
When Ball and his partner Steve Rockwood sold the call center in 1997, they decided the next business would be radically different: Customer service agents would work from home.
"We said, 'It's the holy grail,'" Ball says. "It's the only way you're going to keep and retain people."
The idea was slow to catch on with customers. EAS Sports Supplements was the first to sign on with the new business, called Alpine Access. Then a few others followed, including My Twins, Checks Unlimited and several direct marketers.
Fast-forward 13 years. Alpine Access now has 3,000 employees in 1,000 cities that take calls for clients such as America Online, Office Depot and Fortune 100 financial companies. The company booked sales of $53 million last year -- and employee attrition is about half of what it was under the bricks-and-mortar setup, Ball says.
"It's gone from a trickle to a stream to a raging river," says Christopher Carrington, who became the company's CEO three years ago.
Standing out from scammers
The work-from-home field is rife with scams, where job seekers are asked to pay for "training" or supplies. Alpine Access is one of the few companies with a proven track record of being legit.
Alpine's job applicants go through an extensive interview process, just as they would with a traditional company. The 2% of applicants who are offered jobs pay a $45 fee for a credit and background check, but they don't pay for training or for "monthly service fees," as some work-from-home jobs charge.
Those the company hires make a starting salary of $8 to $12 an hour, and have access to benefits including a 401(k) and health insurance. Alpine Access doesn't contribute to health care costs, but it does offer a corporate match to the retirement fund.
Employees don't have your typical 9-to-5 schedule. Their shifts vary: a worker might clock in from 6 a.m. to 8 a.m. and then again later in the day from 6 p.m. to 10 p.m. Employees must work 20 to 30 hours a week -- or at least four hours a day and five days a week.
A custom computer system enables Alpine Access' workers to clock in and field phone calls, but it also contributes to a company culture. Call center agents can mingle in chat rooms to gossip about work and life, sharing everything from recipes to baby pictures.
"We chat about our kids, how we're doing," says Don Noblin, a 47-year-old Alpine Access employee who takes calls for AOL (AOL) from his Phoenix home. "You bond with the people you work with even though some are 2,000 miles away."
Alpine Access managers, meanwhile, check in electronically, monitoring calls and wait times to measure productivity and using customer satisfaction surveys to gage employee performance. Workers also touch base with managers through instant messaging and video conference calls.
A changing market
Hundreds of companies moved their call centers overseas over the past decade to cut costs, but Carrington says the center of gravity for U.S. businesses is shifting back: "Seventy-five percent of our revenue growth is from companies that came back from India and the Philippines," he says.
In the past four or five years, things have really picked up for the entire industry, says Peter Ryan, an analyst who follows the call center sector for Ovum, a London-based research and consulting firm.
Today at least 20 call centers companies -- including Convergys (CVG), TeleTech and LiveOps -- have adopted the same work-at-home model.
One key driver is companies' ability to hire older, more educated -- and typically more stable -- agents who can handle longer, more complex calls. Companies also cut the overhead costs of having workers in buildings.
Ovum projects that around 48,500 people are now working from home answering customer phone calls, a number it expects to grow to 83,100 by 2012.
Despite the growth, not everyone is sold on home-based call centers. Some corporate executives worry that if calls are taken at home, workers will have too many distractions and too little supervision, Ryan says. Concerns about the security customer information also abound.
Just 1,700 of Cincinnati-based Convergys' 70,000 call center employees work from home. But that home-agent business is growing 20% a year at the $2.1 billion company, says Brad Kinhop, a vice president in charge of Convergys' home division. Convergys' home agents also claim 5% to 10% better customer satisfaction than their cubicle counterparts.
"I think Jim Ball and Steve at Alpine access were pretty visionary to come up with the idea," says Krinhop, who once worked at Alpine Access. "It just makes sense. Fast forward two to three years from now, and people will say, 'Really? You have to drive into work? You can't work from home?'"