Vernon Hill is back!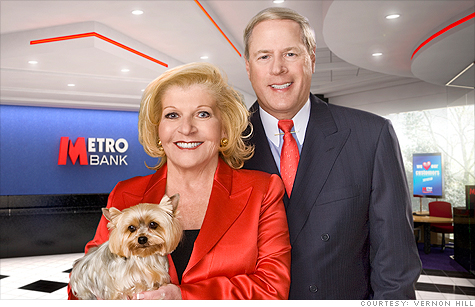 NEW YORK (Fortune) -- Last Thursday, as most of the financial world digested news that the Fed had hiked the discount window rate, star banking analyst Meredith Whitney hosted a bash to celebrate the first anniversary of her boutique research firm in midtown Manhattan.
Famous faces from finance and the media dined on BLT canapés and sushi amid a gallery of rare black and white photographs on slate gray walls (the knockout: a portrait of Muhammad Ali submerged in a swimming pool, fist cocked for combat).
Maria Bartiromo of CNBC and Whitney's husband, the genial Fox contributor and retired wrestler John (aka "JBL") Layfield, mingled with John Thain, the former Merrill Lynch CEO and new head of CIT, and former Wachovia chief Robert Steel.
Even in this festive setting, one guest stood out for his unorthodox, damn-the-establishment flamboyance: Vernon Hill, who timed the banking market perfectly by selling the business he built over 34 years, Commerce Bank, to Toronto-Dominion in early 2008 for $8.5 billion. (A year before, he resigned after months of regulatory scrutiny into Commerce's dealings with Hill family members.)
Resplendent in a gold-collar pin and candy-striped shirt, his Yorkshire terrier Duffy in a basket under his arm, an upbeat Hill told all and sundry about his bold new plans: to bring the Commerce Bank model to the United Kingdom, and to bring pet insurance to the masses. "I'm starting the first new bank in Britain in 175 years," Hill trumpeted. "The Brits hate their banks even more than Americans!"
Hill, who began his career developing sites for McDonald's (MCD, Fortune 500) restaurants and later bought Burger King (BKC) franchises, is renowned for bringing retailing flair to stodgy branch banking. His Commerce Bank "stores" in New Jersey and New York welcomed customers on evenings and weekends who delighted in throwing fistfuls of change into the Commerce coin counters.
He invited people to bring their dogs to the branches, where tellers greeted the canines by name and offered them doggie biscuits. Each year, Hill hosted an awards ceremony for 8,000 employees at Radio City Music Hall, appearing on stage arm-in-arm with the Rockettes. ("I assure you they have long legs!" he says.)
Now, Hill wants to introduce the same sunny atmosphere to frosty British banking with a new chain called Metro Bank. In April, he'll unveil two branches in London, with plans to open around 200 more in the greater London area over the next decade.
Dogs will be welcome, branches will stay open on weekends, and he'll open checking accounts in minutes. "Now, you go to a London bank to open an account, and they give you an appointment to come back next Wednesday at 3 pm," says Hill.
Hill is also crazy about another new business: pet insurance. In 2008, he was named the new chairman of a U.S. licensee of the world's largest pet insurer, Petplan of Britain. Pet insurance, he notes, is a big industry in the U.K. but is lesser known in the U.S., where it is ripe for captivating the increasingly pet-obsessed.
"In the old days, if a pet got sick, people would put them down," says Hill. "Now they'll do anything to keep their pets. They're members of the family!" It's nothing for procedures to run $5,000 or $10,000, says Hill, who predicts Americans will soon flock to buy coverage for their Great Danes and shorthair cats.
Hill and his wife Shirley, who took turns cradling Duffy at the Whitney event, are clearly the kind of fond parents who should prize insuring their pets. I asked Hill what Duffy likes to eat. "What do you like to eat?" he shot back. "Duffy dines on caviar and filet mignon!" Not to mention, Duffy also has the run of the Hills' 46,000 square foot Tuscan pleasure dome in central New Jersey. The curtain is rising, and it's once again showtime for Vernon Hill.