Batman comic book beats Superman at auction, sets record
NEW YORK (CNNMoney.com) -- The Dark Knight may be Superman's next greatest nemesis, after Lex Luthor.
Just three days after auction site ComicConnect.com claimed to break world records when it sold an original Superman comic for $1 million, Batman stole his thunder.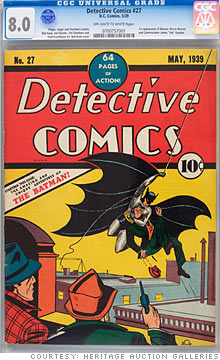 A rare, high-quality copy of Detective Comics #27, which marked the first appearance of Batman in 1939, sold for $1,075,500 on Thursday. Heritage Auctions of Dallas sold the comic book to an unnamed bidder on behalf of an anonymous collector.
Seven bidders from three countries participated in the combination live and online auction, taking about eight minutes to decide on a final price -- an "eternity" in auction time, said Heritage Auctions president Greg Rohan.
On Monday, ComicConnect claimed to sell a rare copy of Action Comics #1 to an anonymous collector for $1 million.
Action Comics #1, which debuted in 1938, marked the first appearance of Superman. A lesser-quality copy set the previous comic book record, racking up $317,000 at auction last year.
Vincent Zurzolo, who co-owns ComicConnect.com with founder Stephen Fishler, said while his Superman sale only held the record for three days, he was very happy to see two comic books selling for more than $1 million.
"Records are meant to be broken," and this week will forever go down in comic book history, he said.
Both Detective Comics #27 and Action Comics #1 were originally published by National Allied Publications, a company that later became Detective Comics and then DC Comics. DC Comics and CNNMoney.com are Time Warner subsidiaries.
With several comic book films set to release in 2011, Zurzolo said he expects prices to escalate on rare copies featuring popular characters. Green Lantern, The First Avenger: Captain America and Spider-Man 4 are tentatively scheduled to open in theaters next year.
Rohan said he's seen prices for incredibly rare items, like original comic books, shoot up between 15% and 25% during the recession, while auction prices for more common collectibles have decreased.
Last month, Heritage Auctions sold a 1913 nickel, one of only 5 in the world, for $3.7 million.