FDA cracks down on false health claims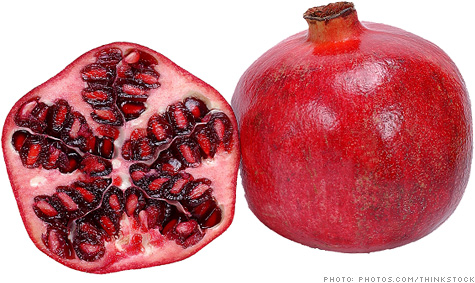 NEW YORK (CNNMoney.com) -- The pomegranate juice POM Wonderful may have been touting it's "wonderfulness" a bit too strongly.
POM Wonderful's Web site hypes studies saying consumers who drink the juice experience more erections, lower blood pressure and cholesterol, and better chances of fighting off prostate cancer.
While the site is careful not to claim any of these miracle-drug properties explicitly, POM has caught the attention of federal regulators.
The Food and Drug Administration sent a warning letter to POM Wonderful President Matt Tupper on Feb. 23 admonishing the company for promoting claims more suited to a drug than food products.
And POM Wonderful is not the only product the government agency is wagging its finger at. Since December, 17 food companies have received warning letters for potential violations.
On Wednesday, Margaret Hamburg, the FDA's top official, issued an open letter to the food industry, warning companies that it will crackdown on food labels with false or misleading claims.
"[The] FDA is notifying a number of manufacturers that their labels are in violation of the law and subject to legal proceedings to remove misbranded products from the marketplace," she said in the letter.
Swiss food conglomerate Nestle received the largest number of citations because its brands Gerber, Dreyer's and Juicy Juice all came under the FDA's cross hairs.
A label on the front of Nestle's Drumstick Classic claims the product has "0 g Trans Fat." Turn to the nutritional label, however, and the vanilla fudge Drumstick Classic contains 19 grams of total fat and 10 grams of saturated fat.
Foods that bear a claim like "no trans fat" but contain more than 13 grams of total fat should include a disclosure, referring the consumer to nutrition information, the FDA said. For example, the "0 g Trans Fat" claim should have said, directly next to this claim "see nutrition information for fat and saturated fat content."
Meanwhile, the labeling on Juicy Juice All-Natural 100% Grape juice implies the product contains 100% juice when it is really blended with added flavors, the FDA said.
Companies that received warning letters have 15 business days to inform the FDA of how they will correct their labeling. Failure to fix their packaging can result in further regulatory action, including seizure and injunction, the FDA warning letters said.
POM is currently reviewing its labeling but denies any false claims. "All statements made in connection with POM products are true and supported by unprecedented scientific research," said spokesman Rob Six.
The FDA frequently issues letters to food and drug companies, and FDA spokeswoman Siobhan Delancey said most companies respond quickly and make changes to their labels.
Often the agency allows manufacturers to use their existing stock before investing in new packaging, but only within reason.