Lobster prices too low for harvesters' taste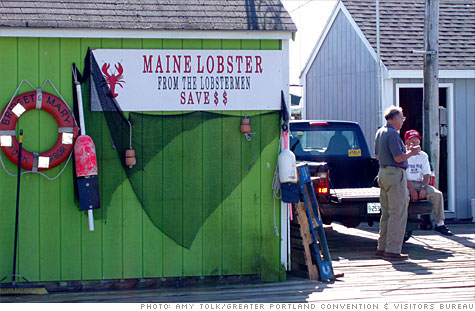 NEW YORK (CNNMoney.com) -- Maine's lobstermen are working harder for less, as demand drops for their expanding harvest.
Lobstermen pulled in a robust 76.3 million pounds in 2009, according to the Maine Department of Marine Resources. That's the largest harvest in years, according to state records and estimates, but only in terms of volume.
The 2009 take was worth $223.7 million, which is about $22 million less than the prior year, according to the department. State statistics show that the harvest has dropped in value, year-to-year, since 2005, when it totaled nearly $318 million.
As with most things, the recession is to blame. Cash-strapped consumers are avoiding delicacies such as lobsters, driving down the overall price, according to George Lapointe, commissioner of the Maine Department of Marine Resources.
"I think it's largely a function of supply and demand, and the world economic condition," he said. "Lobster is a luxury product."
Lapointe said the price of lobster managed to "claw its way" back to a range of $2.75 to $3 per pound in 2009, after slumping to $2 to $2.50 in the fall of 2008. That pales in comparison to five years ago, he said, when lobstermen were getting $4 to $4.50 per pound.
Lobstering is an essential part of Maine's economy, he said, providing about $500 million in annual revenue to coastal communities. He said the tourism industry has managed to hold up, despite the recession, but visitors to Maine only account for one-sixth of lobster purchases.
Lapointe said cruise ships, which are traditionally among the largest consumers of lobsters, are cutting back on their purchases and this has been painful for lobstermen.
"They are certainly in a financial squeeze right now," he said. "When they fish harder, they use more bait and more fuel, and those are huge costs for them."
Lapointe said fuel cost is consuming as much as 40% of a lobsterman's take, up from 10% to 15% in recent years.
More lobsters, less money
David Cousins, president of the Maine Lobstermen's Association and a lobsterman for 42 years, said the 2009 harvest was the biggest since the early 1990s, when the annual take peaked at an estimated 100 million pounds. But that is little comfort, considering the dropping prices and increasing costs.
"Our business is based on a $4 dollar-plus lobster [per pound]," said Cousins. "When you're getting $2.90 a pound, you're going the wrong way and it just doesn't work anymore.
The cost of Atlantic herring, an abundant fish used as bait in lobster traps, jumped to a range of 25 to 30 cents per pound from 3 cents in the mid-1990s, said Cousins. The cost of bait now consumes 20% of gross revenue for lobstermen, compared to 2% in mid-1990s, he said.
"Our [net] income has dropped by 35% to 40%, and sometimes 50%, because of increased cost of fuel and increased cost of bait," Cousins said.
This spells trouble for the industry and some lobstermen have lost their boats to bank foreclosures, he said.
"There are a lot of people who are in serious trouble up here, because they have a lot of money out on their business - they owe for boats and traps and houses and trucks and all that," Cousins said.
But getting out of this hardscrabble business isn't much of an option for most lobstermen, despite its difficulties, he added.
"People are hanging on as long as they can, because there aren't any jobs any more," Cousins said.