Oil-rich countries demand a bigger cut of profits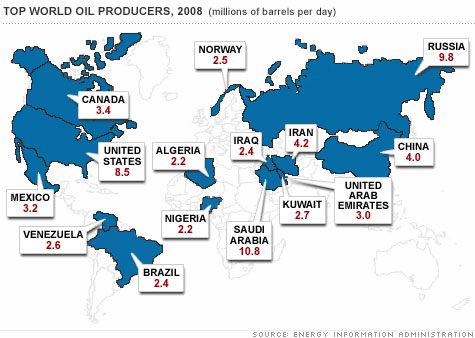 NEW YORK (CNNMoney.com) -- Two of the world's oil-rich countries may make it harder for oil companies to do business with them.
Both Brazil and Nigeria currently offer fairly good contract terms to international oil giants like Exxon Mobil (XOM, Fortune 500) and Royal Dutch Shell (RDSA) that operate within their borders. But now they're hoping to collect a much bigger chunk of the profits from the oil produced in their countries.
"Host governments are trying to find ways to increase their share," said Joseph Stanislaw, an independent energy adviser at Deloitte & Touche. "The terms are going to get more difficult over time."
If the two countries do successfully extract better terms from the oil companies, that could slow the development of some major new oil fields.
Brazil
The country, which produces about 2.4 million barrels of oil a day, currently requires oil companies that do business on its soil to pay somewhere in the neighborhood of 50% of their profits to the government in either royalties or corporate taxes. That's in line with the rates paid in other "low-tax" countries like the United States and Canada.
But a major new discovery off of the country's coast, estimated to contain as much as 50 billion barrels of oil and natural gas, could change all that. With this new resource in mind, Brazilian lawmakers are considering a bill that would push the effective tax rate for outside oil companies north of 80%, terms similar to countries like Iraq or Norway.
The legislation would also require that international energy outfits get the majority of the materials used to extract oil from Brazilian suppliers, and would give the government final say over which projects get developed.
Even more vexing: The new law would require any oil firm operating in the country to partner with Brazil's state oil company Petrobras. Petrobras, it is stipulated, would be solely responsible for laying the infrastructure required to extract oil and ultimately overseeing all the production.
International oil firms would be relegated to providing funding and technical know-how in exchange for a share in the profits.
There's is still plenty of interest in bidding on these new fields from outside firms. And Petrobras is considered a very capable oil company.
But by requiring that Petrobras must be involved in every Brazilian project, lawmakers could slow down the whole country's oil production process.
The new oil and natural gas fields cover thousands of square miles of ocean, and will require a tremendous amount of resources to develop, according to experts.
"We're talking about a magnitude of work that would stretch any company," said Jose Valera, a Houston-based lawyer at Mayer Brown, a firm that negotiates oil contracts. "It will bottleneck Petrobras."
Nigeria
Like Brazil, Nigeria is considering hiking its royalty rate and requiring much of the material used in construction projects to be locally made. It also wants its state oil firm to have a bigger role in projects.
The major difference is that Nigeria, unlike Brazil, lacks both a technically advanced state oil company and a major industrial base to make home-grown equipment for the industry.
The problem is that Nigeria may very well introduce these new oil-producing terms despite the major shortcomings within its domestic industries.
"A policy-driven drop in foreign investment and an overestimation of the operational capability of the local national oil company is likely to result in a substantial drop" in Nigerian oil production, writes Greg Priddy, a global energy analyst at the Eurasia Group, a political risk consultancy.
An executive at Royal Dutch Shell, which has large operations in the country, went even further, reportedly calling the proposed law "a cumbersome document that lacks insight into the very basics of our industry" and said the royalty provisions are some of the "harshest in the world."
Other oil producing countries are moving in a similar direction. Kazakhstan, a lucrative spot for a consortium of international firms including British Gas and Italy's Eni, may also tighten its tax policy, according to Johan Nell, an energy analyst at the consulting firm Accenture.
Additionally, Kazakhstan recently fined the two firms $21 million. "Many observers think that's a prelude to Kazakhstan's state owned company forcing its way into the consortium," said Nell.
The payoff
Not every oil-producing country is boosting its demands on oil partners.
Venezuela, which is experiencing a decline in oil production, has made more fields available for the international oil firms to bid on, although the terms remain tough. The country has also lowered its royalty rate on a few new fields, according to Mayer Brown's Valera.
And Russia has offered a tax holiday on some Siberian fields, according to Eurasia Group's Priddy, as a short term measure designed to increase production.
But despite these small instances of giving ground, analysts say the larger trend points to countries with the largest oil deposits demanding a bigger share of the oil profits and a larger role for their state oil companies.
And that might not be all bad for the global oil market.
Having international firms partner with state-owned companies in oil-rich nations could help boost oil production in the long run. These partnerships give the international companies more access to better oil deposits, while improving the capabilities of national oil companies.
Or as Deloitte & Touche's Joseph Stanislaw put it: "You're combining the best skills and the best management with the best resources."