The next tech goldmine: Medical records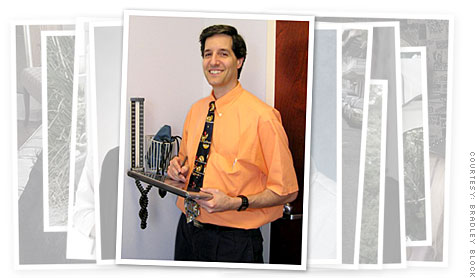 (CNNMoney.com) -- When Dr. Bradley Block, a family physician in Florida, began to investigate electronic medical record systems for his four-doctor practice, he discovered that many of the largest firms in the field were not particularly interested in his business.
One company refused to return numerous calls to set up a demonstration of its product. Another charged all practices -- no matter their size -- a six-figure setup fee that it refused to adjust.
Block finally chose a product by eClinicalWorks, a small, privately owned firm in Westborough, Mass. Part of what sold Block on his final choice was the company's customer service. When he called with a question about eClinicalWorks' product, he was transferred not to a functionary but to co-founder Girish Kumar Navani, who told him, "I'm going to stay on the phone with you as long as it takes for you to decide you like eClinicalWorks best."
There are an estimated 300 to 400 companies in the United States peddling electronic medical records (EMR) systems to the nation's hospitals, medical clinics and solo practitioners. While some, such as GE Healthcare and NextGen Healthcare Information Systems, are part of corporate behemoths, the vast majority are small, privately held firms like eClinicalWorks.
As the EMR field heats up, thanks in part to a big push from the federal government, analysts expect a frenzy of spending -- and consolidation. From a field of hundreds, a few victors will emerge. The question is, will the little guys get bulldozed by giants, or will smaller and nimbler players outmaneuver the Goliaths?
The natural cycle of the tech industry favors agile startups in a technology's primordial days, which this still is for the electronic records industry.
"I see the market expanding into interesting approaches, instead of shrinking and becoming dominated by a few monolithic players," says John Halamka, CIO and dean of technology at Harvard Medical School. "There are so many heterogeneous things out there now, from large systems to iPhone apps."
But once a few killer apps emerge, expect the big companies to gobble them up.
"Larger players will buy out smaller players so they can offer services across the board. says Ritu Agarwal, the director of the Center for Health Information and Decisions Systems at the University of Maryland's business school. "Many of the smaller players will position themselves for acquisition."
The state of play
While large firms such as Allscripts-Misys Healthcare Solutions Inc. and NextGen Healthcare remain huge presences, industry observers say that the electronic medical records field is as open to smaller challengers as it has ever been.
One big factor working in the small companies' favor: The majority of doctors' offices that have yet to adopt electronic records are small businesses themselves. While more than half of medical practices employing 50 or more doctors are using EMR systems, less than 10% of practices made up of three physicians or fewer can say the same, according to a study published in the New England Journal of Medicine in 2008.
These smaller practices are not an easy sell. Bigger EMR players tended to ignore them until recently, figuring the greatest revenue was to be made converting larger hospitals and clinics to their systems. Moreover, they are usually so sensitive to the cost of the product -- not to mention the amount of time they will lose seeing patients while they get up-to-speed on the software -- that they were effectively priced out of the market.
The latest hot trend in EMRs plays right into the hands of the small practices. Internet-based software allows doctors to bypass much of the bureaucracy and tech work of managing an electronic medical record system.
Take San Francisco's Practice Fusion, a 2007 startup whose investors include online software pioneer Salesforce.com (CRM). The company took off when it began to offer its product to medical practices without charge in exchange for viewing online ads. (An ad-free version costs $100 per month, per practitioner.) The firm, which employed eight people in July 2009, now employs 40 and expects to have 100 workers by the end of this year.
"We are bringing on 100 new doctors every single day," boasts spokeswoman Emily Peters.
One doctor converted to electronic medical records by Practice Fusion is solo family practitioner Lynn McCallum in Redwood, Calif. "The beauty of it was that because they were a free product, I took the leap and was willing to give it a try," she says.
Previously, the best system she'd found had a price tag of around $30,000. "That cost is way beyond me," McCallum says. "I'm just a family doctor with a solo practice."
The big companies are taking note: In its short life, Practice Fusion has inked a number of alliances with bigger firms including Quest Diagnostics (DGX, Fortune 500), the largest medical lab network in the United States, and Surescripts, the nation's biggest electronic prescriptions network.
But predicting the future in this quickly evolving industry is a tricky thing, admits David Brailer, former head of the Office of the National Coordinator for Health Information Technology. Small companies can come and go in a blink, as bigger companies snap up promising upstarts and slowly build up their product portfolios.
"This business is getting very fragmented," he observes. "And it's tough to know who the winners are going to be."